Being lightweight and portable are two important factors to consider when getting a cooking stove. Two popular options that we'll be comparing and reviewing in this article are the Bushbuddy Stove and the Solo Stove.
Bushbuddy vs. Solo Stove: Both the Bushbuddy and Solo stove are similar in size and are designed with a double wall combustion chamber to provide a clean burn. The Solo Stove is the more budget-friendly option, although it does weigh more than the Bushbuddy.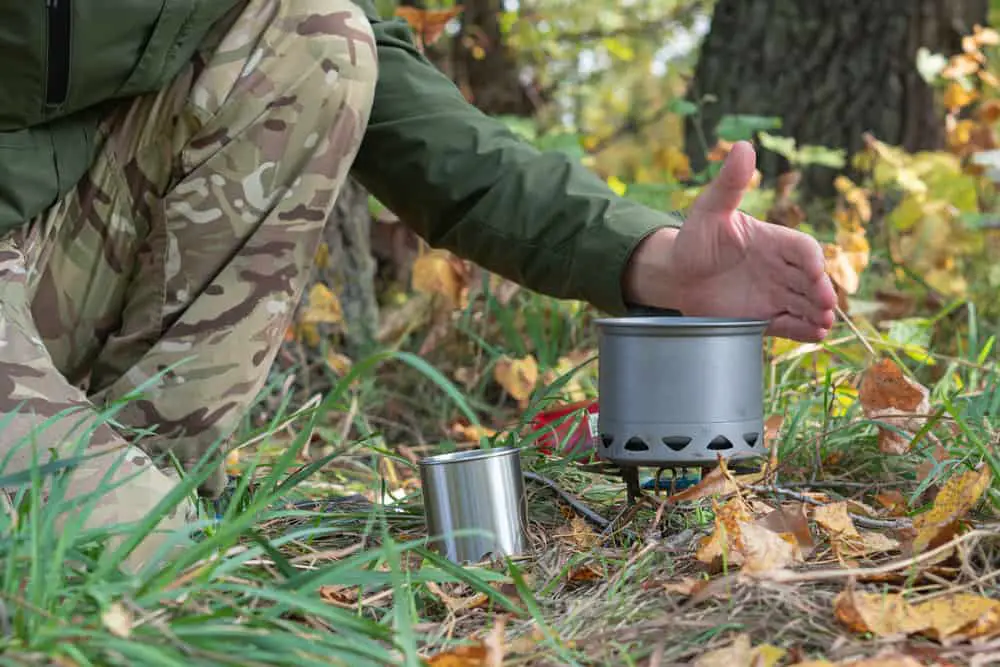 What is the Bushbuddy Stove?
The Bushbuddy stove was one of the first portable stoves that had two walls and didn't require any batteries to use.
They're handmade with materials from the U.S and have a lifetime guarantee since they were originally designed back in 2001.
One of the best features of the Bushbuddy stove is how convenient it is to move around since it's lightweight and weighs around 6.4 ounces.
What is the Solo Stove?
Solo Stove makes a variety of outdoor products including fire pits, stoves, and grills. They provide a simple solution and don't require any consumables to use.
It's slightly heavier than many other options, weighing in at 9 ounces which makes it less portable when compared to the Bushbuddy.
One of the best features of the Solo stove is that it's extremely durable since it's built with thicker steel.
Differences Between the Bushbuddy and Solo Stove
1. Price
If you are a novice and don't know the brands, it may be confusing at first as both models are quite similar. However, there are actually many differences, which are justified by the prices.
The Bushbuddy can be purchased at a price of $100, while the Solo stove is available at $69.99. If you are a buyer with a tight budget, this is a noticeable gap worth careful research before making the final decision.
The next sections may help you figure out whether spending an extra $30 is a good deal.
2. Weight
Hunters, campers, or backpackers ideally prefer carrying less weight and more compact stuff. The Bushbuddy is the winner in this aspect.
It is lighter than the Solo stove more than 3 oz. While this sounds quite insignificant, the difference is noticeable when you add up stuff in the backpack and walk for hours.
What makes the Solo heavier is a thicker gauge, which can resist wear and tear better. So, you need to make a choice here between two features: lightweight or durable?
3. Size
When it comes to the size, both models have the same diameter of 4.25 inches. But the Solo is a bit higher. This means the Bushbuddy can be a more compact solution for your trip.
However, the bigger size means that the Solo can hold more fuel, making it more suitable when you travel with others.
3. Built Materials
There is no significant difference in this aspect. Both the manufacturers used high-quality, premium stainless steel for their models. That's why they come with a very similar appearance that may confuse you at first.
This is a popular material in a lot of products due to its durability, aesthetic appearance, cleanliness, weight, as well as resistance to heat, fire, and corrosion. Therefore, both models can be in your backpack for years without wear and tear issues.
4. Design
They both come with a double wall around the first burning chamber, which creates ultra-clean gasification and secondary combustion. Compared to other stoves on the market, they generate less smoke and cleaner fire.
The double wall can be served as a damper that reduces the amount of oxygen in the fire. As a result, the stoves can burn effectively without compromising the flame.
Another benefit of this feature is fuel-saving. Both models require the same amount of time to heat water to the boiling point. For instance, it takes anywhere between 8 and 10 minutes to boil water. This can save a lot of fuel when you are camping or hunting.
The heat shield is another great feature that both stoves share. This part is specially designed to keep the scorching heat from burning the ground where you place the stove.
5. Burn ring
Both the Bushbuddy and Solo stove make use of a burning ring that extends beyond the fuel chamber. This feature allows for better air circulation, particularly with the help of the vent holes around the ring surface.
A difference is the number of prongs: 4 in the Bushbuddy versus 3 in the Solo. Having more prongs means a more secure and firmer surface to place the pan when you are cooking. This is an important feature as compact stoves often require small pans and pots due to their little design.
Which is Better? Bushbuddy or Solo Stove
Both options have their positives and negatives, and it really depends on what situations you'll need the gear in!
The Bushbuddy Stove is the better option if:
You prefer a lightweight option that's perfect for hiking or backpacking
The Solo Stove is the better option if:
You're looking for a budget-friendly option
The extra weight won't be a problem to carry around
If you own the Solo Stove you can read my full guide to washing and cleaning the stove here!