If you are planning a trip to Yellowstone National Park, whether you are going to see Old Faithful or aiming to fish for the iconic cutthroat trout in Yellowstone River, hiking boots are a must. Hiking boots that are comfortable and provide traction and stability will make your forays through the park more enjoyable.
In this article, you will also learn what kind of footwear to avoid wearing and bringing to Yellowstone, what the best hiking shoes are, whether hiking sandals are a good alternative to hiking boots, and what other hiking attire you should bring on your visit to Yellowstone.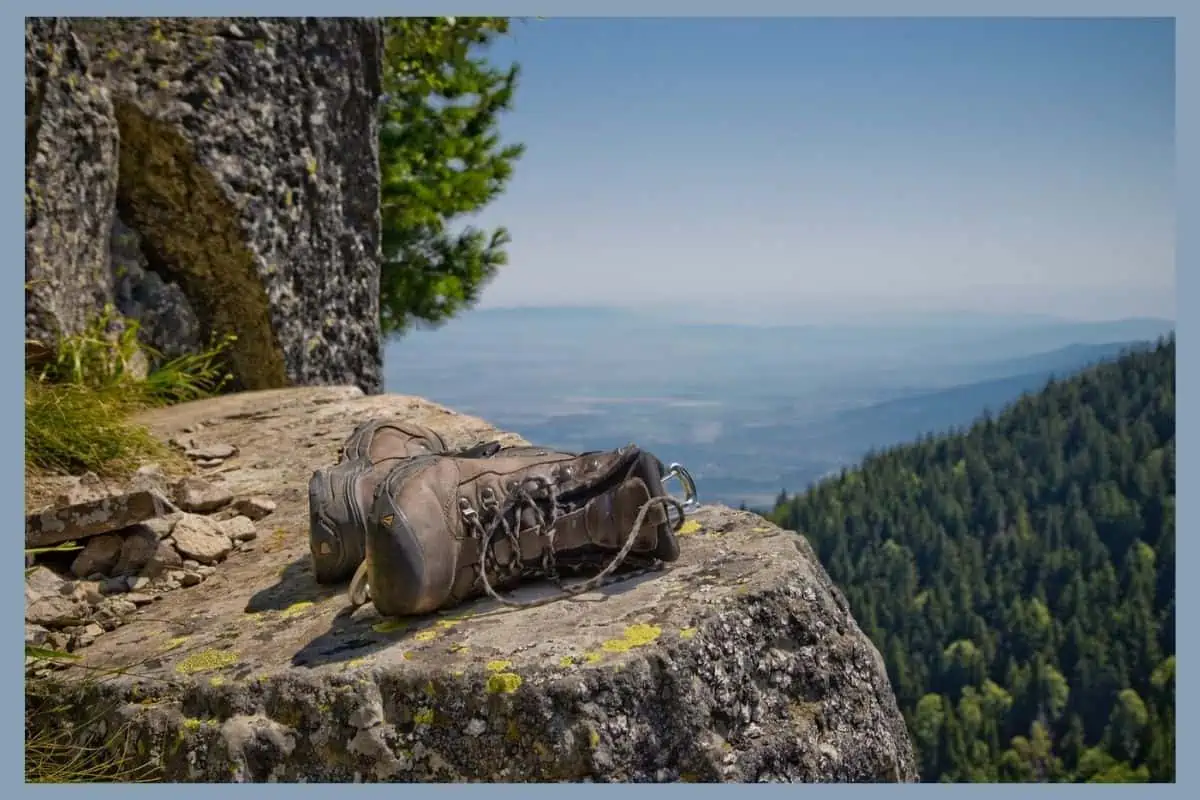 What Kind of Footwear Should You Avoid When Visiting Yellowstone?
Although you may want to pack sandals for leisure time at your campsite, avoid bringing shoes that do not have traction or impractical footwear such as high heels. These are virtually useful for the rugged hiking terrain in Yellowstone and will only take up space in your bag.
Flip flops are not recommended even if you plan to go swimming. Consider water shoes as an alternative that you are not likely to lose in a swift current.
Also, shoes with felt bottoms are prohibited in the park to help stop the introduction of nonnative species you may bring with you unknowingly from your home or rest areas along the way.
What Are the Best Hiking Shoes for Yellowstone?
There is a plethora of hiking boots and shoe brands on the market, and they all have their strengths and weaknesses. We've compiled a list of some of the top-rated hiking footwear for your trip to Yellowstone.
Merrell, Lowa, Keen, Asolo, and Adidas all offer some top-quality hiking footwear that will give you the traction and comfort you will need when trudging through Yellowstone's hiking trails which range from easygoing to difficult and extremely rocky.
Can You Wear Hiking Sandals in Yellowstone?
Hiking sandals provide an alternative to hiking boots especially for summer hikes in Yellowstone for those who are not thrilled about wearing hot, sweaty boots. Some top reputed brands of hiking sandals include Keen, Teva, and Chaco's.
These can definitely come in handy if you are hiking along trails that involve crossing water. Your sandals will most likely dry more quickly than a pair of hiking boots and soggy socks.
Take caution when wearing hiking sandals though because they are not suited for every trail environment.
There are rockier trails and more difficult hikes dotted throughout Yellowstone where hiking boots might be safer than hiking sandals which will leave parts of your feet exposed and may encourage more tripping hazards.
What Should You Wear for Hiking in Yellowstone?
In the summertime, a T-shirt with shorts or lightweight hiking pants along with your hiking boots or sneakers with good traction is all you will need to wear for hiking in Yellowstone. It is wise to bring a light waterproof jacket and another layer in case of rain, chilly weather, or cool nights.
A sun hat is also a good addition to your hiking attire to prevent sunburn and overheating.
In the winter, layers are going to be your best friend. Fleece and wool provide the best insulation for layering and of course, hats, gloves, and scarves are necessary too.
For winter hiking in Yellowstone, your hiking boots are essential – sneakers will not cut it.
Conclusion
You cannot go wrong with a good pair of hiking boots when visiting Yellowstone National Park. Merrell, Keen, and Adidas all offer great choices and hiking sandals may be an appropriate alternative to boots for summer hikes.