One reason that I enjoy hiking so much is that it allows me to relax and clear my mind on the trail.
To help keep my mind relaxed I usually load up my favorite hiking playlist and listen to each song which lets me get into a nice rhythm.
These songs about moving can put you into the right mindset even for the toughest inclines or steepest mountains.
Whether you need the motivation to keep moving or songs to help you focus while hiking, this playlist of the best hiking songs should have something for everyone!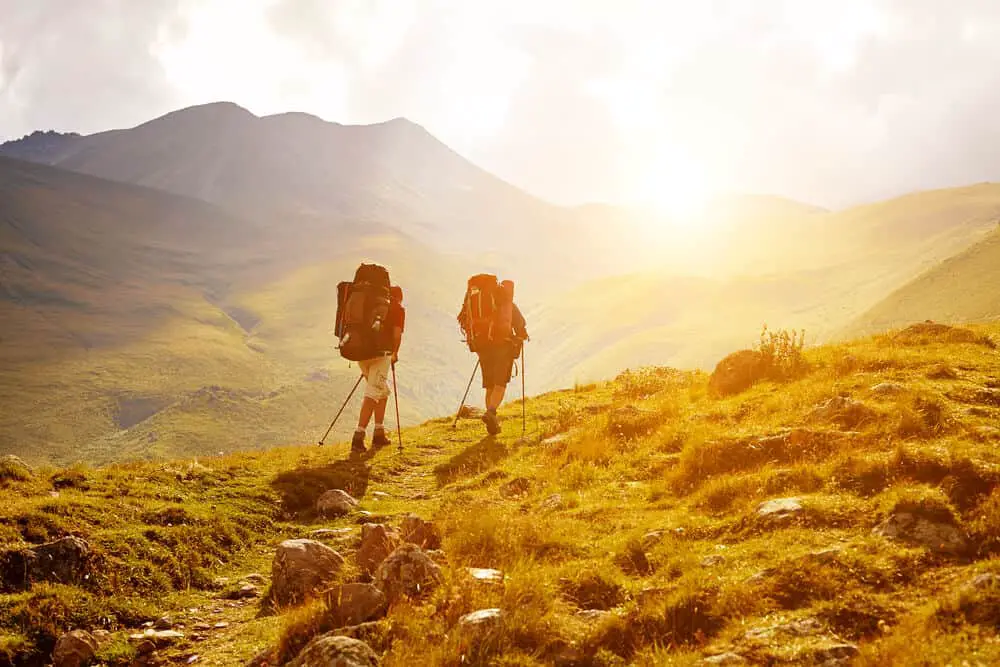 Hiking and Travel Songs
Here's a list of my favorite songs to listen to while hiking or moving around in nature. Hopefully there are a few new ones that will make it on to your next hiking playlist.
Enjoy!
1. Old Pine – Ben Howard (2011)
2. Take Me Home, Country Roads – John Denver (1971)
3. Send Me On My Way – Rusted Root (1990)
4. I'm Gonna Be (500 Miles) – The Proclaimers (1987)
5. Walk This Way – Aerosmith (1975)
6. I'm Happy When I'm Hiking – Ian Whitcomb (2011)
7. Rocky Mountain High – John Denver (1972)
8. Walking On Sunshine – Katrina & The Waves (1983)
9. I've Been Everywhere – Johnny Cash (1996)
10. Machu Picchu – The Strokes (2012)
11. Mountains – Biffy Clyro (2009)
12. Up Around The Bend – Creedence Clearwater Revival (1970)
13. Dare You To Move – Switchfoot (2000)
14. Fly Away – Lenny Kravitz (1998)
15. Wagon Wheel – Old Crow Medicine Show (2004)
16. Ain't No Mountain High Enough – Marvin Gaye & Tammi Terrell (1966)
17. Born To Be Wild  – Steppenwolf (1969)
18. Walk On The Wild Side – Lou Reed (1972)
19. Harlem River Blues – Justin Townes Earle (2010)
20. The World Spins – Julee Cruise (1989)
21. Wake Me – Mandolin Orange (2011)
22. Oh Louisiana – Chuck Berry (1971)
23. Here It Comes (The Road) – Spiritualized (2018)
24. Going Up The Country – Canned Heat (1968)
25. Never Let Down – Andrew W.K. (2003)
26. The Hiking Song – Kenneth McKellar (1966)
27. The Mute – Radical Face (2013)
28. Walk On The Wild Side – Lou Reed (1972)
29. Weather Storm – Craig Armstrong (1997)
30. A Beautiful Morning – The Rascals (1968)
31. These Boots Were Made For Walkin' – Nancy Sinatra (1966)