Wearing the wrong hiking socks in the summer can leave you with stinky, sweaty feet. It's a good idea to have socks that are ideal for hot weather. Both merino wool and CoolMax fabrics can be a good choice.
Merino Wool vs. Coolmax: Both Merino Wool and Coolmax have great cushioning and water wicking properties. The biggest differences between both is that Coolmax is a synthetic material while Merino Wool is made with natural wool. Merino Wool is also much better at reducing odors when compared to Coolmax socks.
We will break down the features, costs, and comparisons between the two fabrics so you may make the decision best for you.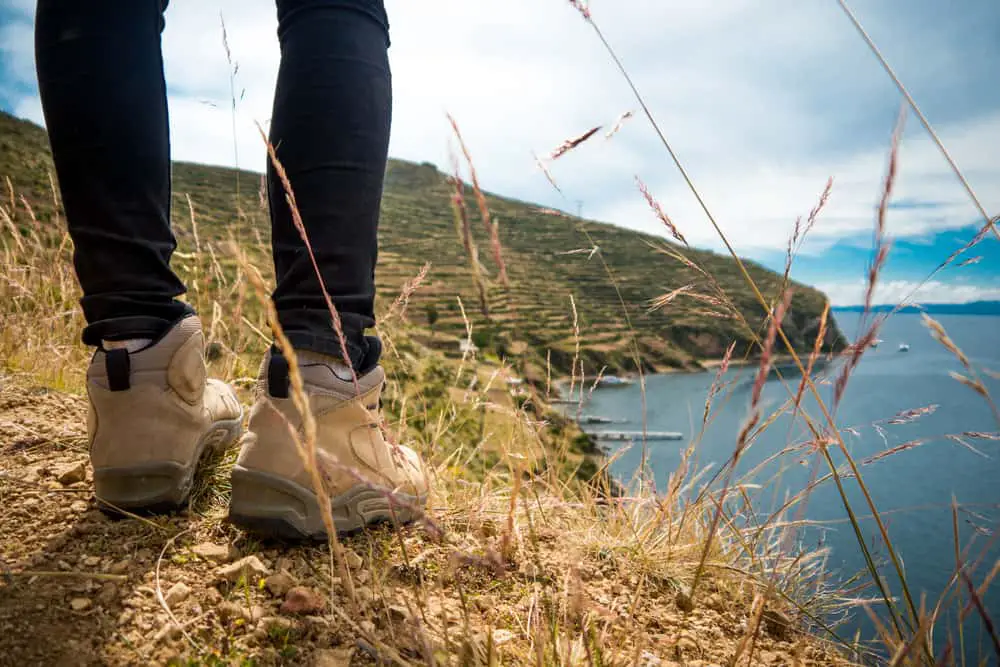 Features of Merino Wool
1. Moisture Wicking
One of the most advertised features of Merino wool is that it is moisture-wicking. It is a skinny fiber that comes from Merino sheep. The thread is permeable, meaning that moisture can move away from your feet and into the fibrous layers of the sock.
2. Odor Resistant
Because of the hair-like wool of Merino sheep, there are multiple layers of fabric within the socks, allowing the bacteria, which cause odor, to become trapped. The ability to trap the bacteria allows for less odor, reducing your chances of stinky feet.
Features of Coolmax
1. Great for Any Temperature
Unlike Merino wool, CoolMax socks are synthetic. Many people like to choose synthetics because they also pull moisture away from the skin. Plus, they are breathable. CoolMax socks' wicking and breathable abilities will dry out your feet quickly, allowing for cooler feet in the summer and warmer feet in the winter.
2. Soft and Smooth
Because of the polyester materials used in CoolMax socks, these socks will be soft and smooth. CoolMax socks, by design, have a higher surface area so that you will be comfortable in their socks. Not only because this allows for faster drying, but because it will give you a better fit.
Similarities Between Merino Wool And Coolmax
Merino wool and Coolmax share some properties, and the most notable is probably their water wicking ability. This pulls moisture away from your feet and helps to keep them dry and comfortable while you walk. It can also reduce chafing.
Both can also be quite cushioning, although many Coolmax socks are made to be thinner than Merino wool, and this means that they may not provide as much protection as Merino ones. However, either kind will protect your feet and keep them safe from blisters or rubbing.
You will find both of these socks available in sportswear stores, and you may even find the two materials blended to create a pair of socks that enjoys the advantages of both. However, many people prefer to choose either Merino wool or Coolmax, as this avoids some of the disadvantages of either pair.
Differences Between Merino Wool and CoolMax
1. Materials   
Merino wool, as stated above, is made from natural materials, which come from the Merino sheep. Natural wool means that they are biodegradable and a better choice if you have the environment in mind. Plus, sheep wool is renewable.
One Merino sheep receives shavings four to five times per year. That's a lot of wool from one source. It does not require the same amount of fossil fuels to produce the way that CoolMax will.
Merino wool is highly fibrous and porous, responsible for its uncanny ability to remove moisture while keeping your feet super warm or quite cool.
CoolMax is a synthetic material made from polyester. It is a less sustainable choice. However, polyester material can be favorable for its comfort and the fact that you can wear them if you have an allergy to wool.
The synthetic material will dry quickly but does not always allow for warmth the way Merino wool will. It stimulates your body to rewarm the area of your skin that was wet while the polyester material dries.
I shall mention here that there are some companies producing polyester socks that use recycled polyester. I would look for that if I were going to make a CoolMax purchase. Either way, they are not biodegradable like Merino wool is.
I would also like to mention that CoolMax socks require formaldehyde to make, which means that they still contain toxic chemicals even with eco-friendly practices.
2. Comfort
I am speaking from experience. I have both CoolMax hiking socks and Merino wool socks. Both of these options are quite comfortable. I honestly don't see much of a difference in comfort when I wear either pair. They are both solidly comfortable.
If I had to choose, however, Merino wool feels best to me. I like the coverage they provide and how they cushion my feet. They indeed are the most comfortable.
Merino wool socks tend to be comfortable in a much wider range of temperatures, whereas you may find that Coolmax ones are either too hot or too cold to wear in different conditions, and you consequently need multiple pairs.
3. Odors
The design of both CoolMax and Merino wool is to keep odors at bay. The fibers of Merino wool allow for the wicking of sweat, but also it traps bacteria that cause foul odors.
The breathability of CoolMax socks certainly lends itself to less moisture and less odor, as well. Yet, I have found that CoolMax socks hold on to scent more than Merino socks do.
From personal experience, I find Merino wool to keep my feet from smelling too bad after a 15-mile hike in the backcountry. I can always count on them to keep my feet at a desirable temperature as they keep odors at bay.
I can even wash them without soap in a creek. I will tie them to my hiking pack when on a long excursion, and they are easily dry by the end of the day. And they do not stink the way my CoolMax tends to.
However, the advantage that Coolmax socks enjoy over Merino wool ones is that they dry much faster. Wool does not dry quickly, so although your socks will wick moisture away from your feet, they will hold onto it for longer than synthetic socks.
4. Price
Most Merino wool socks will run you anywhere between about $14 – $30. It depends on the length of the sock you choose.
CoolMax socks will cost you about $15 – $25. So, the prices between the two are pretty comparable.
You will have to spend an average of $20 per pair when buying any high-quality socks. If you're a serious outdoor enthusiast, you already know that investing in your socks is a worthwhile endeavor.
Which is Better For Summer Hiking?
Okay, so while yes, I like my CoolMax socks. They are comfortable and do a good job keeping your feet dry; they are not as efficient as my Merino wool socks.
I say that Merino wool is better. One, because of the lessened environmental impact it provides. And two, because I can speak from personal experience that I have had longer-lasting and more effective Merino wool socks.
Yes, that's long-lasting and more effective than CoolMax. Some of my Merino wool socks are, at this point, almost ten years old. Ten years and going strong.
Beyond that, they will also keep your feet super warm in the winter. To me, this is the ultimate purchase because I can use the same socks year-round.
Some hikers use a combination of both socks, sometimes on the same hike. Thin Coolmax socks can be worn against the skin to wick moisture and provide quick-drying, with Merino wool ones on the outside to provide cushioning and thermoregulation.
Final Thoughts

Coolmax socks are a better option if you value speedy drying over temperature and flexibility, while Merino wool are suitable for a range of different temperatures and will usually be comfortable throughout the day, even with cold mornings and hot afternoons.
Which you choose will depend on the conditions in which you're hiking, as well as your own personal preference.