If you're planning a camping trip soon, you'll want to bring the right equipment. That means a pack to carry your gear, a tent, and some sturdy stakes. After all, your tent is only as tough as the stakes holding it to the ground.
However, if you've already done your research, you've probably narrowed your options down to the MSR Groundhogs and the MSR Mini Groundhogs. These are two of the toughest tent stakes on the market, making them an ideal choice for campers.
MSR Groundhog vs. Mini Groundhog: The MSR Groundhog stakes are heavier, longer, and perform better in the wind when compared to the Mini stakes. Ultralight backpackers prefer the mini stakes since they're lightweight and hold well in certain terrains.
But what's the difference and which should you go with? Let's find out!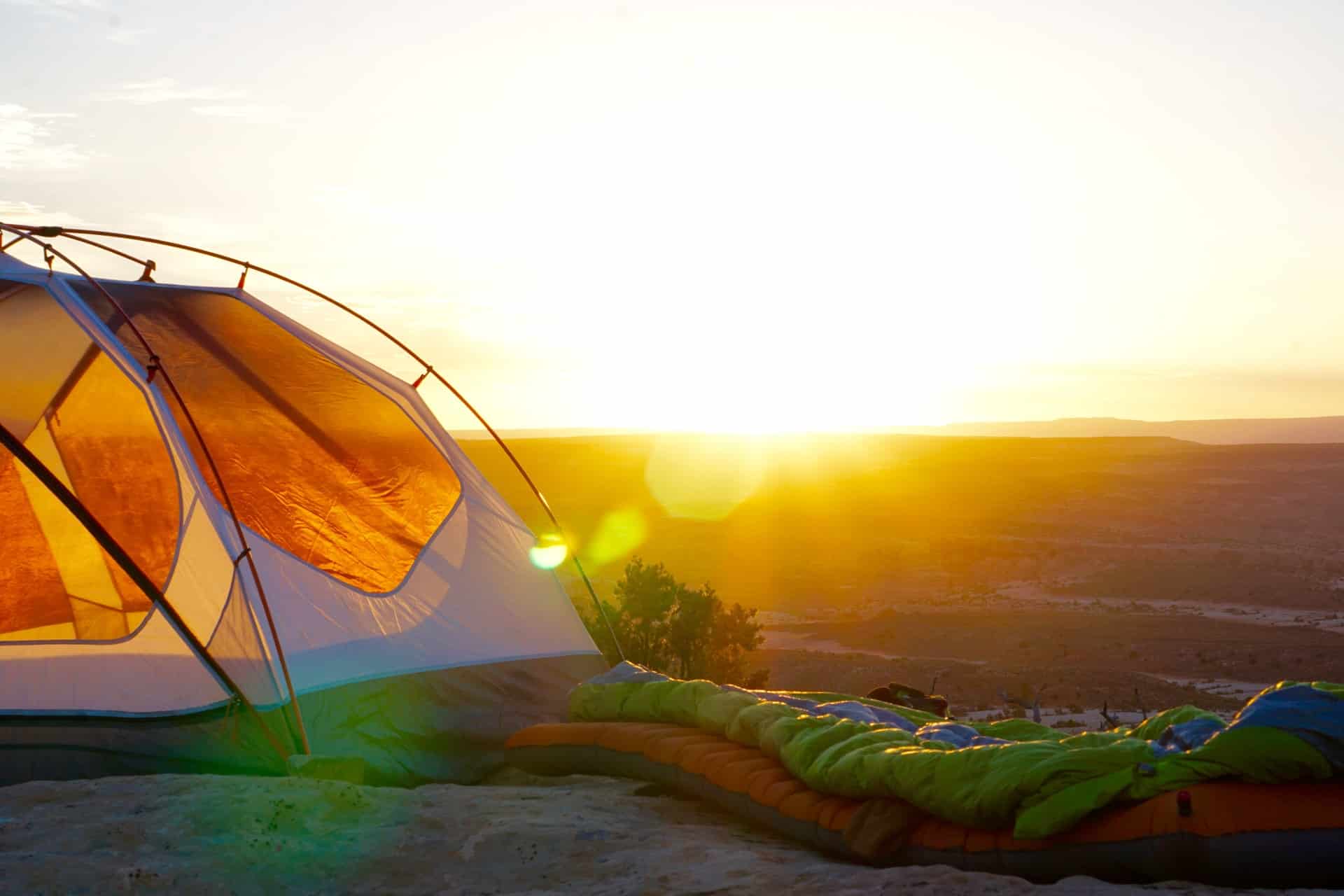 What are MSR Groundhogs?
View the latest price on Amazon
MSR Groundhogs are an all-purpose extruded tri-beam tent stake built to dig in and hold onto just about any type of ground. They are made from anodized 7075 aluminum that allows them to withstand corrosion and impact damage better than most other commercial stakes currently on the market.
Groundhogs measure 7.5" long, which gives you more than enough length to secure any large-sized tent into the ground.  Yet, despite their length, they only weigh 13 g, making them nearly negligible in your pack. Overall, the Groundhog is ideal for when you need to bury a stake deep into rocky or tough terrain and don't want to worry about breaking your stake.
What are MSR Mini Groundhog Stakes?
View the latest price on Amazon
As you can probably guess from the name, the MSR Mini Groundhog is a smaller version of the original MSR Groundhog. They have the same extruded tri-beam design that digs into the ground and distributes tension evenly through the stake, as well as an identical construction and material.
They are equally fit for driving into the ground using a mallet or hammer and can withstand corrosion and impact damage thanks to their anodized 7075 aluminum bodies.
At just under 6", the Mini Groundhog is slightly smaller than the original but with a smaller length comes a lighter weight of only 10 g. If you are looking for a lightweight stake that can withstand rocky or hard ground, the Mini Groundhog is the perfect choice for you.
MSR Groundhog vs. Mini Comparison
| | | |
| --- | --- | --- |
| | MSR Groundhog | Mini Groundhog |
| Weight | .46 ounces | .35 ounces |
| Length | 7.5 inches | 6 inches |
| Material | Anodized Aluminum | Aluminum Easton |
Main Differences Between MSR Groundhogs and MSR Mini Groundhogs
Weight
The mini stakes are often the perfect choice for ultralight campers and hikers who want to reduce any extra weight. Each stake in the mini set is around .10 ounces lighter than the standard groundhog stakes.
Although it might not seem like much, in a pack of 6 stakes, that adds up to an extra 18 g of weight in your pack.
Length
Besides being heavier, each groundhog stake is 7.5 inches long instead of 6 inches like the mini. Having a longer stake allows more protection against the wind and better stability depending on the terrain.
Environment Uses
The normal groundhog stakes perform well in all types of terrain including rocky, sandy, and harder soils. If you know the terrain will be softer then it should be fine to go with the mini version instead.
Which is Better – MSR Groundhog or Mini Groundhog?
The choice of which tent stake is better will depend entirely on what you need it for. Both stakes are suitable for rocky or hard ground and can be driven into the earth using a mallet or hammer. They are made using the same material and same design and only differ in their weight and length.
You should use the heavier groundhog stakes when:
They'll be used in loose terrain (soil, sand)
There are heavier winds to worry about
You have an extra-large tent that's more likely to blow away
Their added 1.5" length will give your tent added support for any of the above conditions.
You should use the mini groundhog stakes when:
You're dealing with calmer conditions
If you know the weather will be calm and you want to save a bit of extra weight from your pack, you would be more than ok bringing a set of MSR Mini Groundhogs. Although some backpackers have had good experiences using the minis in high winds.
I've used the minis for the past few years and they've held in 40-50mph winds from varying directions.
Conclusion
Before you make your decision, consider what you need from a tent stake. No matter where you are camping, both the MSR Groundhog and MSR Mini Groundhogs will keep your tent safely pinned to the ground. The only time you'll need the larger option is if you're concerned about the weather.