Although a new waterproof Carhartt jacket should have no problems keeping you nice and dry, eventually the water resistance will begin to wear down. There's nothing worse than getting soaked on an adventure when you were expecting to stay dry!
If you don't want to get caught out in the rain, you should follow this helpful guide on waterproofing a Carhartt jacket.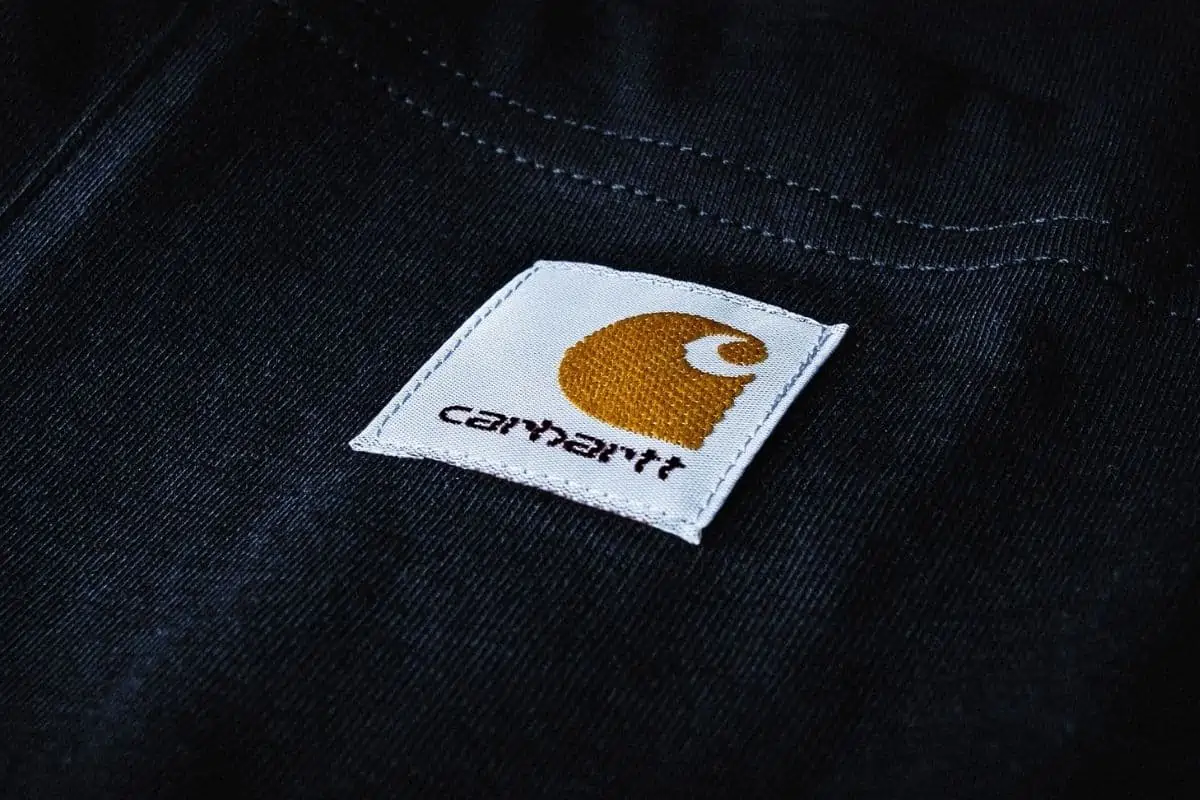 Materials Needed
There aren't many items that you'll need to help keep water off your coat.
Here are the required materials:
Carhartt jacket
A durable water repellent(DWR) spray
Warm water
Gentle soap
Methods to Avoid
There are a few different methods that can be used to bring life back into a water resistant jacket, but some aren't safe for Carhartt products. These are a few general things to avoid, but since every jacket is different it's important to check the Carhartt website or speak to customer service if you're unsure.
When cleaning and waterproofing your jacket you should avoid the following:
Bleach
Dryers
Ironing
Dry cleaning
Harsh detergents
Machine washing with hot water
How to Waterproof a Carhartt Jacket
Step 1 – Wipe Down the Jacket
No matter what waterproofing method you'll be using, the first step should always be to wipe down the outside of the jacket. If the fabric on your jacket isn't clean it'll be much more difficult to apply the water resistant layer.
The layer will also be less effective against water if there's any mud or dirt left on the jacket. If your jacket is dirty enough that wiping it down won't do much, go through the cleaning process first.
This step shouldn't take too long and can usually be done with a cloth, some lukewarm water, and gentle soap. Scrub the jacket for a few minutes until the entire outer layer is clean. Before moving on to the next step you should hand dry the jacket so that no excess water remains on the material.
Step 2 – Apply Waterproof Spray
Once the jacket is completely clean and dry we're ready to start applying the spray-on resistance. Take your water repellent and spray a small section of the exterior material on the jacket.
Make sure you follow the instructions on the spray and avoid applying too much at once or spraying it too close to the jacket. Certain areas like the shoulders may need a second layer of repellent once the first has dried.
Step 3 – Leave the Jacket to Dry
Before doing anything else with your Carhartt you should let it hang dry for a few hours while the waterproofing spray dries out. Many jackets can't be used in the dryer so using a clothesline is usually the safest option available.
Step 4 – Spray a Second Layer (optional)
I wouldn't recommend adding another layer to the entire jacket since it can cause breathability issues and overall stuffiness. If there are areas that will wear down more quickly like the shoulders, you could get away with adding it to those sections.
Using Wax on Your Carhartt Jacket
The second method for waterproofing a jacket is by using a wax material and melting on to the jacket. This option is the more difficult way to do it but can be just as effective if it's done correctly. There are only a few steps required for using wax on your jacket.
Melt the wax
Before you can apply the wax on any material, it needs to be slightly melted so that it can be easily spread. Most waxes will have information on how the product should be melted and by how much.
Paint wax on the jacket
Now that the wax is broken down, you can begin applying it to the outside of the jacket. The easiest way is to lay the jacket down flat and use a brush to paint it on. Be sure to use quick strokes and only move up and down on the jacket.
Melt the wax onto the jacket
Once the jacket is covered in all of the important areas you want to keep dry, you need to apply some higher heat to melt the wax into your Carhartt coat. A hairdryer is often the most convenient way to do this step. Turn it on high heat and then go over the jacket from a few inches away until the wax has fully melted into the material.
The best option for this step is to use a heat gun, but not everyone has access to a tool like that. Even if you don't, the hairdryer should be able to handle the job but it might take more time to completely cover the jacket.
How Long Do Waterproof Carhartt Jackets Last?
The amount of time that your Carhartt jacket will remain waterproof depends on which water-resistant technology was used when it was made. Here are the two waterproofing options that they have available.
Rain Defender – The Rain Defender line of products are designed with water repellent technology that works well against light rain and storms.
Storm Defender – The Storm Defender rain jackets are the better option for heavy rain and storms. It's more durable and will last longer since it's breathable and works well in any downpour.
The Storm Defender waterproof jackets should have their water-resistant properties last longer and perform better in most environments. They are designed with breathable membranes and have good warmth in the coat.