You may own a pair of Vans classic shoes and are wondering if they make a good pair of shoes for hiking. Wearing shoes that aren't made for hiking while out on a trail or mountain can be hit or miss depending on the brand.
Are Vans good for hiking? Vans are not a good option for hiking due to their lack of ankle support, durability, and cushioning. They are not designed or built to withstand the rough terrain of most hiking trails.
While they may be comfortable, have a good grip, and are lightweight, they're not the best shoes for long-distance hiking. They can be great for casual walking but not for long-distance walking or hiking.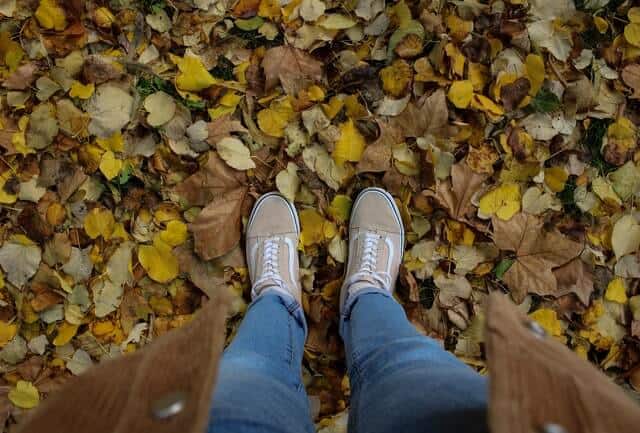 Hiking In Vans
Hiking requires a good pair of shoes designed for long-distance walking, different kinds of terrain, as well as weather conditions. You need a good pair of shoes to prevent blisters, discomfort, and injuries.
So does a pair of Vans provide these requirements? A pair of classic Vans does provide some of these requirements, but not all, that's why they may not be such a good pair of shoes to wear when hiking. Let's dig deeper.
1. Traction
Hiking requires walking up and into mountainous terrain, through mud, on and off trails, and on different kinds of surfaces. Sometimes, you would also need to walk over stones in a stream or river. This means your shoes must have a good grip to prevent slipping.
Vans' waffle-pattern rubber soles have good traction, which has made it a great pair of skateboarding shoes. For traction purposes, Vans do a good job.
2. Comfort
Comfort is achieved through fit and breathability. Your shoes must be breathable so it doesn't store moisture, which can cause blisters. Vans shoes do a good job at offering comfort through their canvas or hemp material, which is extremely breathable.
The regular fit of Vans shoes also provides some room for feet to move around and be flexible, which is a feature required for a great pair of skateboarding shoes. When it comes to comfort and fit, Vans also does a good job in this department.
3. Cushioning
Cushioning is also known as shock absorption quality. Good cushioning protects the feet from hard landings and surfaces. This can be achieved through gel, air, or midsole foam, which reduces the impact whenever your feet hit the ground. The classic Vans shoes do have a footbed, but not enough cushioning for harder impact or rugged terrain.
For cushioning, Vans don't provide enough passing to be comfortable for long hikes. If you're hiking through rough surfaces, your pair of Vans shoes may not give you the shock absorption that you need.
However, the brand does have its line of ComfyCush classics, which feature the original silhouettes of their classic design but are re-engineered to be more comfortable with more padding and arch support than usual.
4. Arch Support
Speaking of arch support. The arch length is the length between the heel and the ball of your foot. Arch support is needed so your feet can flex at the proper location. Vans shoes have a flatter footbed than hiking shoes, which means they're not so ideal on different kinds of surfaces.
Vans shoes are made for flat surfaces such as on a skateboard, on asphalt, or in cement. When hiking, your feet are exposed to different kinds of surfaces that can include sharp rocks and different shapes of stones, which is why you need a pair of shoes with good arch support when hiking.
Vans' ComfyCush line of shoes, however, does have more arch support than their regular classic line.
5. Stiffness
Certain terrain needs hiking shoes that have some stiffness to them to protect your ankles and feet against rough surfaces. Together with arch support, stiffness can protect your ankle in instances of slipping. Vans shoes, unfortunately, are very flexible, light, and soft, which means they're not meant for hiking on rocky terrain.
We also need to talk about different weather conditions. Depending on where you're hiking, there may be instances when weather conditions change as you walk. It could rain or snow as you're hiking, which means you need a pair of shoes that is water-resistance or repellent or feature more coverage such as boots or high-cut designs.
Vans do have a high cut classic, which is the Sk8 Hi, but it's still made of canvas material. When canvas material gets wet, it can be uncomfortable and dangerous especially for long-distance hiking.
History Of Vans Shoes
Vans is an American shoe company that originated in Anaheim, California. The first pair of Vans shoes were designed to be skateboarding shoes, and the iconic shoe brand is known today as a staple in the industry.
The first pair was sold in 1966, and they featured a canvas upper with a waffle-pattern sole, giving them a good grip on surfaces, which skaters love as it ensures a good landing on cement.
Today, Vans is a staple of American footwear culture and can be seen on just about anyone, from celebrities to professional athletes, to regular teenagers, and even kids. You can wear them for skateboarding, as a fashion statement, or doing nothing at all.
They've become fashionable and stylish but also functional. However, they are not designed for long-distance walking, running, or hiking.
Conclusion
A pair of Vans shoes can be ideal for casual walking as they offer great comfort, good traction, and are made of breathable canvas material that offers fit and flexibility. However, they're not so ideal for long-distance hikes and challenging surfaces, such as rocky terrain, streams, and different weather conditions.