A waterproof boot, by definition, should be able to be submerged entirely without allowing water to enter. Waterproof boots, unlike water-resistant shoes, are often composed of materials that are naturally impervious to moisture.
Waterproof footwear should be able to withstand 1,000 millimeters or more of water pressure, as opposed to water-resistant shoes, which can withstand 200 millimeters of pressure. The concept is that you can trudge through puddles, deep snow, or even a tiny stream without getting your feet wet or harming your boots with this type of water protection.
In this post, we'll look at why waterproof boots make your feet hot and sweaty, as well as other factors relating to waterproof boots.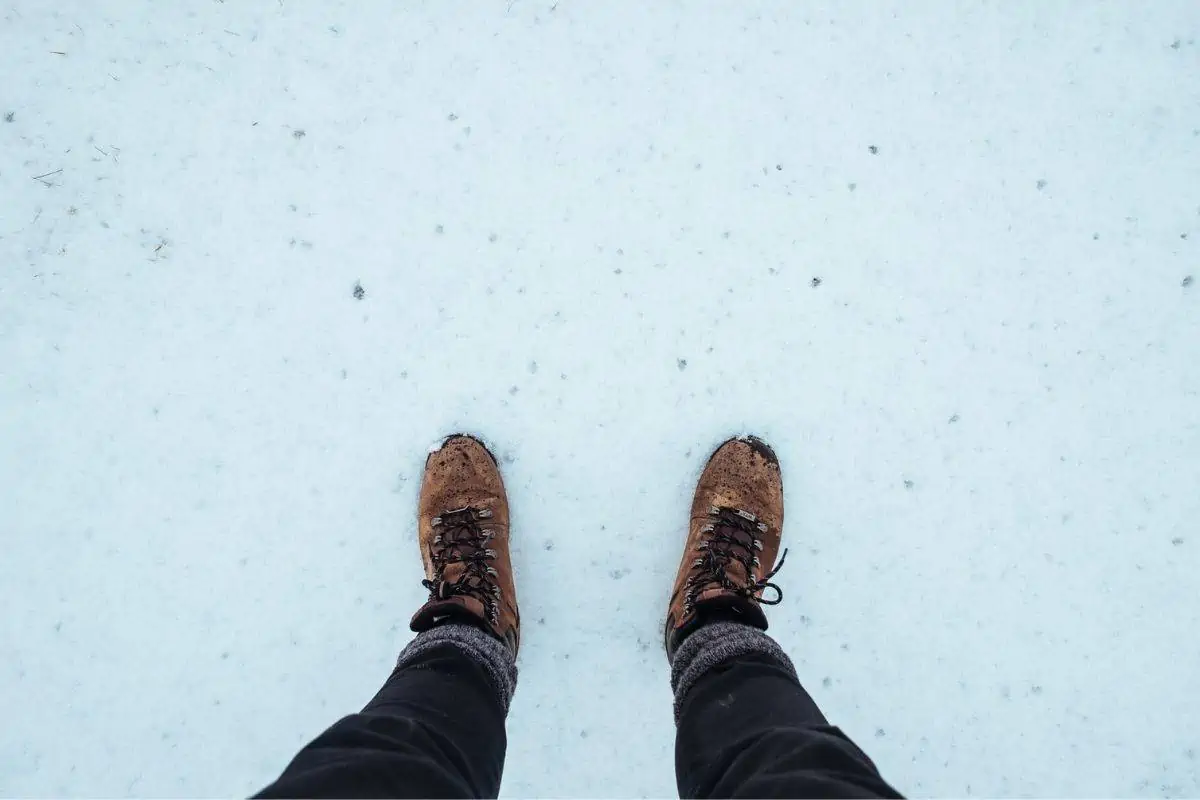 Are Waterproof Boots Hotter?
Waterproof boots are, in fact, warmer than non-waterproof boots. Waterproof boots are fantastic for standing in water all day, but they don't allow moisture to escape, making your feet hot and soggy. Plus, waterproof boots take longer to dry each night, so they're not the ideal choice if you don't need water resistance.
The majority of these boots are composed of polyurethane-coated leather. Although this covering is entirely waterproof and protects your feet from outside wetness, it retains sweat within the boot.
The leather boots make your feet soak in your sweat by preventing moisture from passing through. The sole reason you purchase these so-called waterproof work boots is to keep your feet dry and pleasant, which is impossible to achieve with boots made of this material.
The other material is a waterproof-breathable fabric that does not allow your feet to breathe, despite being promoted as such. These barely breathable boots tend to retain perspiration within your boots on hot or humid days, placing you in agony.
Will They Roast Your Feet in The Hot Weather?
Do waterproof boots make your feet sweat? This coating is waterproof when fresh, meaning moisture cannot travel through it, and It will protect your feet from dampness from the environment.
It does, however, trap sweat inside the shoe, allowing your foot to luxuriate in its sweat. Waterproof boots are made of rubber, neoprene, vinyl, nylon, or polyurethane, which do not allow any moisture to pass through and keep the feet completely dry.
What's the Best Way to Tell If Your Boots Are Waterproof?
It should feel like the shoe has extra padding. In the lower section of the shoe, look for waterproof rubber. Waterproof shoes are mainly distinguished by their appearance. The toe and heel will be composed of thick rubber, but the top of the shoe will resemble a regular boot.
Do You Need to Wear Waterproof Boots?
There's no need for a waterproof boot if you only go out for a few hours at a time and walk more in the summer. A quick-drying shoe is likewise preferable to a thick, lined boot if you're rushing across streams or other tiny bodies of water.
Rain boots and other waterproof shoes are frequently seen with rubber outsoles and rubber, neoprene, or polyurethane uppers, all of which are waterproof materials. These non-porous waterproof materials are stiffer than canvas or leather boots and are less comfortable.
On the other hand, waterproof boots are frequently lined with softer materials. Insulation is almost always included in waterproof hiking footwear or snow boots.
What Type of Waterproof Boots Should You Choose to Avoid Perspiration?
Do you have sweaty feet despite wearing brand new boots? It's time to rethink your footwear because you might be wearing the wrong ones! So, what types of work boots aren't a pain in the neck?
Here are a few of them.
Lightweight boots allow for easy foot movement and keep your feet cool by preventing perspiration.
Boots that come with breathable uppers. These boots keep your feet cool by allowing air to circulate freely. You will be satisfied to see that these boots allow enough air to go in and out of the boots.
If your feet sweat when wearing boots, look for ones with side air pockets and cutouts for increased ventilation.
A few things can spoil your day more quickly than a pair of cold, wet socks. Moisture seeping into your boots can lead to unpleasant conditions and even create the ideal atmosphere for blisters to form. Soggy feet should be a thing of the past if you are adequately waterproofing your footwear.
Whether you're wearing your boots for hiking, working, or just surviving the outdoors, there's a high chance they already have a waterproofing treatment on them. However, you'll need to treat your feet frequently to keep them dry in the long run.
So what if you get the proper footwear but still can't seem to get rid of the sweat? Sweating is natural, but prevention is always better. Choosing the proper boots and taking special care of them might help keep your feet from sweating.
Conclusion
The waterproof boots you'll need are determined not only by the activity you'll be doing but also by the temperature. In the heat, any boot with insulation will make your feet unbearably hot.
Look for waterproof hiking-type boots with no or very little insulation for activities that require waterproof hiking-type boots in the summer or other warm periods of the year. However, it is unlikely to make a difference with tall rubber boots. They often result in sweaty feet due to their lack of breathability, which can be uncomfortable. Search for insulated hiking/hunting boots and tall rubber boots in the winter.
Keeping your feet warm in frigid weather is a difficult task, but more insulation will go a long way toward achieving that aim.