Are you considering trying out one of the many different waterproofing technologies that Merrell offers?
In this article I'll be taking a close look and comparing the following options for waterproofing your boots:
Merrell Gore-Tex vs Waterproof
Merrell Moab Ventilator vs Waterproof
Merrell Select Dry vs Waterproof
Let's figure out when you need waterproof boots and which ones you should get!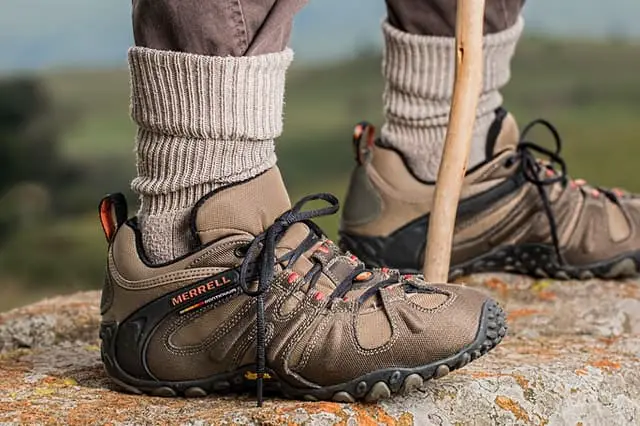 Why Do You Need Waterproof Boots?
One of the things that can discourage you from staying active during the fall and winter is the discomfort of wet feet. Although it is essential to remain active at all times, you need special protective gear for your outdoor activities when it comes to winter and fall.
However, as you choose your winter outdoor activity gear, you need to think about your footwear. You need to ensure both comfort and performance. Having uncomfortable shoes can make your day long, and you may not even achieve your exercise goals.
Here are a few reasons why waterproof boots are important:
You're less likely to develop blisters with dry feet
It's uncomfortable to wear and walk while wearing wet socks
Water will wear down and damage the material on your boots
It will be best for you to choose the most reliable pair of boots to keep your feet moisture-free, dry, and comfortable throughout the day. You'll perform better when you don't have water soaking into your feet during your outdoor activities.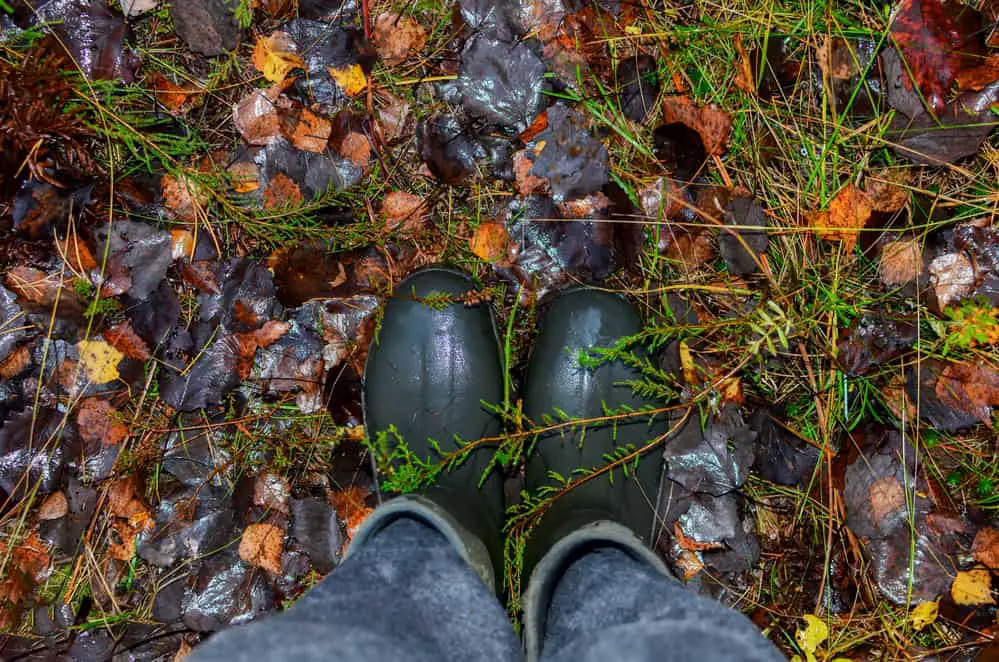 Merrell Gore-Tex vs Waterproof
Merrell Gore-Tex is a better option than Merrell Waterproof boots if you're looking to keep your feet cool, dry, and comfortable. Gore-Tex is created with advanced features like laminated membranes and waterproof sealing that provide a safe waterproof barrier on the boots. They're lightweight, breathable, and more insulated than the basic waterproof option that other companies have.
The Gore-Tex shoes are more expensive than the Waterproofs, but they last longer and won't have as many issues with losing their water-resistant properties. Even though there are steps you can take to increase the resistance of your boots to water, I prefer spending more money now to have them last longer.
Different Merrell Waterproof Technologies
One thing that makes Merrell such a great option when you're looking for quality hiking shoes and boots is the variety of custom technologies that they use in their products.
M-Select Dry – When you're looking for outdoor boots that will be kept dry from day to day even if you're caught out in a rainstorm. They're also moisture-wicking that's comfortable, breathable, and helps keep you cool as well as dry on the trail.
Gore-Tex – One of the best options for staying dry, Gore-Tex provides you with the best protection from water and moisture that you can get. They have a waterproof barrier that will let you safely travel over your favorite terrains and trails no matter the condition outside.

Merrell Gore-Tex
Gore-Tex boot is a brand of waterproof fabric which many manufacturers use to create waterproof boots. The Material is one of the best, with the capability of preventing water from coming into contact with the skin.
The Merrell Gore-Tex boots are known for breathability and waterproof capabilities. Although the two characteristics kind of contradict, the manufacturers try as much as possible to achieve both capabilities to ensure comfort for the wearer.
The Gore-Tex boots have another layer of waterproof fabric fitted inside the boot to ensure dry feet.
Pros
Merrell Gore-Tex boots are light and very durable, and they come in a wide range of sizes to fit people of all sizes
These Boots are very comfortable as they have an additional layer inside that acts like a pair of socks though not seen, but they offer extra comfort
They are also created to offer breathing capability that makes them suitable for letting moisture out of the shoe
Cons
The additional layer added inside to prevent water from entering the shoe can be slightly uncomfortable for some
Some users need the toe cap to be a bit larger to cover than expected
Waterproof Boots
Waterproof boots are all-weather boots, and you can use them for plenty of different adventures. Although sometimes your feet may feel dump, it is because of the cold water touching the surface. In the real sense, no water gets into the boot but they aren't perfect at keeping the cold out. You do not need waterproof shoes when it's dry season, and therefore they may not be the best for hiking in hot seasons like the Summer.
Pros
Best in snowy seasons
The best protection from wet, muddy trails
Waterproof membrane best for keeping dust away from your feet
Cons
It keeps your feet hot and sweaty
If water ever gets in, it takes ages to dry
It keeps your feet safe and dry as long as you do not step in anything that can reach above your shoe
Related Questions
Merrell Moab Ventilator vs Waterproof
Compared to the Merrell Moab 2 Waterproof, the Merrell Moab Ventilator has a lack of water resistance and is considered a non-waterproof boot. Walking through rain, puddles, or snow would leave you with wet socks and an uncomfortable remaining walk. The Waterproof option is built with M Select Dry technology that lets most moisture escape while also sealing out any excess water.
Merrell Select Dry vs Waterproof
Merrell Select Dry is great at allowing moisture to escape which keeps your feet dry, while the waterproof option is better at actually keeping water from entering the boots. With Select Dry boots, you'll also notice they're more lightweight and breathable compared to other waterproof boots by Merrell.