Hiking is both a healthy and fun activity, but if you want the best experience then you need a great pair of hiking socks for your trip.
That's why I decided to take an in-depth look into two brands, Farm to Feet and Darn Tough, to figure out which company makes the best gear!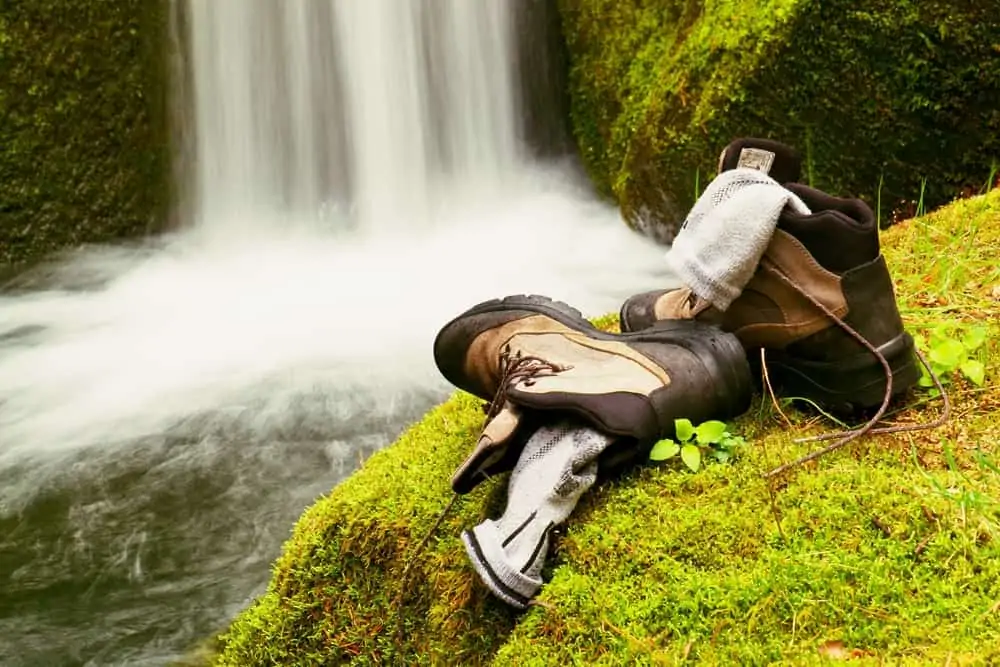 Farm to Feet vs Darn Tough Review
Materials
Farm to Feet socks are made of these materials:
U.S. Merino Wool
Lycra Spandex
Nylons
Farm to Feet has its entire supply chain located within the U.S. and uses US materials, workers, and manufacturing. By having the whole operation in one country they can limit the negative
impact that their manufacturing has on the environment.
Darn Tough socks are made of these materials:
Merino Wool
Recycled Nylon
Lycra
Polyester (Coolmax)
Darn Tough socks are manufactured in Northfield, Vermont, but the raw materials are received from places around the world. Although the majority of the materials are bought domestically, there are a lot of factors like quality, price, and availability that play a part in the decision.
Comfort
Farm to Feet
When it comes to comfort, Farm to Feet has three construction features that work to make their socks more comfortable. The comfort compression helps to support your foot while reducing overall fatigue.
With advanced knitting, there's less of a risk for friction which will lead to blisters. There are also different levels of cushioning that provides comfort and protection for your feet.
Darn Tough
Darn Tough tries to improve and provide the most comfortable, durable, and best-fitting socks that you can buy. They work to achieve this goal by creating cushioning in high-impact areas, shock absorption, and extra warmth when it's needed.
There are three different levels of cushioning that you can get; No Cushion, Cushion, and Full Cushion. If you want this extra padding and comfort throughout the entire sock, Full Cushion is the level to try.
Warranty Policy
Farm to Feet
They offer a satisfaction guarantee and have a generous return policy. If you aren't satisfied with the durability or performance of the socks, you can get either a replacement pair or a refund if you provide proof of purchase.
Darn Tough
To live up to their promise of creating the most comfortable and durable socks, they have an unconditional lifetime guarantee. If you wear out the socks, find a hole in them, or are not happy with the quality, they will be replaced free of charge.
Comparison Between Both Brands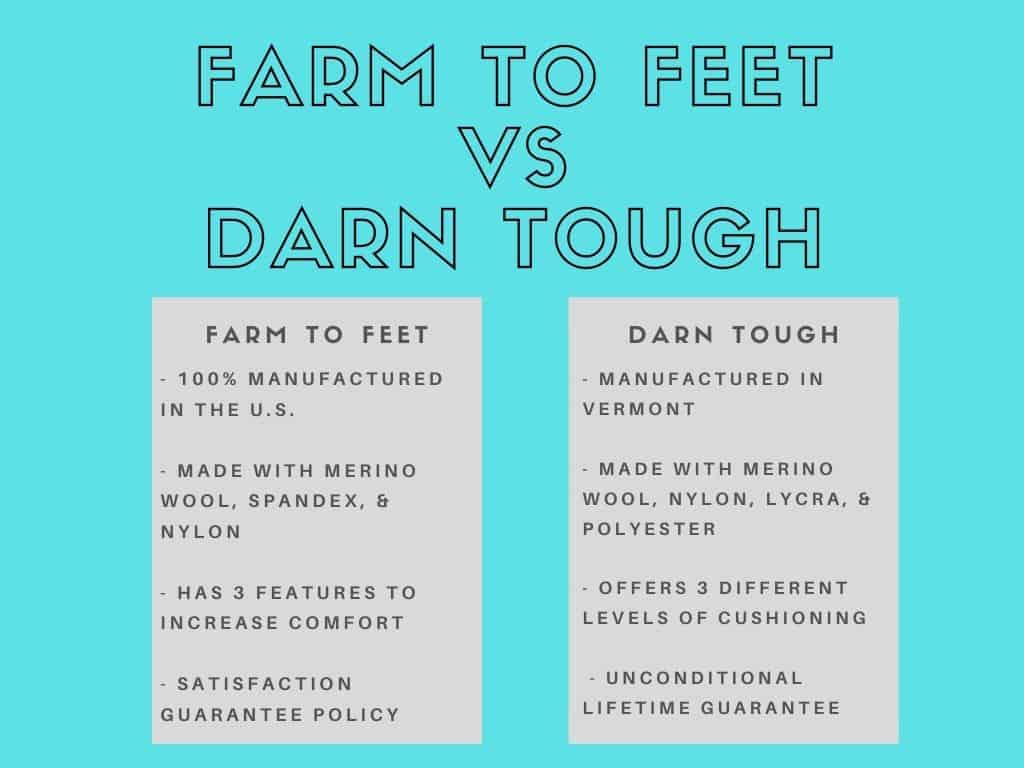 Who Makes the Best Hiking Socks?
A quality pair of socks will keep your feet comfortable and dry as well as prevent you from developing blisters and hotspots. While there are various types of socks in terms of material, quality, and durability, you should be careful to choose the kind of socks that will increase your comfort.
Farm to Feet
Farm for Feet Damascus Crew light Targeted Cushioning socks are some of the highest-quality socks on the market. Farm for feet is a great pair if you plan to hike off-trail frequently. It also has extra sheen protection to increase your comfort while hiking.
If you are looking for something light, this pair is very lightweight, breathable, and comes with padding on the toe and heel. They're also padded on top of the foot to make sure you are extremely comfortable.
Here are some added features that make this pair one of the greatest choices you can make:
Best performance socks that prevent your fit from slipping, bunching, and blisters
They have a fine gauge knitting making them durable and unique with undetectable seam fusion for an ultra-smooth and invisible feel
Fast-drying as they full moisture away from the skin making them sweat-free and they dry very fast in a warm condition meaning they cannot retain moisture on your feet
Performs well in all types of weather as they become cool in summer and warm in winter
They are natural antimicrobials they are meant to repel bacteria and odor
Darn Tough
Darn Tough socks are made in Vermont with legendary Dar Tough construction and performance fit enabling them to remain in place the whole day. They are made in a way that gives assurance of no slipping, bunching, blisters, or any hot spots. They have a cushion that provides comfort and fit with the perfect bounce, making hikers love them. These socks act more like an air conditioner because they are good whether you use them in winter or summer. They provide comfort for both extremes.
Darn Tough Light Hiker Micro Crew Light Cushion socks are quality hiking socks available in the market for both male and female models. They are some of the most versatile socks you can get in the market, with their micro crew height slightly taller than the ankle socks. They are made of highly breathable merino wool, nylon, and Lycra spandex to ensure your feet do not sweat a lot during hiking.
Some of the things that add to the comfort of these socks include:
Form-fitted toe
Underfoot padding
Added arch support to increase comfort for your feet.
The most amazing thing about these socks is that they come with an unparalleled lifetime warranty meaning you can send your pair back for any reason and get another pair for free.
Conclusion
While both socks are comfortable, if you are out to buy one pair, you have to make a tough choice. For those looking for a non-wool hiking pair of socks, then Darn Tough Coolmax Micro Crew for both men and women is the best option that I personally prefer to use.
Although as we learned from above, you can't go wrong choosing either Farm to Feet and Darn Tough brands for your hiking needs! Either way, you'll get a product that's comfortable and long-lasting.