When you're shopping for camping gear, chances are you have come across products made by Ozark Trail. This outdoor brand offers a wide selection of products at a very reasonable price point.
Because of this, you may be wondering, is Ozark Trail a good brand? On paper it seems to hold up well with other higher-end brands, in reality, there are pros and cons to buying this brand. While Ozark Trail is affordable and easy to find, it is also heavier than other brands and doesn't last as long.

Let's take a look at how each of these factors influences the brand.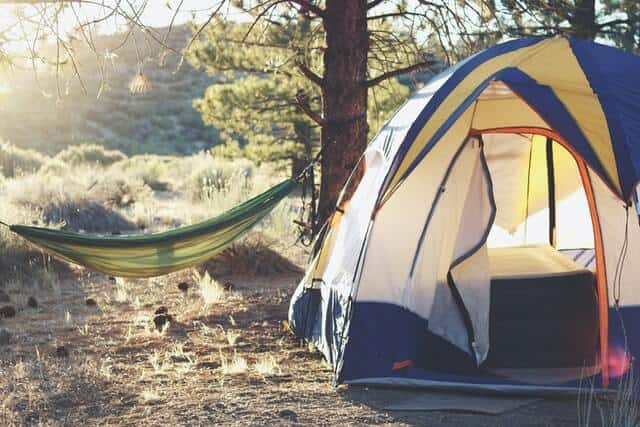 Affordable
If you are just starting out with camping, Ozark Trail offers extremely affordable gear. You can pick up a tent and a sleeping bag for under $100 which is widely unheard of when looking at most other outdoor brands.
If you don't have a lot of extra cash to spend on outdoor gear, or just looking to test the waters with camping, the affordability of this brand is hard to beat. It does come with the downside of not being as durable as other higher-cost brands, which means you'll need to upgrade the gear eventually.
Easy to Find
In addition to being affordable, this brand is easy to find in a pinch. While you can order it online if you can wait a week, you also have the option of seeking it out in a store.
This brand is carried by Walmart, one of the most common department stores in the US. So, if you realize you need some gear last minute, you can most likely find what you need with a quick trip to the store.
Outdoor equipment from Ozark Trail:
Tents
Backpacks
Coolers
Canopies
Kitchen Gear
Sleeping Bags
Camp Accessories
They also offer a large assortment of hiking and camping gear, so you can find almost anything that you would need for a nice weekend adventure.
Bulkier Than Other Brands
If you are looking for lightweight options to reduce your load, this is not the brand for you. Ozark Trail can maintain its affordability by using heavier, cheaper fabrics. In the realm of outdoor gear, especially with items like sleeping bags and tents, the higher the price tag, the lighter the weight.
Other brands to consider:
If you are looking for some stuff for car camping, the bulky materials used by Ozark Trail won't be a problem, but for activities like backpacking and extensive travel, you might be better served by looking at other brands.
Lower Quality
Along with many of the products being bulkier, they are also lower quality than other brands. You'll be hard-pressed to find Ozark Trail gear with solid weatherproofing, and your sleeping bag will probably leave you feeling colder than it should.
If you frequently go camping or hiking, you know the weather can sometimes be very uncooperative. Having comfortable gear that is warm, waterproof, and durable can be the difference in how enjoyable the adventure or trip is.
While a higher price point buys you lighter gear, it also lets you buy higher quality. For gear that needs to be durable and sturdy, it's probably best to look into other options that may cost slightly more.
Final Thoughts
Ozark Trail is an inexpensive brand that offers a good introduction to outdoor gear and includes many products that are both comfortable and dependable. The equipment will work well for the price you pay, with the only negatives being are how durable the gear is and long it will last.
However, if you already have camping gear and are looking to upgrade, you would probably be better off spending a few more dollars on a higher-quality brand. For the price point, Ozark Trail offers a good introduction into outdoor gear that can't be beaten by too many other brands.