When we talk about the famous Birkenstocks, we naturally think about their comfortable leather sandals that are a classic in the US for more than 50 years. They're loved by generations of people including everyday people, travelers, and adventurers.
For that reason, we're asking the question – are Birkenstocks good for hiking?
Although Birkenstocks are comfortable sandals for walking, they don't provide enough support or traction to be worn for hiking. They offer no insulation and are uncomfortable when wet, so it isn't recommended to wear them out on the trail.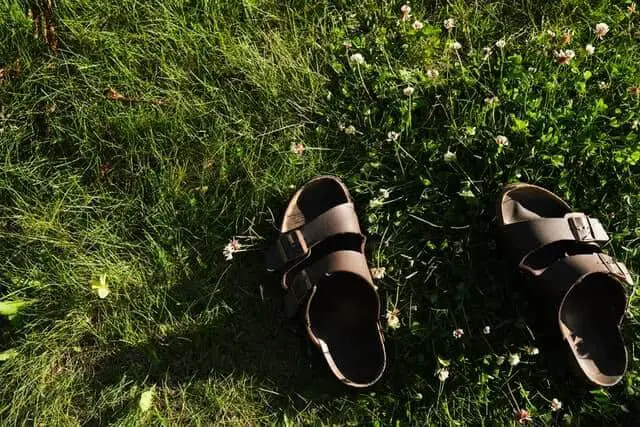 Why are Birkenstocks not Good for Hiking?
You'll often see Mountain Rescue services post photos on social media warning people not to wear sandals for hiking or climbing. They were just not made for this use.
They offer no insulation
Although they offer good grip, there's just too much skin and bone exposed. There's nothing to protect your ankle or your toes and there's a good chance that the sandals are going to slip off your foot and into a lake or go down a slope.
For the same reason, there's no insulation and your feet could get wet, cold, or both on the trail. If you get your feet wet, you're looking at annoying blisters that will follow you everywhere even after you've completed your hiking trip.
There's not much ankle support
Birkenstocks and sandals, in general, offer no ankle support and have open toes as well as ankles. Imagine hiking up a hill when suddenly you lose your footing and hit your ankle or slash your toes on a sharp rock.
What are you going to do? You're too far along to return and the end is nowhere in sight as well.
You're going to call Mountain Rescue, or you'll keep walking and endure pain for the rest of the hike. Neither of the two sounds like fun.
Common Problems With Hiking In Birkenstocks
After speaking to other hikers, I've gathered the following feedback from those who have actually worn these sandals out on the trails.
Here are some of the issues with wearing Birkenstocks:
A lack of ankle support
No real arch support
They aren't durable on rough terrain
The leather is uncomfortable and heavy when wet
There isn't much traction provided
There are a few travelers who feel that they can be comfortable on short to medium-long hikes, but any further and it's better to get shoes designed for hiking.
So even though you can get away with wearing Birkenstocks for easy hikes, the general consensus around the hiking community is covered by these quotes below.
I wear Birkenstock Boston's nearly every day, but I wouldn't recommend them for hiking.

I don't think I'd recommend any Birkenstocks for backpacking/hiking.
What are Birkenstocks Good for?
Even though they aren't a great option for hiking, there's plenty of reasons to buy and wear Birkenstocks. These sandals are made for comfort and support in everyday life including work and leisure time. They are popular with travelers visiting warm countries when closed shoes are simply too hot and uncomfortable.
They're great for exploring new cities and places because there's nothing worse than taking your feet out of sweaty shoes after a long day of walking.
What Should You Wear for Hiking?
Although there are hiking sandals available on the market, I'm not sure that even they're suitable to wear for hiking, and definitely not for climbing hills. Yes, they offer ankle support and are arguably built better than normal sandals, but there's still too much skin exposed.
The hiking sandals that have the best reviews by hikers look more like regular shoes than they do like sandals.
Instead, you should wear proper non-slip sports shoes or hiking shoes. By far, the best and safest choice for hikers is hikers boots. They're best for all-condition hikes and are suitable for all terrains.
Are There any Birkenstock Shoes That are Good for Hiking?
Fortunately for all you Birkenstock lovers out there, the company does make other types of shoes apart from their well-known sandals. They're even making vegan sandals now.
Their Jackson range of boots seems like the best fit for hiking out of all their products. They are lace-up shoes made of oiled nubuck leather that is water resistant and has a removable and anatomically shaped cork-latex footbed.
The anti-slip rubber sole will offer a secure grip on the hiking trails and if go by their other products, these boots should also be reasonably comfortable.
Unfortunately, no open shoe or sandal is suitable for hiking, and that includes the famous Birkenstocks. Coupled with the fact that they are open and offer no ankle support, wearing Birkenstocks for hiking is an accident waiting to happen. If you really love the brand, they do offer some good hiking alternatives.
Conclusion
For most hiking trails it's better to wear shoes that are more durable and comfortable than Birkenstocks. There's always the chance of encountering rough terrain like roots and rocks while hiking, so ankle support and traction are two important components needed in hiking gear.