During the winter it's nice to have a pair of boots that will keep your feet warm and dry during any outings. Sorel boots are known to have these qualities, but are they good enough for winter hiking?
Are sorel boots good for hiking?
Due to the lack of traction and ankle support, Sorel boots are not a good option for hiking and should be avoided. The rubber material on the bottom of the boot isn't durable enough to withstand the rough terrain of most hiking trails.
These key features of traction, durability, and stability are needed in hiking boots, so let's explore how Sorel boots match up!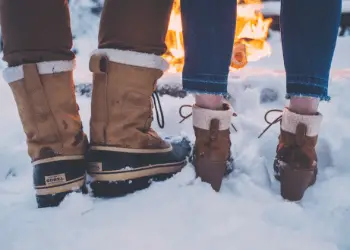 Hiking In Sorel Boots
Since these boots are designed to be waterproof and comfortable, one would think they would be good enough for hiking, but that's not the case.

After talking to a few friends who wear the boots and exploring some hiking forums, there are a few common problems that arise when using Sorels for hiking.
Thin heel padding doesn't fit into a crampon
Material near the toe of the boot cracks
Rubber isn't flexible enough for good support
Front sole peels away after minimal use
Overall, as one user puts it, the Sorel brand shoes and boots can't withstand the rough terrain while hiking.
They're not serious trail walking or heavy-duty boots. They began falling apart after the first season I had them and they have zero traction for trails.
For a lot of other brands, it's possible to use their boots for short hikes, but with Sorel boots, it's not recommended. It's best to leave them at home unless you're fine with the material breaking down rapidly.
Read next: Are Danner boots good for hiking?
Tips for Hiking in Sorels
For those of you that do decide to use them for hikes, I've put together a few tips to help limit the problems you might have with the boots.
Make sure the boots are waterproof
Use boots that have been worn before and are broken in
Have tight-fitting boots to help with stability
Wear comfortable hiking socks that go up above the ankles
Sorel Boots Quality
When it comes to high-quality products, Sorel boots are built to last and remain warm throughout their lifetime.
The first thing that comes to mind is the large number of people I know who've worn the same pair for years. Of course, this only happens if they're taken care of correctly, which is why hiking in them isn't a great idea.
I've been wearing the same pair of Sorel boots for three or four winters at this point. They're definitely worth the money!
Second, these boots work wonders in keeping your feet warm and dry. The bottom of the boots is constructed with rubber that is 100% waterproof and insulated to keep all water out.
If you get Sorels and aren't satisfied with the quality of their boots, you can take advantage of their one-year limited warranty.
Are Snow Boots Good for Hiking?
Generally, snow boots are not made for hiking because they lack ankle support, traction, and comfort for trails or mountains. Snow boots are designed to help move around in the snow on flat ground, while hiking boots work well on uneven terrain.
Here are a few benefits for both snow boots and hiking boots:
Benefits of Snow Boots:
Work best in lots of snow
Insulated
Lightweight
Benefits of Hiking Boots:
Sturdy
Provide protection
Comfortable
Clean design
If you do take your boots out for a hike, read my guide on cleaning Sorel boots and making them look new again!
Read next: Are Blundstones good for hiking?
Conclusion
Because Sorel boots are made of rubber and have little ankle support, they are not a good option to wear hiking. Most hiking trails require boots or shoes that are durable enough to handle roots, rocks, branches, and anything else you'll walk across.
If you do decide to wear them hiking, make sure they aren't a brand new pair and that they fit comfortably. Otherwise, you might end up with sore feet and blisters after a long day of moving around.