When it's time to hit the trails, nothing is more essential for exploring the hikes than a reliable pair of hiking boots. Danner Boots are extremely durable and have enough traction to take on the muddiest, wettest hikes.
The brand delivers some of the most desired hiking boot features–flexible Vibram sole, water-resistant suede, waterproof liner, comfort straight out of the box, and an aesthetic that looks as good on the trails as it does off.
Are danner boots good for hiking? Danner boots are built with features that make them great for hiking such as waterproof and flexible materials. The boots are also designed with lots of traction, durability, and comfort for those long hours out on the trail.
These sturdy, all-terrain boots are designed for protecting the feet and ankles during outdoor walking activities, such as hiking, backpacking, hill walking, or mountaineering. Keep reading for a more detailed breakdown of each feature that helps you hike in them.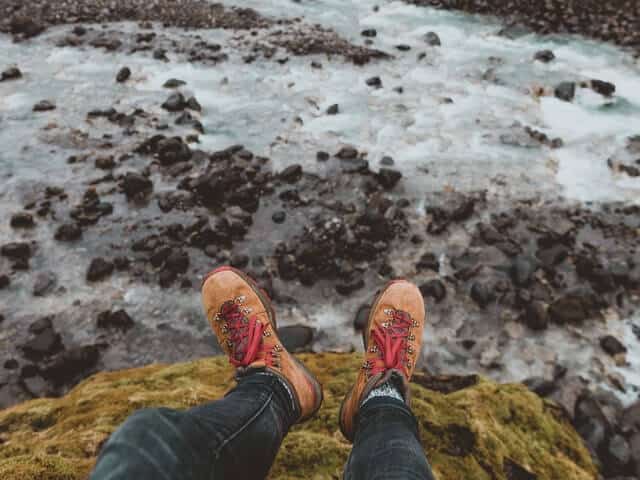 Hiking In Danner Boots
The Danner brand is known for making boots that are great for all adventures and explorations outdoors. Here's how the Danner site describes their boots:

Comfort & Toughness
When you buy hiking boots, you are often presented with a choice between sacrificing comfort for toughness or the other way around.
Danner Boots maintain a healthy balance between comfort and toughness to provide quality that many other brands can't match.
So if you're someone who doesn't want to compromise on the functionality and comfort, choosing Danner Boots is a smart way to take some stress off your feet as you walk on concrete all day.
Protection Against External Environment
Putting its waterproof claims into the test, you can expect these boots to bead water off compared to other boots that absorb the water and expose the feet to moisture.
Aside from its waterproof characteristic, the sole is also oil and slip-resistant, with a non-conductive electrical shock sole to provide unmatched protection.
This adds added protection and buffer for your feet in case you accidentally stub your toe on hard rocks and roots while hiking.

The brand is also much-praised for its aesthetically pleasing hiking boots that have impressive durability, virtually zero break-in time, and top-notch comfort.
Unparalleled Versatility
All Danner Boots offer versatility that can cover a wide range of the market, and it is likely that Danner has a pair of boots that can fit your needs and preferences.
Thanks to the boots' sturdy structure, it conforms easily and your feet won't hate you at the end of the day.
You can expect the boots to fit true-to-size, with plenty of space in the toe box so your toes have enough room to breathe throughout the day. Danner also caters to people who have wide feet and might want to order a wide sizing.
Values Customers
Another notable thing about Danner is the fact that they are willing to listen and act accordingly based on the feedback from its customers. The brand consistently does this to test their own products and search for ways to make necessary changes to ensure they provide unparalleled quality in each of their product offerings.
With all that said, Danner's generous list of benefits proves that it's really the most versatile boots available in the market.
Are Danner Boots Comfortable?
Once broken in, Danner boots feel great and are comfortable to wear for hours at a time. They have insoles created with custom DXT comfort technology that support and provide additional shock and protection on your feet.
Options like the Vicious are designed to be lightweight, durable, and comfortable while still having an ergonomic feel for work boots. Danner boots are made with the highest grade of leather, GORE-TEX waterproof technology, and EVA midsoles which add soft cushioning.
Conclusion
Danner Boots may cost a lot compared to the regular ones, but their versatility allows you to get the most of the investment. In fact, these boots are made to last for years, and the high price tag comes from the fact that Danner uses top-notch material that can withstand the mountain test with flying colors.
Anyone planning on hiking who needs ankle support and underfoot protection against rocky terrain should give Danner Boots a try.