Whether you already own a pair or are considering buying Danner boots, there are plenty of questions that people wonder about.
Are they worth it?
What size boot should I get?
How long does it take to break them in?
I've put together the complete guide for these boots, so here are seven important answers that you should know about Danner boots!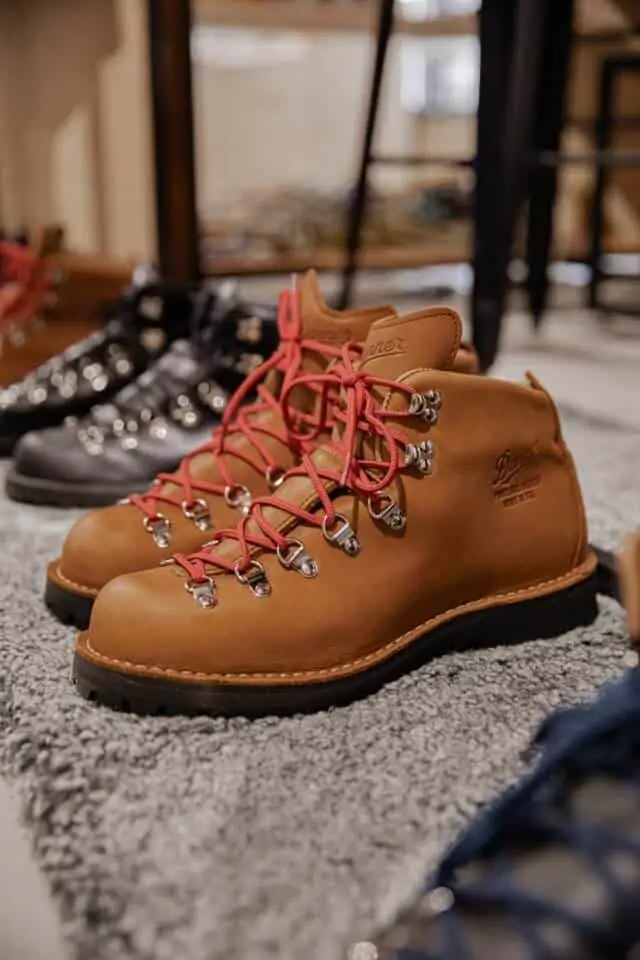 Are Danner Boots Worth the Money?
Danner boots have great build quality but they aren't worth the additional cost compared to other footwear options. Even though they are long-lasting and versatile, brands like Merrell and Keen offer hiking boots that are cheaper and are comparable in features.
The best way to determine whether or not the price is worth it is to look at a few important features. If you find that everything below matches up, then the higher cost for Danner boots might not be an issue.
Comfort – For me, comfort is one of the most important things to look at when buying new boots, especially hiking boots. Chances are you'll be wearing them for hours at a time, so spending a lot of money on boots that don't feel nice isn't great.
Materials – When buying anything that's expensive the quality of materials used can't be overlooked Are you paying more money for the leather material of the boots, or is it because of the brand name? For a lot of people spending more on a well-known brand is worth it, so that's a decision that needs to be made for every individual.
Durability – If I see a high price tag on boots, I want to know that I'll get my money's worth. There should be an emphasis on durability and consideration of how long the boots will last.
Are Danner Boots Waterproof?
The majority of Danner boots are made with GORE-TEX and Danner Dry technology that make the materials waterproof. Each boot has water-resistant properties built into the leather which will eventually wear down with repeated use. Waterproof gel or spray can be used to increase the waterproof ability of the boots.

Over time the leather material of the boots will darken and begin to hold water, meaning the resistance has begun to wear down. Before adding any waterproof liquids you should completely clean, condition, and dry the boots. This will allow the substance to fully absorb into the leather pores and will be more effective.
Do Danner Boots Run Small?
Danner boots don't run big or small but are known to run true to size. Many customers have reported that the boots run slightly narrow, so it may be worth moving up half a size if you require wider shoes.

The good news is that they do offer several options and styles for narrow and extra wide shoes. The majority of the other merchandise is measured in normal and wide sizes.
According to Danner support, their products are sized according to the Brannock device for US sizes. The best way to choose the right size is to visit a footwear retail store and get your feet measured with this device.
Do Danner Boots Stretch?
New Danner boots will loosen and stretch a small amount after being worn a couple of times. The amount isn't significant or noticeable and it's recommended to buy your normal shoe size instead of going up or down a full size.

The majority of online reviews and forums all agree that there is very little change in the size of the boot over time. One user had this to say about their condition:
I've had these Danner boots for 3 or 4 years and it doesn't feel that they've stretched at all.
If you're experiencing any discomfort due to tight shoes, one option is to visit a shoe repair store and have them use a boot stretcher. This should help loosen up the tough material of the boot that hasn't fully broken in after consistent wear.
Here are a few more options for stretching your Danner boots:
Use a spoon to stretch and loosen tight materials
A hairdryer on the lowest setting can stretch out small areas on the boot
Dampen some newspaper and leave it inside the boots overnight
How to Break in Danner Boots
All boots will loosen up the more you wear them, but there are a few key things you can do to help with the break-in process.
Step 1: Wear Them Around the House
Taking your new boots and wearing them for an entire day would be uncomfortable and possibly lead to soreness and blisters on your feet.
The easier way is to put them on for 30 minutes to an hour at a time while you're in the backyard or walking around the house. After a few days of doing this, your boots will feel much better to wear for long periods at a time.
Step 2: Use Thick Socks the First Few Times
Wearing socks that have extra padding in combination with your new boots can help ease the process. With the right pair of socks, you won't have to worry about unnecessary rubbing on the back of your ankles. It's nice to have more protection until your Danner boots are fully broken in.
Step 3: Put Conditioner on the Leather
If you've tried the steps above and are still having issues, a leather conditioner could help speed up the process. It will soak into and soften the leather, which will let them mold to the shape of your feet.
How to Clean Your Boots
The best way to extend the lifespan of your boots is to maintain and keep them clean. When dirt gets stuck on your boots it can cause the leather material to become dry and cracked.
For simple cleaning you should brush off excess first, clean with warm water and soap, and then leave them to dry at room temperature. Read my detailed guide for cleaning Danner boots to find some tips on making the process simple.
Danner Boots Lifetime Warranty
Danner boots can be replaced if they're defective and returned within one year of the purchase. There is a limited warranty that doesn't cover certain exclusions like improper maintenance or damage caused by foreign contamination.
Here are a few of the exclusions that prevent boots from being returned:
You can visit the Danner site here to inquire about returns.