Keeping your Danner boots clean and looking new can take a little bit of work. Over the years I've learned a few tips that can help speed up the process!
To clean Danner Boots, you'll need a damp cloth, a sponge, and a soft brush. For oil-based stains and debris, you'll want a cleaning gel that's silicone or water-based. While you can air dry Danner boots, you can also use a boot dryer to speed up the drying time.
Learning how to clean Danner boots involves a few steps and manufacturer recommendations. Below is my step-by-step guide on how you can safely clean your boots without damaging the leather materials.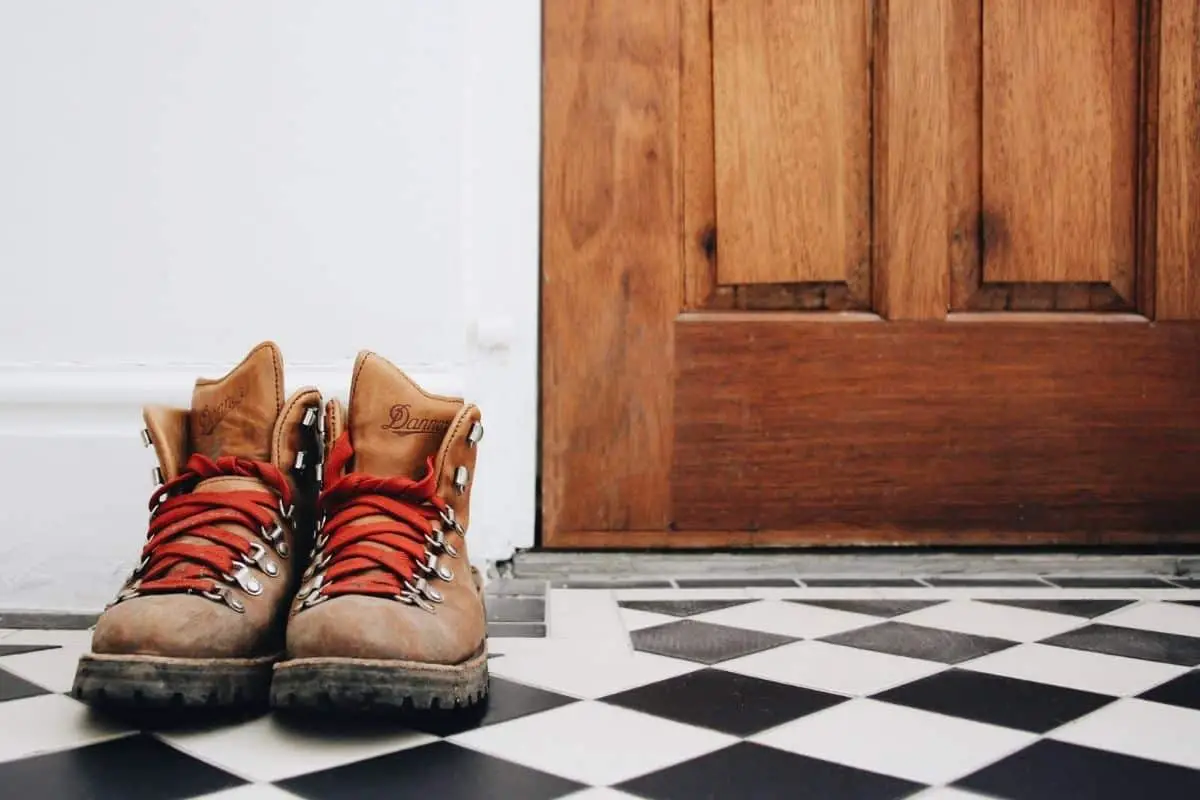 What Should Be Avoided
You shouldn't use any of the following items since they could damage or reduce the lifespan of your Danner boots.
Dryer
Hairdryer
Space-heater
Direct sunlight
Danner Boots Care Instructions
Follow each step below to safely clean your Danner boots and keep them in great condition.
1. Gather The Needed Materials
If you don't have water or silicone-based boot cleaner, you can purchase Danner Leather Cleaner. These types of cleaners will help you remove ingrained and tougher stains without ruining the leather's quality.
Choose a smooth cloth, sponge, and brush. You might also want to have a small bowl with a little bit of water nearby to dampen or rinse off your cleaning tools.
2. Prepare Your Boots
Take out the laces from both of your boots and set them aside. Then, remove the false tongue from the boots.
If you're unsure what the false tongue is or looks like, it's the piece of the boot that sits between the laces and the boot in the toe section.
While you're setting the laces and false tongues aside, take a look at their condition. If they look worn out, make plans to replace them.
3. Brush Away Dirt and Debris
Place a paper towel underneath your boots or hold them up over a sink or container that is big enough to catch dirt. Take your soft brush and gently scrub away the larger portions of dirt and debris. This includes the soles of the boots as well as the leather.
Move the brush in a circular motion and dab small amounts of boot or leather cleaner on any oil-based or tough, ingrained stains. Once you've brushed away the dirt and stains, wipe up any leftover boot cleaner with the sponge or cloth and let your boots air dry.
Alternatively, you can use a boot dryer but be sure not to use an open heat source. Placing your boots near a fireplace or wood-burning stove will damage the leather. Don't use a hairdryer or place your boots near a space heater or any open flame.
If you choose to leave your boots out, it usually takes them 24 hours to dry.  
4. Apply Water-Resistant Spray (optional)
Some Danner boots are made with waterproof materials but the liner may need occasional touchups. Other Danner boots come with water-resistant protection. However, this will wear off over time and you'll need to reapply a waterproof coating.
Danner makes waterproof gel and sprays that you can purchase online or in one of their stores. After your boots are dry, apply the gel or spray according to the directions on the bottle.
The gel works best with smooth-out leather, while spray works with suede, nubuck, or rough-out varieties.
Manufacturer recommendations advise owners to apply waterproofing each month. If you use your boots a lot in wet environments or weather, you may need to apply waterproofing more often. After you apply waterproofing, be sure to let it thoroughly dry.
5. Condition The Leather (optional)
If you notice cracks or flakes coming from your boots' leather, it's time to apply the conditioner. You'll want to match the color of the solution with the color of your boots. But once you have the right color, apply some of the solution to a gentle, clean cloth.
Rub the solution onto the boots with the cloth, using a circular motion. Pay attention to any tricky areas and wipe away any extra conditioner. You can then use a boot dryer or leave them out.
6. Reassemble Your Boots
Once your boots are dry, it's time to put them back together. Place the false tongue back in each shoe. Once you've secured those, go ahead and string the laces back in. You can also test your boots out by putting them on, lacing them up, and walking around.
Your boots should feel and fit the same after you've cleaned, waterproofed, and conditioned the leather.
How Often Should You Clean Danner Boots?
According to manufacturer recommendations, you should plan on cleaning your boots after each use. Even if there's not a lot of caked-on dirt and stains, regular cleanings will extend the life of your boots.
Removing smaller patches of dirt prevents the leather from drying out. Cleaning less than noticeable dirt from your boots also stops smaller pieces of debris from wearing out or breaking down the leather.