Blundstones, quality footwear "designed to be lived and worked in".
The legendary boot manufacturer has had followed this simple description from the very beginning way back in the mid-1800s, but should they be used for hiking?
Are blundstones good for hiking? While you can hike in Blundstones, they are not designed or built as a hiking boot and are not suggested for hiking. When hiking, it is recommended to use boots that offer a lot of ankle support and durability.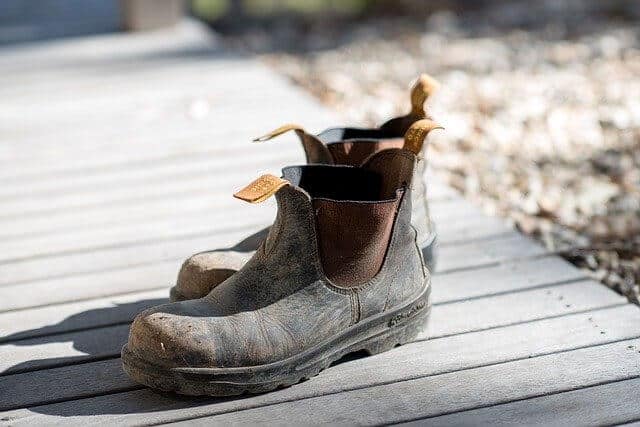 Hiking In Blundstones
Here's what makes Blundstones boots different than other boots according to their site:

After looking around on various forums and speaking to avid hikers, I've gathered the following problems from those who've used Blundstones while hiking.
Little to no ankle support
Blisters from feet moving around in the boot
Feet don't breathe at all
Quality reputation is shady
Elastic sided boot = Don't hike in them
The laceless design is super convenient but doesn't secure your feet well enough for hills
100% imported leather with synthetic sole.
One user summarized all of the above problems with the following quote.
They were never made as a hiking boot. But they still make a damn good work boot.
Even though many people have had bad experiences using Blundstones for hiking, they should be fine for easy and short hikes.
They are great boots and could handle some easy hikes. But if you are hiking mountains with rocky and rooted trails they would not be good.
Tips for Hiking in Blundstones
If you do decide to wear your Blundstones out for a hike, here are a few tips to help reduce any problems you may face on the trail .
Use boots that are already broken in
Find the correct Blundstone size
Make sure the boots are tight and fit your feet
Wear hiking socks that are comfortable and go above the ankles
Keep your hike short and simple
Here are some tips I've found for cleaning your Blundstones after wearing them out for a day of hiking!
Blundstone Quality
When it comes to quality, it's hard to beat a pair of 'Blunnies' as they are affectionately known. Legendary craftsmanship and a longstanding commitment to extraordinary quality put the Blundstone boot on top of any list.
If you're wondering about comfort, just know that Blundstone doesn't cut corners. As the boot developed through the years, so did technology. Blundstone parlayed all of those efforts into designing a work boot that fits well and reduces foot fatigue during the long workday.
Since are made with the best available leather and components, including waterproof leather and wool, they have yet to release any vegan options for their brand.
Breathable mesh lining with removable insoles. Enhanced arch structure with absords shock and helps with stability.
History of Blundstone
When he arrived in Tasmania in 1855, John Blundstone, the patriarch of the 'Blunnie' started out in Hobart Town as a coachmaker.
He moved on within 10 years to begin his famous boot business as an importer. By, 1870 he began making his own designs of quality boots built for life which quickly garnered national acclaim.
A factory was soon opened in Hobart Town and by the time World War I began, the bootmaker was one of a handful of shoemakers chosen to supply the Australian army with much-needed quality footwear.
Though the company was eventually acquired by a much larger shoe distributor, they kept the name because of its strong association with quality and comfort.
The boot company went on to outfit the Australian Everest Expedition. Apparently, they were such a hit, the sherpas begged for them as parting gifts.
These treasured boots are highly coveted by workmen in some of the toughest conditions as well. In the 50s their popularity exploded as they quickly garnered a reputation for long-lasting comfort on the factory floor.
But the boot's popularity doesn't stop there. Since the 60s the Chelsea boot has become very popular with the white-collar crowd too, and they remain so today.
Conclusion
Even though the majority of people have had negative experiences hiking in Blundstones, they may work for light hikes. Since these boots aren't specifically designed for hiking, they lack some key features that other hiking boots have.
If you plan on going for long hikes or on rough terrain, I would recommend looking into boots that offer better ankle support, stability, and durability. Also be sure to look for waterproof shoes or follow this guide on waterproofing your Blundstones.