It's always a sad day when our favorite pair of boots get worn down and have to be replaced. There are a lot of brands that create unique and high-quality footwear, so it can be overwhelming trying to decide on which ones to get.
Both Blundstone and Redback brands make high-quality and durable boots that are worn for work or other activities. They share features like leather material, water resistance, and return policies. A few key differences between both are the comfort level and waterproof strength.
Today, we'll be reviewing and comparing both Blundstone and Redback to find out who makes the better boots.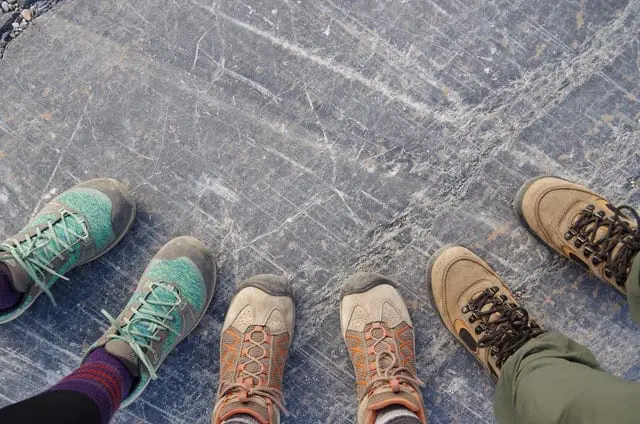 Blundstone and Redback Comparison
| | | |
| --- | --- | --- |
|   | Blundstone | Redback |
| Year Founded | 1870 | 1989 |
| Average Weight | 960 grams | 1000 grams |
| Materials | Premium leather, nuback, suede | Polyurethane |
| Return Policy | Proof of purchase, no exchanges | 90 day return for merchandise credit |
Blundstone vs Redback
Blundstone boots are designed to be durable and comfortable, while Redbacks have better construction and stability. Both brands are known for their quality and are similar in their design and traction. Redback boots are much lighter and considered a better work boot than Blundstones.
For newer models, most customers find the Redback boots fit comfortably even for the first time you wear them. Blundstone on the other hand has been known to be on the tighter side until they've been worn and broken in.
The design of these companies is relatively similar, although Blundstone has recently been expanding out and producing more unique and widespread boot options.
When comparing both brands it's hard to say which is better without considering what activity they'll be used for. Whether you're wearing them at work or out hiking on a trail makes a huge difference, so let's take a closer look now!

Boot Design
Blundstone
One of the best features of a pair of Blundstone boots is how lightweight and comfortable they are. When I bought my first pair it took a little time to break them in, but after that, I never had any issues with the feel.
They have a good amount of shock protection built into the boots and increased cushioning and padding towards the heel to really help prevent any rubbing or blisters.
A few features of Blundstones are their pull-on boot concept that is designed without laces. It's one of the features that makes them so unique to customers around the world.
Blundstone has a brand that fits the working style for any time and place while giving a stylish but professional look for anyone wearing a pair.
Redback
Redback boots are known for being great work boots that are long-lasting and comfortable. The 100% full-grain leather construction makes the product unique and comfortable. This leather material also helps the boots feel great on your feet even after hours of wear.
I've personally found Redbacks to be less durable than Blundstones, but more comfortable to wear for hours to the entire day. Another difference between the two is that Redback boots are constructed with 3-piece leather, while Blundstones are made of a single piece instead.
The bulkier sole and the thick outer sole features of Redback differ from the Blundstone brand. Air-cushion midsole is the main pros of the Redback product. The Cushioned Innersoles and Strong leather rear pull tab are attractive features of the Redback brand.
Return Policy
Blundstone
If the original tags are still attached and you have proof of purchase, Blundstone merchandise and be returned within 30 days. After returning the unworn products you will be refunded the original price of the purchase.
The most convenient way to process a return is to go to their website, Blundstone Returns, and register for a return label before shipping out the product.
Also, note that only items that were bought in a store and not through an online site can be returned.
Redback
The Redback company will accept new and unused items within 30 days of the purchase. After the return is processed you will receive the credit back on your original payment method.
Any unworn item can also be returned up to 90 days after purchase to get merchandise credit instead of a full refund for the original price.
Further instructions for returns can be found here.

Similarities Between Blundstone and Redback
Like most companies, there are a few features that are common between them both. Here are the similarities between both brands:
Lightweight materials
High-quality leather material
Waterproofing capabilities
Durability and ankle support
These common features of Blundstone and Redback boots are not unique to either brand but should be highlighted as important.
From the table above we can see how close the average weight of these boots is across both brands. It's nice to have a lightweight boot or shoe since you'll most likely be wearing them all day.
Leather material on products can be hit or miss, but you'll find no problems with either Blundstone or Redback in that category. Because the quality is great for both, their shoes and boots are long-lasting and don't need to be replaced or fixed very often.
Not all of their products are waterproof, but most have some water resistance. From the pairs that I've owned, I found the Blundstone waterproof technology to be slightly better and longer-lasting.
Differences Between Blundstone and Redback
Now that we know the features shared between them both, let's look at the following differences.
Leather materials
Waterproof strength
Comfort
Even though both leather materials are known for being quality made, Redback is created with full-grain leather while Blundstone uses their greasy kip leather. There are slight differences that make the full-grain leather more durable, but both are still made with 100% leather.
When comparing the water resistance of both materials we need to consider that Blundstones uses a few different oils to enhance the breathability and waterproof qualities. Because of the oils, Blundstone is slightly better at keeping water out and can be easily cleaned.
For comfort, we already know that both boots will need to be broken in before feeling good to wear around. Since Blundstones are made with that single piece of leather instead of 3, it takes them a lot longer to wear in. Right out of the box Redbacks are more flexible and can fit your feet much easier.