There are plenty of options on the market relating to waterproof materials and gear.
Two popular choices that you might have heard come up are Ascentshell and Gore-Tex.
To fully understand which option is better for your situation, we'll be looking at the most important similarities and differences between them.
Stick around for this in-depth review and you'll have no trouble staying cool and dry in your favorite products!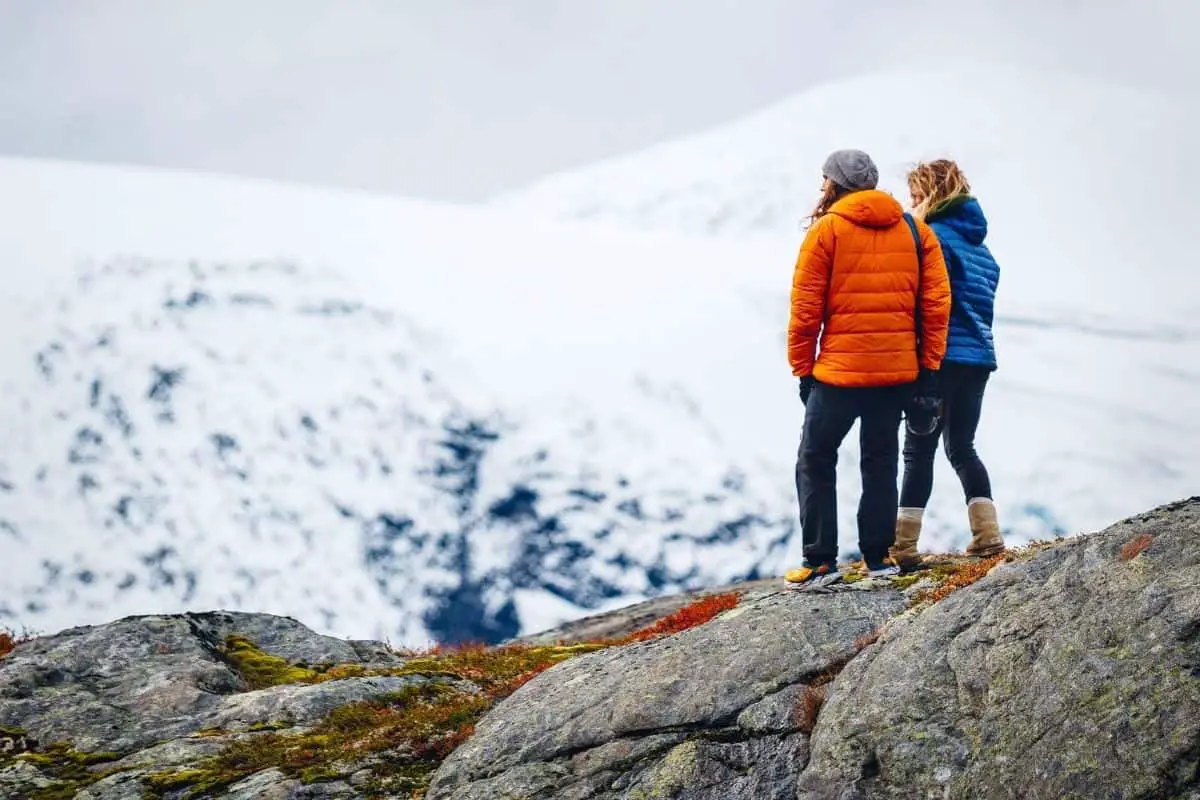 Quick Overview of Gore-Tex
Gore-Tex is Teflon-based. It is made when Teflon is stretched out to form small holes. This may sound like it is not actually waterproof, but what the holes are for are to let out water vapors, but to not allow droplets of water in. This is how Gore-Tex can let sweat out but not let rain in.
The material is then treated with a DWR sealant on the outside and given a polyurethane membrane protection on the inside. This wicks away sweat and allows the fabric to be breathable, but waterproof.
Quick Overview of Ascentshell
Ascentshell is a newer technology created and distributed by Outdoor Research as of 2016. The material is created by Electo-Nanospinning, which creates a net of thread that is layered numerous times. This net creates pores to allow water vapors to pass through, but the pores are not big enough to allow water droplets through.
Ascentshell markets their jackets as the most breathable material while still being waterproof. The design of the material works with air movement to keep the sweat moving out and the water moving in. Given that many Ascentshell products are geared towards skiers and snowboarders, this makes it an ideal product.
Differences Between Ascentshell and Gore-Tex
Different Conditions
Because Ascentshell products rely on air movement, they will only work best in certain situations. They are designed for active users in wet conditions, keeping you dry on the inside by wicking away sweat and dry on the outside by repelling rain and snow.
However, in environments with more rain, or for people who are not as active, Gore-Tex is the better option. Gore-Tex does not need air movement for the polyurethane inner lining to take away sweat.
Gore-Tex is generally accepted to be the more durable jacket in a variety of conditions.
Variety of Products
Many different jackets and specialized pants utilize either Gore-Tex or Ascentshell for their waterproofing. This will affect the price, depending on the maker of the jacket. However, between Gore-Tex and Ascentshell, there is not a significant price difference between either of them.
Something to look out for when looking to purchase one is whether or not the jacket or pants are a rain shell or a snow shell. Even if the product is made with Gore-Tex or Ascentshell, a rain shell jacket will be made to different specifications than a snow shell jacket.
Rain shell jackets are designed for downpours, where there is a lot of water in a short period of time or a consistent amount of water over a long period of time. Snow shell jackets are designed to keep you warm and dry in snowy conditions, whether the snow is currently falling, or already on the ground.
Availability
Gore-Tex is the older product, having derived from expanded polytetrafluoroethylene or ePTFE, in 1969. It was the first waterproof and windproof fabric that was also breathable. Because Gore-Tex is older, you will find it in more places. Products using Gore-Tex have also had more time to work out some of the issues with the technology.
Ascentshell debuted in 2016, so some products using that technology may still have a few issues, even though the technology for Ascentshell derives from the same core technology that Gore-Tex comes from, DuPont PTFE.
Due to the difference in age of the two products, it will generally be easier to find Gore-Tex in jackets than Ascentshell. But that does not mean you cannot find an Ascentshell jacket. Outdoor Research works extensively to make their products available and affordable to active people looking for a waterproof, windproof, breathable, and warm jacket or pants set.
Reception
Gore-Tex is the only trusted product in rowing communities, having the only effective waterproofing technology for lifejackets. Skiers and snowboarders accept that Gore-Tex is the more durable jacket, but many like the breathability they get from Ascentshell. For people working in rainy environments, Gore-Tex seems to be the preferred option.
Conclusion
Gore-Tex is the older, more proven product. Ascentshell is up-and-coming and may very well prove their worth in time. For now, Ascentshell waterproofing technology is best for people who are going to be active while being exposed to snow or small amounts of rain.
Ascentshell remains a competitor to Gore-Tex, however. And they certainly make for a softer, stretchier jacket.