As an outdoor enthusiast, it's important to be prepared for all weather conditions. This means equipping yourself with waterproof and breathable gear.

The most popular type of waterproof and breathability membrane is arguably Gore-Tex, but there are some promising technologies available including H2NO by Patagonia. 
Which is better, H2No or Gore-Tex?
The Gore-Tex technology is better than H2No when comparing waterproofing ability, breathability, comfort, and durability. There is a higher cost when buying Gore-Tex gear, but the materials will last longer and stay water-resistant for longer than H2No.

In this article, we'll be making a comparison between Gore-Tex and H2NO to see which one edges the other in terms of durability, breathability, waterproofness, and overall quality.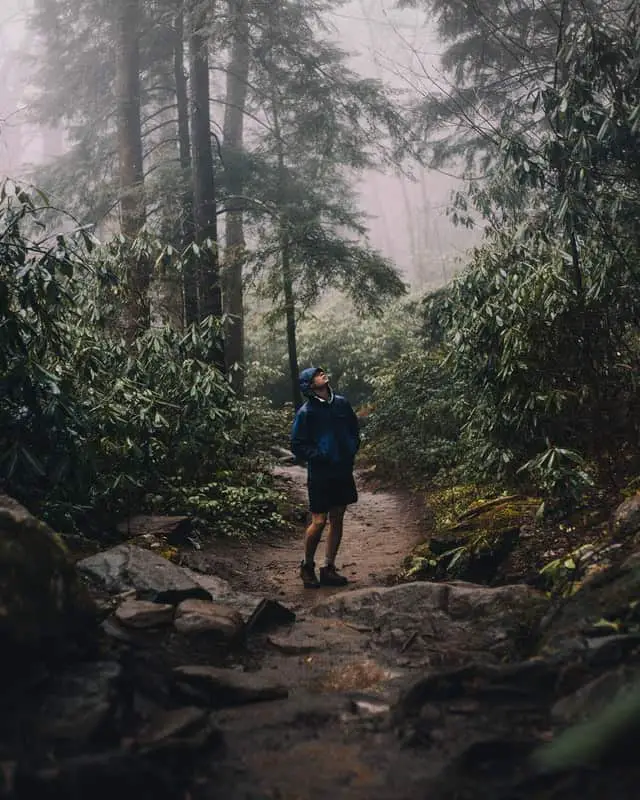 Gore-Tex:
As already mentioned, Gore-Tex is a membrane fabric that is popular globally for its many properties including breathability, waterproofness, and windproof. These features make it suitable for outdoor sports and activities. Gore-Tex is essentially a fabric consisting of the ePTFE material that guarantees supreme breathability and waterproofness.
It consists of nearly 9 billion micropores per square inch, which are small enough to prevent water from entering a garment from the outside, but equally large enough to allow water vapor or sweat to escape from the inside of the garment.
Gore-Tex fabric boasts three distinct features that include, being a membrane due to the presence of billions of micropores that efficiently wick moisture, being laminate because the ePTFE is bonded between two layers of fabric, and being technology because it is available in different types and can also be used for various applications.
Gore-Tex is a highly durable fabric that is also water repellent thanks to the DWR treatment, which forces water droplets to slide off the surface of the fabric.
H2N0:
H2N0 fabric technology was established in 1973 by the popular brand Patagonia. It typically consists of a water-repellent shell and a highly breathable and waterproof membrane.
It is also worth noting that Patagonia uses Deluge DWR coating, which is considered more durable than other regular DWR coatings.
Like its Gore-Tex counterpart, H2N0 is available in three variations, which are all completely windproof, waterproof, and great for letting trapped moisture escape.

2-layer H2No Performance Standard – Water-repellent fabric in combination with a waterproof membrane material.
2.5-layer H2No Performance Standard – Water-repellent fabric in combination with a waterproof membrane and a protective outer layer as a barrier.
3-layer H2No Performance Standard – Water-repellent fabric in combination with a waterproof membrane and a lightweight knit backer.
Here's Which Technology is Better

Now's the fun part where we compare these two great membrane fabrics in terms of their waterproof strength, breathability, and durability!
Waterproofing ability: H2NO fabrics have a waterproof rating that ranges between 10,000 and 20,000mm, which, of course, is considered highly waterproof. Gore-Tex, on the other hand, has a rating that starts at 28,000 and goes far beyond that figure.
Clearly, Gore-Tex emerges as the winner in this aspect. To maximize the potential of your Gore-Tex jacket, look for one that features sealed or taped seams!
Breathability: The breathability of outdoor fabrics is vital for your overall comfort, particularly if you are going to engage in rigorous physical activity. When you are either climbing or hiking, you tend to sweat a lot, so you need breathable gear. Quality outdoor wear is one that not only prevents moisture from getting inside it but also allows vapor or sweat from your body to easily evaporate.
Gore-Tex also edges H2NO in terms of breathability because it has a rating of 15,000-25,000 g/m2/24h compared to H2NO's 12,000-15,000.
Durability: Regarding durability, no fabric membrane beats the toughness and robustness of Gore-Tex, thanks to its ePTFE material. A typical Gore-Tex fabric will serve you for an extended period before showing any visible sign of damage. While H2N0 fabrics are also very durable, they simply can't match Gore-Tex's longevity.
Conclusion
The most important factors to take into account when looking to purchase a waterproof jacket are the type of protection it guarantees since this impacts the weight and price, and you'll also consider the level of breathability.
Today, membrane-lined jackets are arguably the most common perhaps because they usually strike a great balance between waterproofness, weight, and breathability. 
It is apparent that Gore-Tex is head and shoulders above H2NO performance-wise. However, this doesn't entirely imply that H2N0 is a poor brand!
It is a great fabric that will ultimately offer a significant level of protection against rainfall and wind, while at the same time wicking moisture out of your body. But if you are looking for a somewhat more durable fabric that also guarantees superior performance, Gore-Tex is the way to go!