Have you taken an interest in hiking recently? Are you looking for some hiking fun facts?
When I first started to hike regularly there was a point when I was so interested in it that I began looking around for hiking facts. There was no limit to the amount of hiking information that I wanted to learn!
Thankfully, I still had most of the cool facts that I found before. This is why I decided to do more research and provide you guys with the 19 best hiking facts and tidbits.
Hopefully, there are some new and interesting facts for you to enjoy in the list below!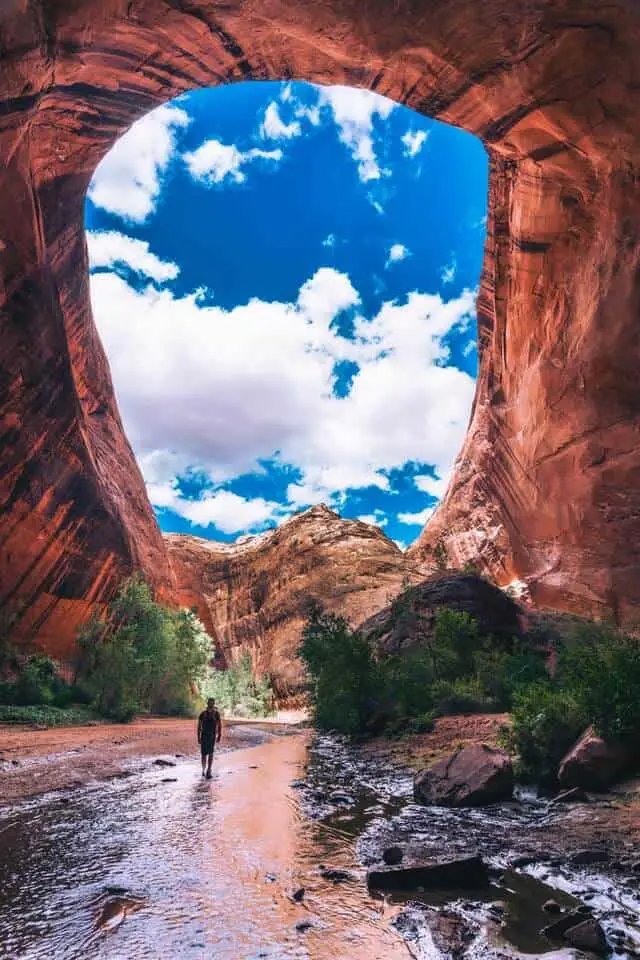 Interesting Facts About Hiking
1. Hiking can help reduce anxiety and depression.
Being out in nature away from all forms of technology is something that everybody should do at least once in a while. Hiking allows you to step away from the normal distractions of everyday life and enjoy some peace while away.
2. Hiking is the fourth most popular outdoor activity in the US.
In the last few years, we've seen a large increase in the number of people that actively go hiking. Coming in behind running, fishing, and biking, the number of hikers has gone up around 30 million since 2006.
3. According to The Outdoor Foundation's 2018 Outdoor Participation Report, 44.9 million people participated in hiking in 2017.
Back in 2006, there were around 15 million people that hit the trails, which has now increased to over 40 million. The number has been increased each year since back to 2015 and is expected to keep following that pattern.
4. You get numerous health benefits from even a weekly short hike.
Moving around and exercising for just 30 minutes each day can help with fatigue, sleep issues, creativity, and happiness levels. It may seem surprising to hear this, but being outside in nature can help both mentally and physically.
5. It can be a pretty inexpensive hobby to get involved in.
There aren't too many things that are required to begin hiking. If you have a decent pair of shoes and a bottle of water, the only other thing you need to do is find a location to go. Most areas have a few places that could be perfect for hiking and exercise.
6. You can help reduce the speed at which you lose bone density by hiking.
Bone density can begin to decline slightly after age 40. Since hiking is a weight-bearing exercise, your bones and muscles have to work harder to fight gravity. Combining the exercise with the added Vitamin D from the sun, hiking can help build and maintain bone density to fight the aging decline.
7. Hiking can improve your overall sleep quality.
A study in 2017 from Current Biology showed that the natural light received during a camping trip increase melatonin levels which helped shift their internal clocks. The avoidance of electronics and the natural workout all work together to allow a better night of sleep after hiking.
8. The exercise received while hiking releases endorphins which can work to boost your happiness.
It's often stated that exercise and moving your body can help reduce stress levels and increase your overall happiness. Hiking works the same and in some cases works even better! Being outdoors and enjoying nature while also getting exercise will do wonders in making you appreciate life and boost happiness.
9. Regular hiking will strengthen your heart, muscles, lungs, and mind.
Hiking can be an intense full-body workout in that almost every muscle will be used. You may be sore after a full day of hiking, but just know that the feeling is a good thing that is working to help keep your body and heart strong and healthy.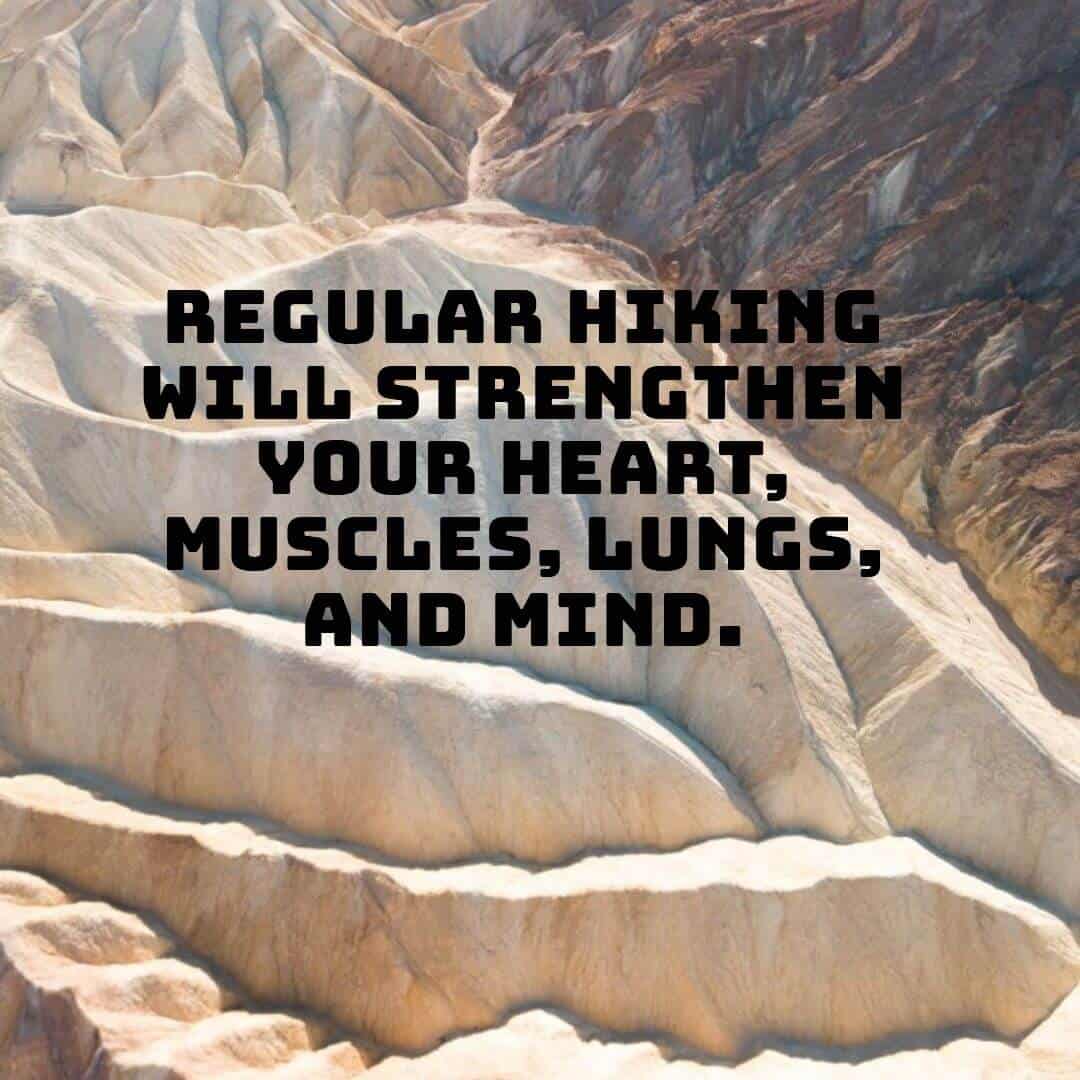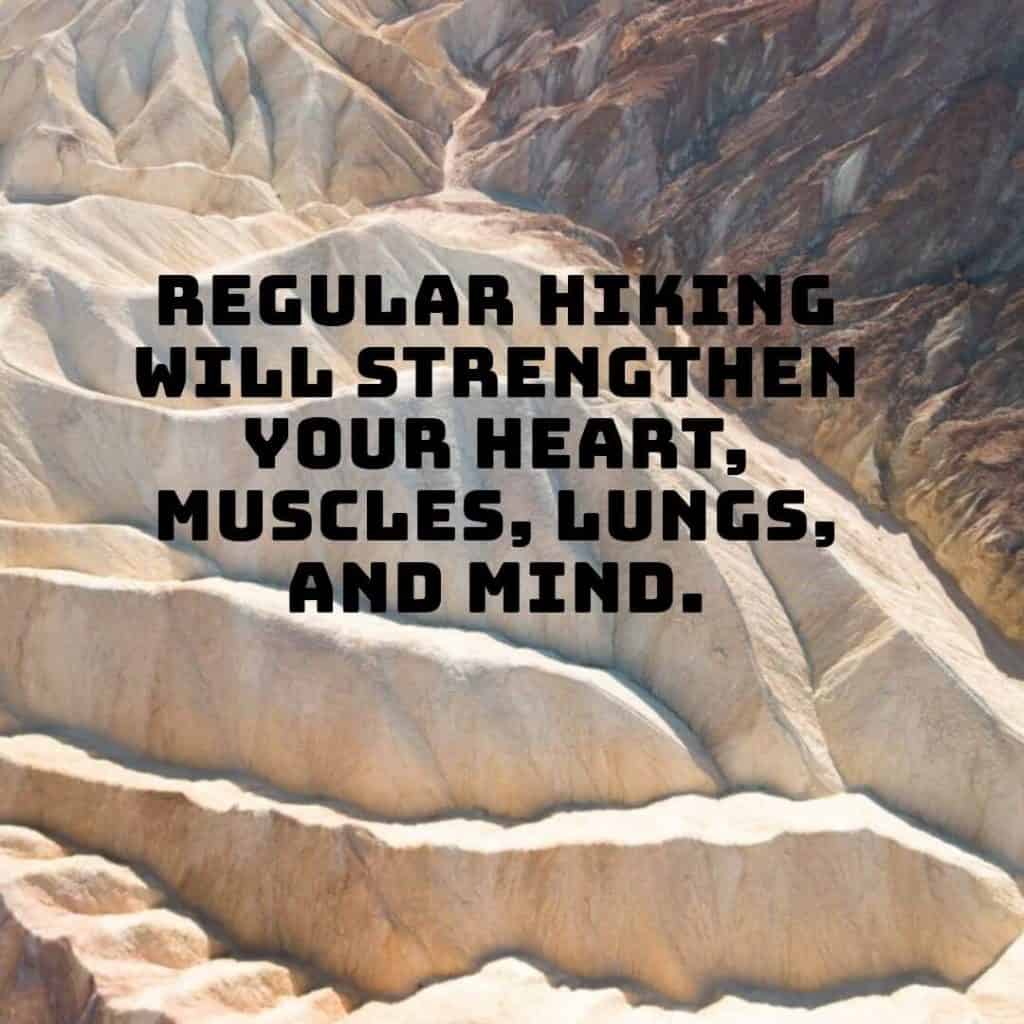 10. Hiking helps elevate all of your senses.
With fewer distractions to focus on every sense can be enhanced. Being on a trail will provide many chances like the smell or sight or nature to enjoy each sense.
11. It is a great way to meet new people who share the same interests and adventure-seeking.
Since there are so many people that enjoy hiking it's a great chance to make some new friends or hiking partners. Going to a popular trail and talking to new people is a great way to enjoy the activity and to find new locations to hike.
12. A woman weighing 160 lbs will burn 440 calories with an hour of hiking.
If you've wondered does hiking burn fat, the answer is yes! When it comes to exercises, hiking might be the most enjoyable one that burns a good amount of calories.
13. The recommended backpack weight for children is between 10-20 percent of their body weight.

One mistake that some new hikers make is packing too much in their backpack. The percent above is a good rule to follow if hiking with children, although adults should be able to judge the amount of weight they want to carry.
14. America's National Parks have more than 12,000 miles of trails.
Wow! This is a fact that surprised me when I first learned of it. The National Parks are quite amazing and there are bound to be endless amounts of beautiful views in the 12,000 miles of trails.
15. The Appalachian Trail starts in northern Georgia and ends all the way in Maine at Mt. Katahdin.
I'm sure at some point you've heard of the Appalachian Trail. There are always groups of people that decide to make the trek and walk across all of the states that it passes through. It's pretty amazing to think about the distance that the trail occupies.
16. Hiking can increase creativity with natural outdoor settings.
Being outdoors with very few distractions doesn't seem to happen that often nowadays. Taking a step back from technologies and stress can help us stay grounded and increase our creativity levels and ideas.
17. Around 10% of all hiking trails are by the waterside, 9% along a river or stream, and roughly 1% along a lake.
It's no secret that people love a good view at the end of a hike. You may have to do some research to find a nice trail with water to see while hiking since only 10% of the known hiking trails are near any amount of water.
18. People between the ages of 18 to 35 are the most avid multi-day hikers. 
Young people take up a large amount of the population that are actively hiking now. They are also much more likely to go on longer hikes and even multi-day hiking trips.
19. Hiking will increase your personal connections to nature.
If you're skeptical about this fact, I advise you to spend a little bit of time exploring nature each day. For some people it may not be true, but after a week of getting outside each day I feel more alive and grounded in my connection to nature and to the world!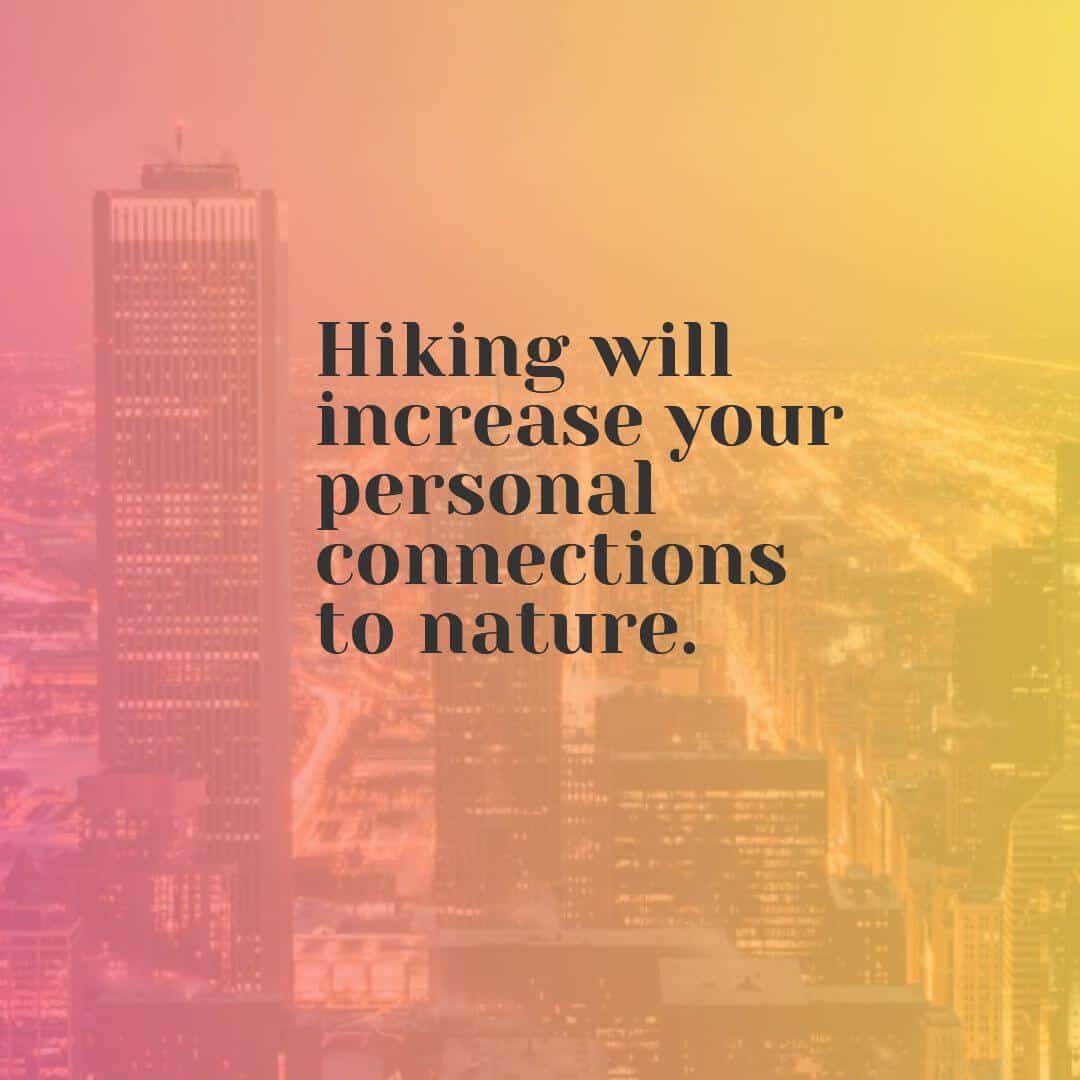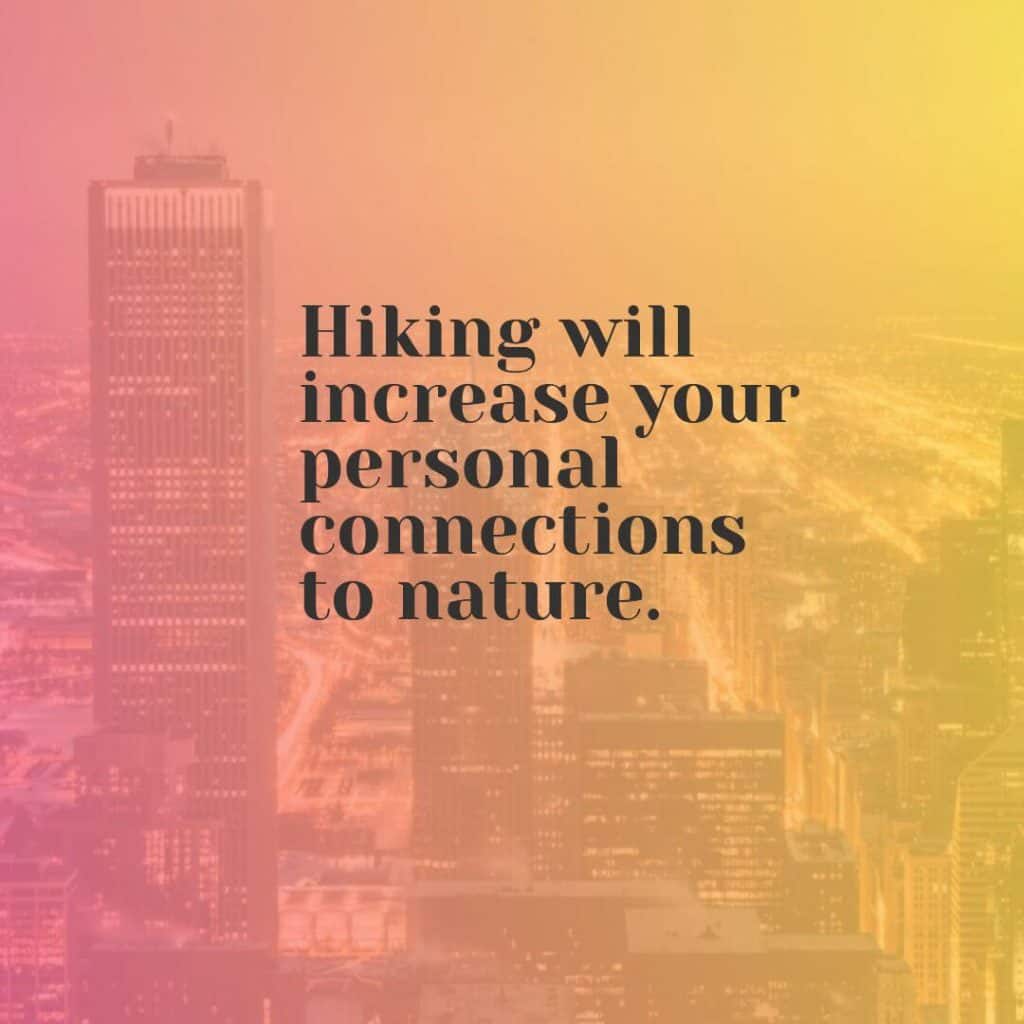 Resources