If you're searching for the best hiking group names, look no further!
Taking part in hiking groups and sharing experiences with others is one of the best parts of this hobby. Those of us who enjoy joining others on the trails know how important it is to find the perfect name.
The funny hiking names are always popular, so I've picked out my favorites that are bound to get a few laughs when they're heard.
Whether you're leading the charge or walking in your group, there's sure to be a name here that matches your style!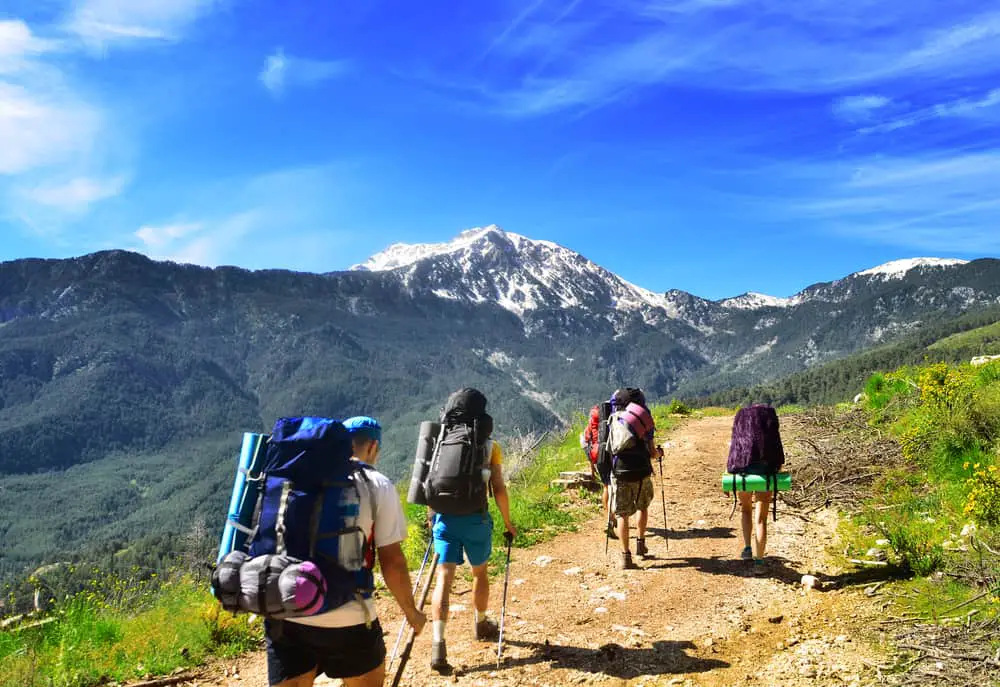 Funny Hiking Group Names
Legs Miserable
Take a Hike
Defeaters of Mountains
Cirque du Sore Legs
Extremely Undertrained
Happy Trails
Up up and away
Lost in the Woods
Catchy Climbers
Happy Hikers
Help I'm Lost
Brother From Another Mountain
The Speed Walkers
Stuck on a Trail
Miles to Martinis
Twin Peaks
Bringing Up The Rear
Between a walk and a hard place
Speed Bumps
Hike-a-holics
Started from the bottom
Live, Love, Hike
Team Advil
Bear Food

Best Hiking Team Names
Team Everest
The Leading Ladies
The Hiking Club
Hudson Hikers
Leave No Trace
Going to the Mountains
Happy Feet
Outdoors Club
The Wolf Pack
Fitness Friends
Hiking Group
The Ascenders
Mountain Rangers
Tips For Choosing Your Group Name
With so many available options it can be a fun process narrowing down the perfect name for your hiking group! In case you get overwhelmed or stuck on picking, here are some tips to help you choose the best name.
Find one that matches how you feel about hiking – It might be obvious, but taking the time to really think about why you enjoy hiking and what you get out of it can make the process much easier.
Narrow it down to 3 options – The easiest way to get a group of people on the same page is to cut down on the number of choices. There are bound to be a few names that can be thrown away right at the start before you get to voting.
Have every member in the group vote – Since the name is representing your entire team, if there's no unanimous decision, then the fairest way to decide is for each person to vote.
Consider the name for a few hours before deciding – If there's one option that's the most popular within the group, try to imagine it as your permanent name. After a few hours, you should have a good feeling about whether it fits your team dynamic or if the name should be switched.

Creating Your Own Hiking Team Name
Most of the names in the list above include a word or phrase that's closely related to an activity or object used while hiking. If you're still looking for the perfect group name or want to think of one on your own, here are some tips to get you started.
Keep it short – The best group names are usually ones that are easy to say and easy for others to remember. Find one that's short and easy to understand, so that you don't have to explain it to other groups.
Use the name of a famous trail or mountain – When in doubt, find your favorite trail, mountain, hiker, or place and use the name in combination to craft an interesting name.
Don't overthink it – Don't spend too much time going back and forth on all of the options. It's best to keep it simple and use a name that you quickly think of.
Find a name that works for all – Ask around with the other members of your group or other hikers in general and get some feedback or new ideas for your group. Hiking forums are always a good place to check out as well.
Use a name generator – One of the best places you can do when you're out of ideas is to use an online name generator. Use one for a few minutes and you'll see hundreds of new ideas.