The popular Doc Martens shoes are both stylish and comfortable to wear.
These shoes have been around for years and are associated with musicians, punk culture, and the working class. Although it isn't that common, you can even find some people wearing their Doc Martens out for adventures on hiking trails and paths.
Are Doc Martens good for hiking? While you can hike in Doc Martens, they aren't designed for hiking and can cause discomfort and blisters during the trip. For serious hiking, it's recommended to wear hiking boots that are durable and provide better ankle support than a pair of Doc Martens.
Now that we know they aren't the best option for hiking, let's weigh the pros and cons of hiking in Doc Martens and decide whether or not it should be done!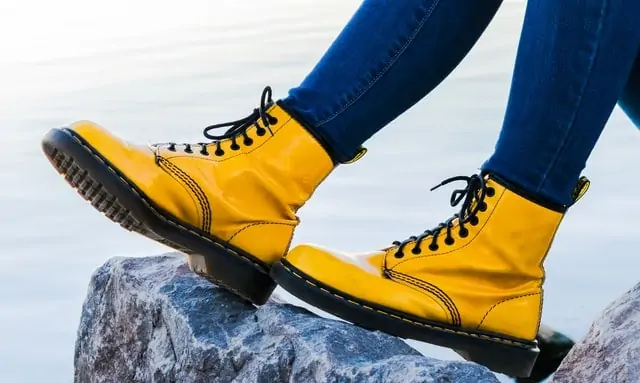 Hiking In Doc Martens
There have been numerous changes in the brand since it was first created back in 1901. When they first began production they were known for making sturdy and durable work boots, and here's what their site describes their products as now:

It's always a good idea to gather different perspectives, so I asked around and found the following problems from those who have hiked in their Doc Martens.
They take forever to break in
They are uncomfortable on uneven ground
They lead to getting heel blisters
They don't give proper support for your ankles
Zero traction & no insulation
Kind of heavy for trails
One user with experience selling the boots offered this quote below.
I sold and wore them for years and I would never buy a pair of docs and try to hike in them.
You may be able to get away with wearing them on short and easy hikes, but, like the majority of hikers I agree that they should be avoided.
Benefits of Hiking With Doc Martens
1. Good Looking
Doc Martens, being a style of boots, are also good-looking. The boots' upper half is leather covered with the bottom being puffy. This gives the Doc Martens its distinctive look and keeps you from slipping on hard surfaces while traversing rough terrain. The color of the boots also adds to their good looks.
2. Good Stance
The position of the Doc Martens shoe is also good. The heel is relatively thin, which makes the feet more flexible.
3. Durable Upper
The upper portion of the Doc Martens is very durable. This allows you to put up with a heavy load without any hindrance. It can also keep your feet warm in cold weather conditions thanks to its insulation properties. However, it cannot handle being dropped or otherwise damaged.
4. Mobility
The Doc Martens have a classic all-leather upper that allows you to move freely without restriction. The boots' construction is also light to make long treks very easy. The shoes can also withstand rough surfaces without difficulty.
5. Protection
By wearing Doc Martens, you can feel the protection the boots offer from a foot injury and other forms of danger while outdoors. This is because of the style's good stance, upper construction, weight, and durability qualities.
Downsides of Hiking With Doc Martens
1. Lightness
The Doc Martens shoes can be light. However, this means that the boots' upper end can be easily damaged in case of a fall. The shoes' external use also makes them susceptible to moisture. Their lightness also reduces their durability if you have a hard time carrying heavy loads.
2. Size
The size of the Doc Martens may also be a drawback. These shoes are somewhat limited in terms of sizing. They're also hard to fit accurately. This means that you might end up buying a pair that's either too small or too big for your feet.
3. Restrictive Around The Ankles
The Doc Martens shoes can be restrictive around the ankles. This is due to the shoes' very high tops. When first breaking these shoes in, there can be a lot of ankle discomfort, and even blistering in some cases.
4. Uncomfortable
Some people also claim that the Doc Martens shoes can be uncomfortable if they have to deal with a lot of moisture. Some people also claim that the boots are too stiff and pre-break in period is very hard.
5. High Prices
The Doc Martens shoes may also be overpriced for some people because of the limited number of styles and colors on the market. These prices might also be unaffordable for some people who dig into their savings to buy these shoes.
Tips for Hiking in Doc Martens
I've found that experiences definitely differ between hikers so I'm sure some people are fine with the downsides listed above. If you do venture out for a hike with your docs, here are a few tips that can make your trip much more enjoyable.
Make sure they're tight to your feet and won't move around
Choose an easy trail with terrain that's easy to walk over
Never wear a brand new pair of shoes or boots for a hike
Final Thoughts
All things considered, Doc Martens aren't the best shoe for hiking. There are many more affordable and comfortable hiking shoes on the market, that are designed for that specific purpose.
The biggest risk would be being uncomfortable during your hike, but if you must hike with Doc Martens you'll be safe and your feet will be protected.