It's difficult to know exactly how outdoor gear like jackets will fit without trying them on. The most comfortable and durable jackets are the ones that fit correctly and aren't too loose or too tight.
The fit of your Arc'teryx jacket depends on the activity it's designed for as the brand is performance-driven. However, as a general rule of thumb, Arc'teryx jackets tend to fit slimmer than other outerwear brands. 
Let's take a closer look at the Arc'teryx brand, the available jackets they make, and how they should fit compared to other options.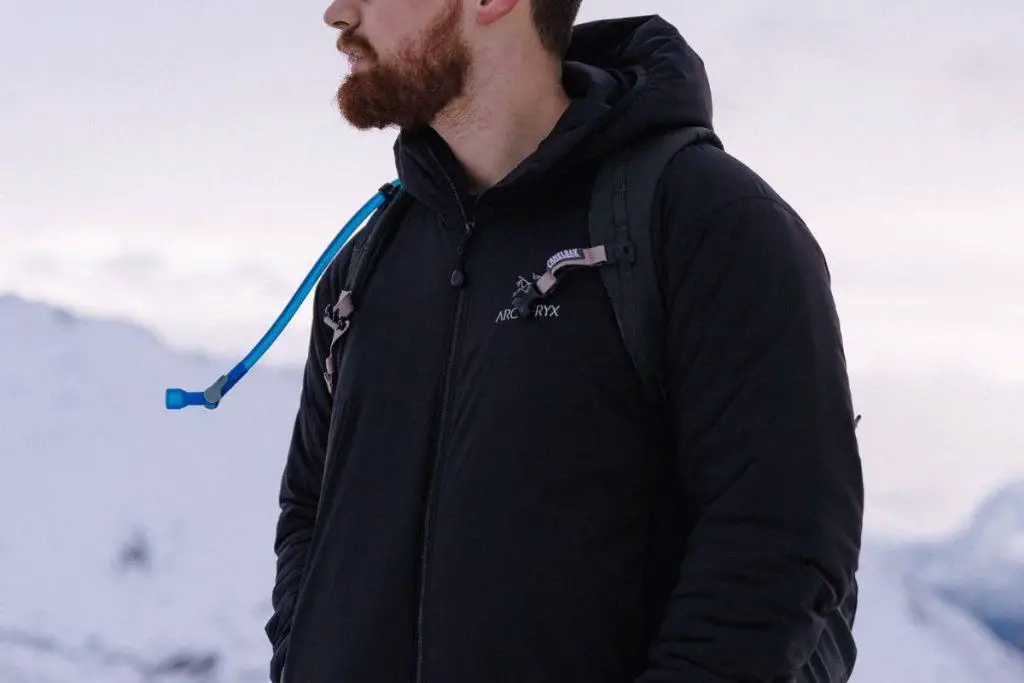 Why You Should Go With Arc'teryx
Arc'teryx sets itself apart from other outerwear and athletic brands because of its high quality and exceptional designs. What started as a small outdoor brand in western Canada quickly became a worldwide phenomenon making a name for itself, not only in the outwear industry but also in streetwear and pop culture.
All this means Arc'teryx jackets do come at a relatively high price; however, considering that one of these jackets will last you a lifetime, we think it's worth it. 
If you're on the market for one, let's explore the question, "how do Arc'teryx jackets fit" so you know exactly what to buy and are happy with its fit for years to come. 
How Does Arc'teryx Fit?
When compared to other popular outdoor brands, Arc'Teryx jackets are slightly slimmer and smaller. Because of their tighter fit, it's recommended to go up in sizing when purchasing a new Arc'Teryx jacket.
The Arc'teryx fit guide includes the four different styles of gear and comfort.
Next to Skin Fit:

Snug to the body with increased heat and moisture regulation.

Trim Fit:

Works slim to the body with less of a profile.

Regular Fit:

Fits comfortably to the body through the chest, waist, and hip.

Relaxed Fit:

Cut so it's looser and less strict to the body.
How Do Arc'teryx Jackets Fit? 
Arc'teryx sets itself apart in several ways. One of these is that the jackets are designed for their function and to enable the wearer to achieve their best performance.
This means Arc'teryx jackets are durable while remaining lightweight, waterproof but still breathable, and finally, practical without sacrificing any style. 
Because of the performance-driven design, Arc'teryx jackets tend to fit on the slimmer side. Extra material may inhibit one's athletic performance, which is why these jackets fit on the tighter side.
They are also meant to protect the wearer in cold and wet climates so they fit snugly to ensure no unnecessary air or water can get under them. Arc'teryx labels the fit of their jackets as "trim", explaining that they are slim or "athletic" in design but not quite skin-tight. 
Additionally, the general Arc'teryx customer is likely slim as these jackets are usually bought by extremely sporty people, so the jackets are designed for that type of body. 
If you're browsing for one of the jackets, be sure to account for the slimmer fit. Especially when compared to other outerwear brands such as The North Face or Patagonia. When compared to these types of brands, buyers tend to find Arc'teryx to be the slimmest of them all. 
That being said, they are "small" jackets. They will simply run in a more form-fitting fashion along the torso and chest areas while fitting regularly in the arms, neck, and hood.
So, if you are a fan of the slim fit, then you'll love your Arc'teryx jacket, and you can buy your regular size. However, if you don't love that snug feeling on your waist then we recommend going one size up when it comes to Arc'teryx jackets. 
Arc'teryx Sizing Chart
Here's the sizing chart for men's jackets from Arc'teryx measured in inches. They also offer XXL and 3XL sizes that can be found on their website.
| | | | |
| --- | --- | --- | --- |
| Size | Sleeve (in) | Chest (in) | Waist (in) |
| XS | 32 | 36 | 30 |
| S | 33 | 38 | 32 |
| M | 34 | 40 | 34 |
| L | 35 | 43 ½ | 37 |
| XL | 36 | 46 ½ | 40 |
This is the women's sizing chart also measured in inches.
| | | | |
| --- | --- | --- | --- |
| Size | Sleeve (in) | Chest (in) | Waist (in) |
| XS | 29 ½ | 32 | 25 ½ |
| S | 30 ½ | 34 | 27 ½ |
| M | 31 ½ | 36 | 29 ½ |
| L | 32 | 39 | 32 ½ |
| XL | 32 ½ | 43 | 36 ½ |
Does Arc'teryx Run Small?
Gear manufactured by Arc'tery is known to have a trim fit and run on the smaller side when compared to other brands. If you plan on doing activities that require quick movements, it's recommended to go up a size level to have more flexibility.
What Should I Avoid With My Arc'teryx Jacket? 
If you're investing in an Arc'teryx jacket, it's best to do your research on the specific style and design. Some jackets will fit differently than others. The best thing to do before you spend that money is to go to one of their stores and try on the specific jacket you have your eye on. 
Other Considerations When Buying an Arc'teryx Jacket
Another important component when it comes to these jackets is what you will be wearing underneath them. Chances are – if you're browsing Arc'teryx – you're planning on spending some time outdoors.
Whether this is climbing an unchartered rock face in Peru or simply navigating the rainy streets of London, you'll want the right fit for your jacket. 
We suggest leaving room for layers. Even though Arc'teryx jackets are famous for their water-resistant warmth, you may still wish to wear a sweater or two underneath, depending on your activity and climate.
The slim fit can make certain sweaters difficult to layer. So, if you have a big fleece you like to wear against your skin while hiking then we suggest going one or even two sizes up. 
However, if your layers are form-fitting and you're not planning on bundling up underneath your Arc'teryx jacket then you should stick with your regular size. As mentioned earlier, the less wiggle room you have between your skin and your Arc'teryx jacket, the warmer you will be. 
Final Thoughts
Arc'teryx may be considered a popular streetwear brand nowadays, but the jackets still maintain their athletic style slim or "trim" fit. Arc'teryx designs its clothing for high performance and long-lasting durability.
When you buy an Arc'teryx jacket, you can rest assured that you can do just about anything and won't be inhibited by your clothing. 
Be sure to buy a size up if you're not into the form-fitting jacket style or if you intend on wearing several layers underneath the jacket.
Finally, remember to check the specific design of the jacket you've got your eye on as the fit will change slightly with each design.