North Face backpacks are a great option for outdoor adventures, but after a few trips you might notice dirt or mud starting to build up. Even though it tells how often and adventurous you are, you might not want to show off a dirty backpack for too long!
I've cleaned my North Face backpack a good amount of times over the last few years, so I've learned a few tips that I'd like to share in this cleaning guide.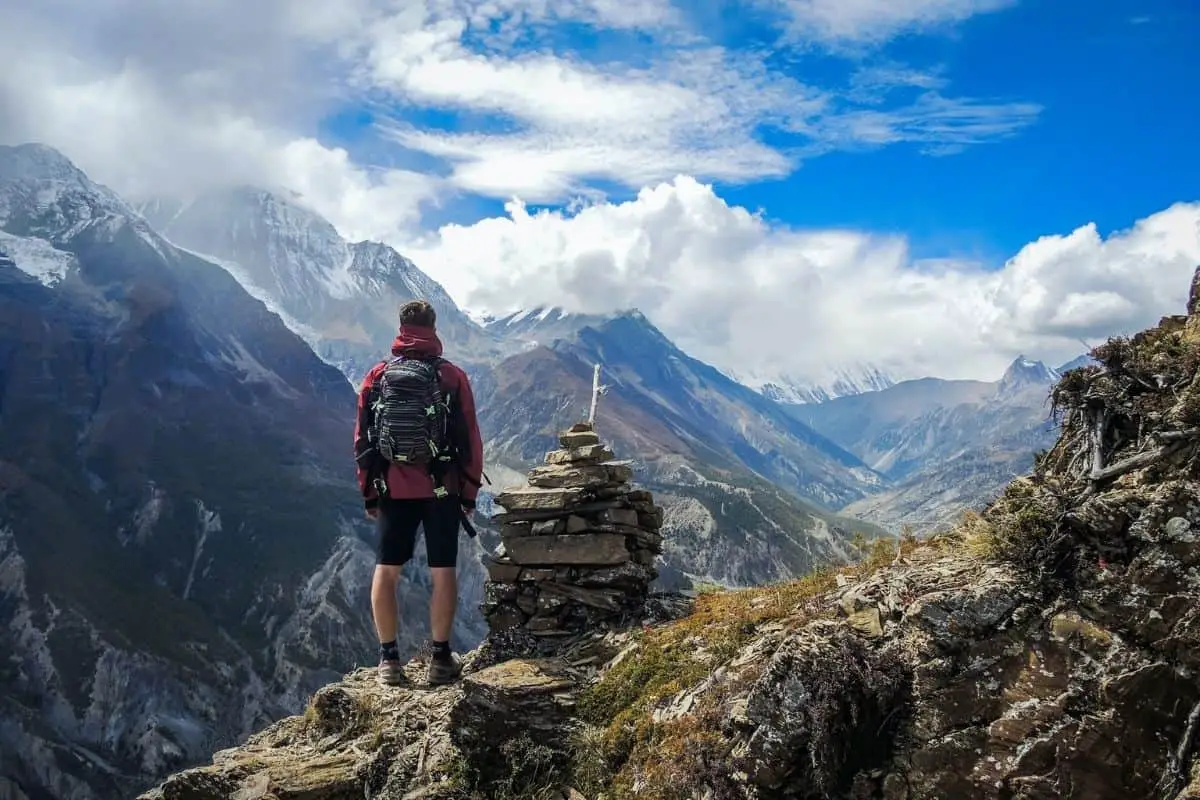 Items Needed for Cleaning
There aren't many items that are needed to make your North Face backpack look brand new again!
Warm water
Gently soap
Hand towel
Cloth or brush
How to Wash a North Face Backpack
Follow these five easy steps and you'll have a clean backpack that's ready for the next exciting event!
Step 1: Empty out the Backpack
Before we can begin to actually clean the backpack we should make sure there's nothing inside it that we wouldn't want to accidentally get wet.
One great thing about North Face backpacks is how many different storage compartments they have. But, this means you should open up each zipper to check that each pocket is empty before moving on to the next step.
Turning the backpack upside down and shaking it can be a useful way to dislodge any debris or items that are in the bag.
Tip – Don't forget to check on the inside of your backpack for inner compartments.
Step 2: Wipe off Dirt on the Outside
Usually, when a backpack starts becoming noticeably dirty, it's because there's some visible dirt or mud stuck to the outside material on the pack. Thankfully this should only take a few seconds to do.
I always start by shaking the backpack outside to help loosen up whatever is on the bag. Then once you've done that you should use a dry cloth or a small brush to wipe off any spots that remain.
Tip – Dust off the bag with a hand towel if you don't have a brush to use.
Step 3: Wipe Down the Interior
Now that the outside is looking a little better, we should focus on the inside section as well. For this part, I like to take a damp cloth or towel and quickly wipe the inside.
This process shouldn't take too long either, since usually it's the outside of the backpack that needs the most attention for washing.
Step 4: Clean with Warm Water
Since there are most likely some remaining tough spots that need more work, you'll want to use lukewarm water mixed with some gentle soap.
This is the most important step in the cleaning process and should be repeated until the backpack is as spotless as you want.
Scrub any areas that are still dirty and then hand dry the spots with a hand towel.
Using hot water should be avoided since it's not needed and might harm certain pieces of the backpack.
Step 5: Air Dry in a Cool Room
Now that your backpack is clean and back to looking brand new, the only other step left is to let it dry before using it again. The only way that you should dry the backpack is by hanging it to dry and laying it down in a cool and dry room.
Since it takes a few hours to get dry I would recommend leaving it overnight so that it can be used the next morning.
You should avoid putting your backpack in the dryer since even the lowest setting will most likely harm the materials of your bag.
Note – Be sure to leave enough time for your backpack to completely dry before filling it up and using it.
Now you have clean gear that's ready to be taken on your next adventure!
Those are my five simple steps to washing and cleaning your favorite North Face backpack.
Removing Stains on Your Backpack

If you've done everything above and still have stains on your backpack, it's time to use a cleaner. Make extra sure that there is no bleach in your cleaner.
Run another bath of lukewarm water. Add a tiny bit of cleaner. Less is more here because you don't want your bag to be dripping with soap. If you use too much soap it might end up stuck in the bag.
Even just a few teaspoons or tablespoons of powdered detergent should be enough. Stir thoroughly to be sure that it's dissolved.
Now scrub your bag with the mix of water and soap from above. Make sure to focus on the stained area only and spend some time scrubbing it down.
Related Questions
How can I break in my backpack?
Follow these steps to help break in your new North Face backpack if it's stiff or uncomfortable. Breaking it in the correct way will help make it more comfortable and durable when you're out wearing it.
Are these the recommended steps according to North Face?
On their website, North Face does not recommend completely submerging your backpack in water. Instead, always go for a simple wipe down with a damp cloth or, if you have to, a more involved spot clean with water and a brush first. That usually does the trick!
If you have to, spot clean your backpack with a small amount of mild, bleach-free powdered detergent. Soaking your entire bag in water should be a last resort for super stubborn stains.
Can North Face backpacks go in the washing machine?
It's not recommended to put North Face backpacks in the washing machine! Though they are durable, a washing machine can ruin your bag, and nobody wants that. It may not be as convenient, but for your backpack's sake, keep it to handwashing only!
Why should I get the dirt off my backpack before getting it wet?
If you get your backpack wet before brushing off surface dirt and grime, dirt can stick to the fabric once wet, making it even more challenging to remove. To remove surface dirt, use a soft brush, toothbrush, or dry paper towel—the abrasive surface will help dislodge grime. A toothbrush is perfect for getting into those crevices or hard-to-reach areas!
How wet can North Face backpacks get?
Too much water could corrode materials on your North Face backpack, like the zippers or other components. Excessive moisture can warp the bag's material; uneven drying can also do this. Clearly, the solution to these issues is to use as little water as possible when cleaning your backpack!
Which detergents are okay to use when cleaning my backpack?
You want to select a mild, bleach-free, powdered detergent—that is, if you're going to use a detergent at all. It's best to attempt to remove any stains with water and a bit of scrubbing first before using detergent. Some detergents can degrade the water-resistant coating on your backpack—even if you use a mild detergent, there's no guarantee it won't ruin your bag.
Options like NikWax are detergents formulated explicitly for products treated with DWR (durable water repellent), so they should be a good choice for your North Face backpack.
Can I dry my backpack outside?
Though drying your backpack outside might seem quick and easy, it isn't a good idea—heat from the sun is enough to cause your backpack to shrink, which would be a complete disaster! To avoid this, keep your bag inside in a cool place to dry slowly. Of course, it takes longer, but you won't end up with a shriveled mess in the end.
Can North Face backpacks go in the dryer?
Putting your backpack in the dryer could cause it to shrink, become warped, or even partially melt in the dryer. If this were to happen it would damage both the backpack and the dryer.