If you are a hiker or backpacker, you probably want to know that you have durable and practical equipment at your side that isn't going to let you down.
Nowadays there are so many options that it can be difficult to know what you're getting and how it compares to the best companies. Two of these popular outdoor brands are Arc'teryx and Outdoor Research.
But is one provider objectively better than the other? Well, it's not as simple as all that. There are a number of important things to take into consideration, and each brand may be superior in some ways while falling short in others.
So, let's compare the two options, Outdoor Research and Arc'teryx. Which of these brands is better for your situation and are they worth buying?
Comparison Between Outdoor Research & Arc'teryx
Let's take a quick look at each brand and then dive into the details like pricing, quality, and available products!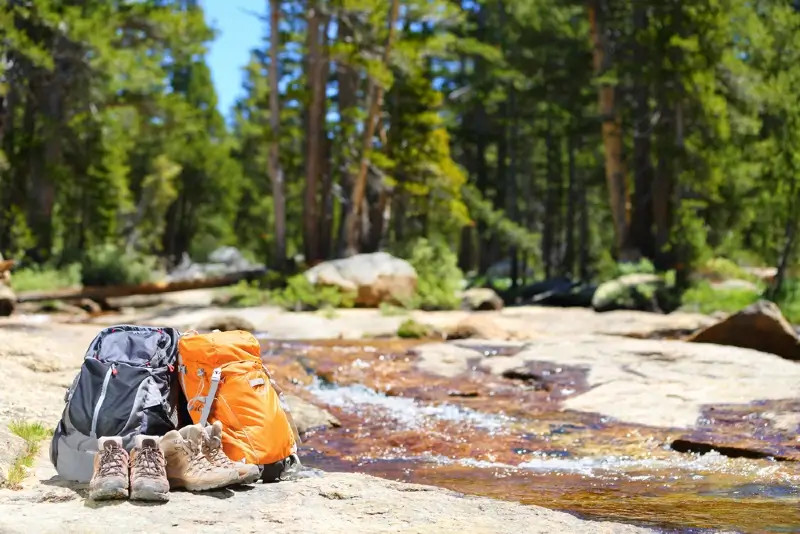 Outdoor Research Overview
Outdoor Research is well-known for insulated jackets and bivy sacks, as well as some of the best rainwear on the market. A big part of that is the high-end fabrics that they use, provided by brands like Pertex, Primaloft, Polartec, and Gore-Tex. They are also known for making some of the lightest softshell jackets on the market.
One of their only really big weaknesses is the fact that their down jackets do not use hydrophobic don, which limits their outdoor versatility. Outdoor Research mostly manufactures shelters, clothes, and packs.
Arc'teryx Overview
Arc'teryx, on the other hand, produces a very wide range of outdoor products, including clothes, many types of footwear, backpacks, and more technical equipment like harnesses and climbing ropes. However, the company is mostly known for their top of the line hardshell clothing for outdoor sports, most of which use Gore-Tex Pro.
The company also provides some amazing insulated jackets, often utilizing Coreloft synthetic insulation, or a hybrid of Coreloft and traditional down. The Coreloft provides warmth in wet environments even when down doesn't. Other than that, Arc'teryx is widely respected for their climbing gear and boots.
Quality of Clothing
Assuming you are most interested in getting the highest quality outdoor clothing you can, Arc'teryx is a superior option compared to Outdoor Research, as the quality of their jackets is nearly unmatched on the market. This is mostly because Arc-teryx utilizes the best available fabrics for insulation, particularly with hardshells.
There are very few Arc-Teryx jackets that do not strike a perfect balance between warmth, mobility, and overall comfort. Their weather protection is of such quality that you could brave even the fiercest of storms.
This is not to say that Outdoor Research clothing options are bad, by any means. However, they are, admittedly, a little lower on the quality scale. You will often find Outdoor Research jackets to be lacking all of the top of the line features and characteristics that their Arc-teryx contemporaries possess.
Think of Outdoor Research like an average car brand such as Honda or KIA, and Arc'teryx as a car manufacturer such as BMW. Honda and KIA still make very good cars. They are functional and strike a middle ground between price and available features and luxury. BMW costs more but offers more for that cost.
How Do Their Prices Compare?
As mentioned previously, a big difference between Outdoor Research and Arc'teryx is that the latter tends to be much more expensive than the prior. In fact, Arc'teryx has some of the most expensive outdoor wear on the market. Of course, that amount of money often grants you an incredibly high-quality piece of gear.
Outdoor Research, on the other hand, offers far more reasonable prices for the average consumer. Not to say that Arc'Teryx has no affordable gear, but on average, you'll be paying less for a jacket from Outdoor Research than you will from Arc'teryx, though you can also expect to get jackets that are still good, but not quite as amazing.
Outdoor Research or Arc'teryx – Final Verdict
Ultimately, neither Arc'teryx nor Outdoor Research can really be said to be 'better' than the other as a brand. It really depends on what you are looking for and what you value most, provided that both brands offer the type of item you are looking for. The biggest determining factor is how much you are willing to spend.
If you want a good jacket at a price that isn't going to make your wallet cry, then Outdoor Research is a 'superior' option. But if money is no issue and you want the best outdoor jacket that money can buy, Arc'teryx is the way to go. It really just comes down to what you are willing to pay, and what you want in exchange for it.
All of that said, there are some things, such as technical gear, that Arc'teryx offers while Outdoor Research does not. In that regard, one could say that Arc'teryx is superior. Either way, both brands offer quality products that match what you pay for them: neither brand is a cheap, untrustworthy, company with products that are going to let you down.