Both Patagonia and L.L. Bean are among the best of the best when it comes to outdoor brands. You will find their products to be top-notch! You will find solid, high-quality gear from both companies.
If you are trying to decide which brand you want to go with, look no further. We've got you covered. We'll break it down for you so you can make an informed decision.
What is Patagonia?
Patagonia, known to some in the hiking community as "pata-Gucci," is one of the world's first sustainable clothing companies. However, they didn't start out making clothes.
The companies' founder, Yvon Chouinard, was a rock climber who first forged pitons which he used to climb Sentinal Rock in Yosemite. Eventually, Chouinard Equipment became the world's leading rock climbing gear supplier.
It wasn't until the 70's that they decided to stop making pitons, as they were causing a negative environmental impact. The decision to stop making pitons was the first in their journey to creating sustainable, earth-friendly choices. They have now become a massive company that provides a wide array of outdoor gear.
What is L.L. Bean?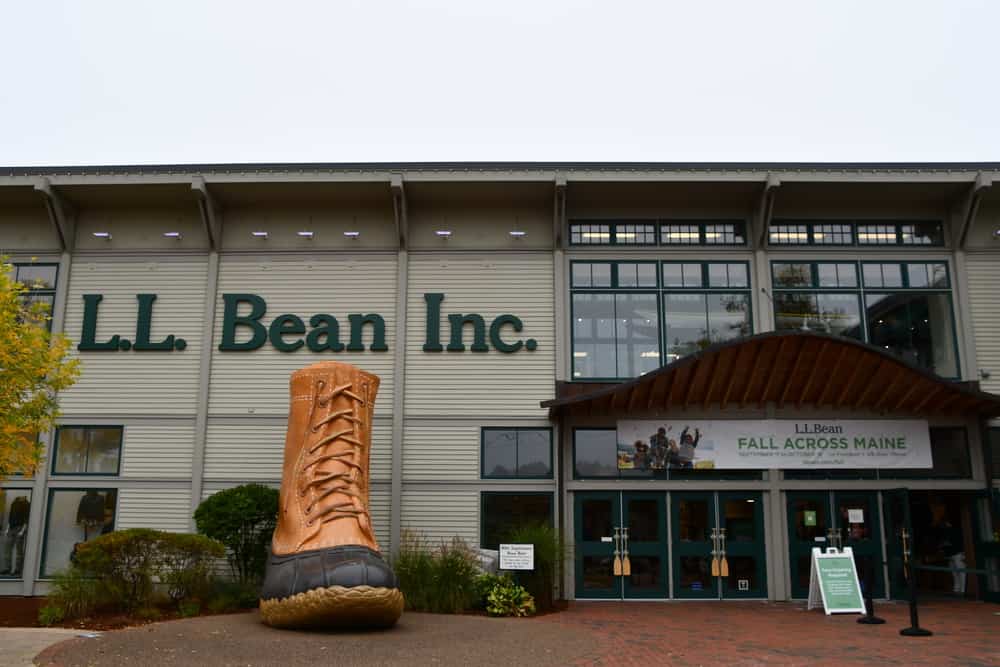 L.L. Bean was founded in 1912, initially as a boot manufacturer. The founder, Leon Leonwood Bean, was hard-pressed to make high-quality boots designed to last a lifetime.
L.L. Bean was proud of their "duck boots," as they were waterproof and long-lasting boots. After the invention of the "Maine Hunting Shoe." The company slowly progressed to outdoor wear, tote bags, and even a mallard duck decoy.
Today, you can find anything you need at L.L. Bean for an outdoor adventure. They even host courses to help increase your skillset.
Patagonia vs. L.L. Bean Quality
Patagonia has what is known as its "ironclad guarantee." The guarantee means that they strive to provide gear that is up to their high standards of production. They even offer to repair your equipment.
As someone that has multiple Patagonia products, I say they are true to their word. I have had a backpack from them for ten years, and it is solid.
L.L. Bean has been known for its high-quality products for over a hundred years. When you purchase L.L. Bean, you know that you are buying something that will last for years to come.
I had a tent from them that I lived in for six months. There has never been a tear, and I have never had any heavy rain and wind issues. I also had a 60L hiking pack from them for many years that could handle extreme outdoor adventures. I would still have it if it hadn't been stolen!
Brand Initiatives & Sustainability
Both L.L. Bean and Patagonia make it a goal to give back to their communities and implement sustainable practices.
Patagonia is by far the most well-known for its sustainability initiatives. You could say that they were the pioneers in making eco-friendly clothing and outdoor gear. This year their equipment was made using 87% recycled materials. Not to mention, all Patagonia cotton is organically grown.
They focus on creating products that are sourced ethically and ensure safe working conditions for all workers. With 1% of all sales, they donate to causes seeking to restore and preserve the earth.
L.L. Bean is also very aware of their social impact. They are seeking to create their products with the environment in mind, even down to the sustainability of their buildings.
They currently recycle 83% of the waste produced in their factories. 100% of their down feather fillings are of RDS (Responsible Down Standards). They state on their site that they put "community, sustainable materials, environmental stewardship, and the well-being of our employees" first.
Return Policy
Patagonia allows you to bring back your gear for a return with no time limit. It is known for its repair program, which will only cost you a reasonable price if the damage is from normal wear and tear.
Another fantastic program they offer is Wornwear.com. You can have your old gear bought back for credit. However, any equipment returned after a year will only be refunded with store credit. That makes it easy to get new Patagonia products regularly for years to come.
L.L. Bean is known for its lenient return policy. It used to be a lifetime guarantee. Now, they allow you to bring back gear if you are dissatisfied with it for a year after you buy it.
Due to craftsmanship or a failure in materials, damaged products may still be returned even after that year is up. That is a pretty solid standard for quality. They want to ensure that you are happy with your purchase from them.
What Products Do They Sell?
Patagonia states that they sell a "wide selection of durable, multifunctional outdoor clothing and goods." They make it easy to buy used Patagonia gear to help you out if their high price points are too high for you. The options include:
Jackets & Vests
Fleece
Sweatshirts & Hoodies
Sweaters
Shirts
T-Shirts
Pants & Jeans
Shorts
Boardshorts
Wetsuits
Waders & Fishing Gear
Baselayers
Underwear
Socks
Hats & Accessories
Workwear
Backpacks
Laptop Bags
Totes, Slings & Waist Packs
Duffel & Travel Bags
Technical Packs
Water Protective Bags
Water Bottles
Gear Care
L.L. Bean is self-described as designed to help you experience the restorative power of the outdoors". They boast, "expertly crafted, field-tested gear". Their price points are varying which makes it easy to find affordable gear. Find at L.L. Bean:
Outerwear & Jackets
Shirts & Tops
Sweaters
Sweatshirts & Fleece
Pants & Jeans
Shorts & Skorts
Dresses
Swimwear
Sleepwear
Underwear & Base Layers
Activewear
Cookware & Stoves
Backpacks, Waistpacks & Backpacking Packs
Tents
Kayaks
Canoes
Fishing Gear
Archery Gear
House Goods
Hiking Poles
Totes & Luggage
Conclusion
Both Patagonia and L.L. Bean are reputable companies. They both have ethically made gear and high standards for quality. The only question here may be only in style. Patagonia has a more modern look, while L.L. Bean is more traditional. Either way, you'll be looking good and feeling good in their gear.