While North Face is certainly a popular option for outdoor gear, it is not the only choice. There are several companies that offer similar products at comparable qualities and prices.
Here's my list of the best North Face alternatives that I'll be covering down below:
Eddie Bauer
Arc'teryx
Mountain Hardwear
Patagonia
Marmot
Helly Hansen
Columbia
Under Armour
Bogner
Spyder
In short, there are a number of companies that offer alternatives to North Face, so shoppers should not feel like they have to stick with one particular brand.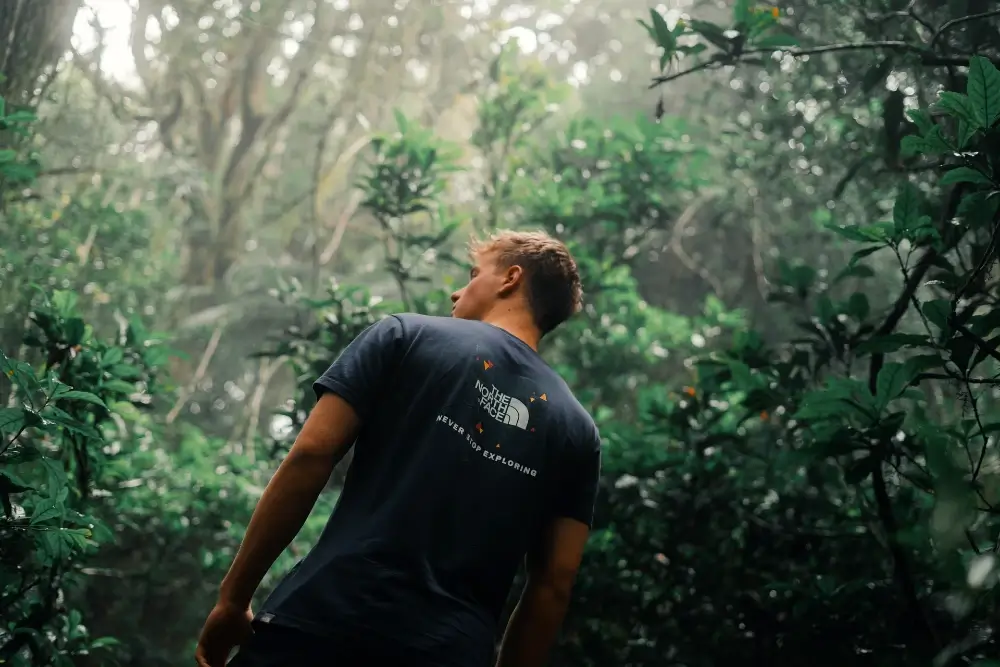 10 North Face Alternatives in 2023
Eddie Bauer
Eddie Bauer is more than just a clothing store – it's a lifestyle brand that represents a love of adventure and an appreciation for quality craftsmanship. For nearly a century, the company has outfitted people for everything from summit attempts on Mt. Rainier to everyday errands.
While the company has changed hands several times over the years, it has never wavered from its commitment to providing customers with the best possible products and services. Today, Eddie Bauer offers a wide range of apparel, gear, and home goods that are designed to help people live their best lives. Whether you're looking for a new pair of jeans or a down jacket for your next camping trip,
Arc'teryx
Arc'teryx is a high-performance outdoor equipment company based in North Vancouver, Canada. The company's product line includes clothing, backpacks, and other accessories for climbing, hiking, skiing, and other outdoor activities. Arc'teryx is known for its innovative designs, high-quality materials, and attention to detail. The company's products are used by professional athletes and serious outdoor enthusiasts alike.
Mountain Hardwear
Mountain Hardwear is a trusted brand that offers high-quality outdoor gear and apparel. shoppers can be confident that they are getting products that are built to last and will perform well in any outdoor activity.
In addition, Mountain Hardwear offers fair prices and provides excellent customer service. shoppers who purchase from Mountain Hardwear can be confident that they are getting a good value for their money.
Patagonia
If you're looking for high-quality, sustainable outdoor clothing, then Patagonia is a brand you can trust. All of their products are made from durable materials that will last you for years, and they use fair trade practices throughout their supply chain.
Additionally, Patagonia is committed to environmental sustainability, and they donate 1% of their sales to support environmental causes. So whether you're shopping for a new pair of hiking boots or a cozy down jacket, Patagonia is a great choice.
Marmot
When it comes to outdoor gear, Marmot is a brand that you can trust. They have been making high-quality clothing and equipment for over 40 years, and their products are built to last.
Whether you're looking for a new rain jacket or a warm sleeping bag, Marmot has got you covered. Their products are designed to provide comfort and protection in all kinds of weather conditions, and they are backed by a lifetime warranty.
Helly Hansen
Helly Hansen is a leading international lifestyle brand with a strong heritage in outdoor sports. The Helly Hansen story began in 1877 when Norwegian sailor Helly Juell Hansen and his wife Maren Margarethe started producing waterproof oilskins, seaboots, and trawler gloves in their Oslo sail loft. Today, Helly Hansen is recognized as a premier designer and manufacturer of technical outerwear, sportswear, and footwear.
Columbia
Columbia is a trusted name in outdoor apparel and gear. For over 80 years, Columbia has been making high-quality products that help people enjoy the great outdoors.
Columbia products are designed to withstand the rigors of outdoor activity, whether you're hiking, camping, fishing, or just enjoying a day in the park. And because they're built to last, you can be confident that you're getting your money's worth when you purchase Columbia products.
Under Armour
Under Armour is a manufacturer of sportswear and casual apparel for men, women, and children. The company's products are designed to meet the needs of athletes of all levels, from amateurs to professionals.
Under Armour offers a wide variety of products, including t-shirts, sweatshirts, pants, shorts, shoes, and accessories. In addition to its athletic apparel, Under Armour also manufactures a line of casual wear. The company's products are available in a wide range of sizes to accommodate all body types.
Bogner
When it comes to high-quality, fashion-forward skiwear, Bogner is in a league of its own. The German brand has been creating stylish and functional ski apparel for over 80 years, and its attention to detail is evident in every piece.
From cozy down jackets to waterproof pants, Bogner has everything you need to hit the slopes in style. And because they use only the highest-quality materials, you can be sure that their products will withstand the rigors of winter weather.
Spyder
If you're looking for high-quality, stylish outdoor clothing, then Spyder is the brand for you. Spyder has been making skiwear and other outdoor apparel since 1978, and their experience shows in the quality of their products.
Their ski jackets are made with waterproof and breathable fabrics, so you'll stay dry and comfortable on the slopes all day long. And their down jackets are perfect for cold, snowy days thanks to their cozy 800-fill power duck down insulation.
Conclusion 
Outdoor adventures are a great way to get some exercise and fresh air, but it's important to be prepared. The right clothing can make all the difference, whether you're hiking through the woods or taking a leisurely walk around the block.
If you want alternatives to the North Face brand, the best available options are Eddie Bauer, Arc'teryx, Mountain Hardwear, Patagonia, Marmot, Helly Hansen, Columbia, Under Armour, Bogner, and Spyder
There are plenty of outdoor clothing brands to choose from, each offering something for everyone!