Maine is home to some of the most beautiful and picturesque coastlines in the world. With about 3,478 miles of tidal coastline on hand, the state offers plenty of stunning views and rugged trails that are worth a hike for anyone who loves being outdoors.
Whether you're looking for something shorter or a full-day adventure, there are plenty of hikes around the state's coastal towns with ocean or other water views.
In this article, we'll highlight ten great hiking spots, from across the state of Maine, that will offer an unforgettable experience no matter what time of year you visit!
Here are the 10 best coastal hikes in Maine:
1. Cliff Trail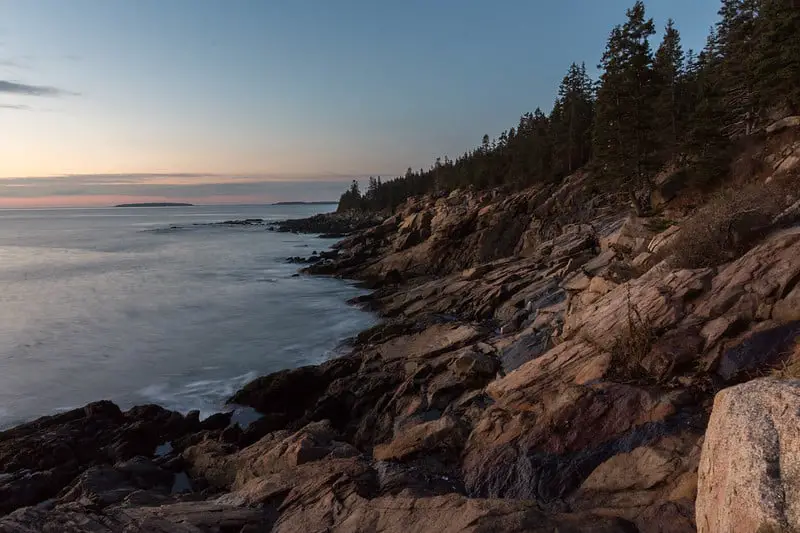 Coastal Views: waterfall, cliffs overlooking Long Reach, Jordan Pond
Distance: 2.1 miles
Difficulty: moderate
At the northern end of Maine is one of its most popular national parks. As the first national park east of the Mississippi, Acadia National Park is a treasure trove for anyone interested in hiking or kayaking.
Because it encompasses so many miles of coastline, the park offers plenty of coastal hikes to enjoy. The Cliff Trail is just one of the great options in this scenic park.
The three-mile loop is a moderate climb from Sand Beach, starting out narrow and rocky before opening to wide ocean views. This hike features stunning cliffs on one side and overlooks Jordan Pond on the other; it's also an easy way to stretch your legs after arriving at the park via car or bus.
If you're looking for a longer hike, head to Jordan Pond and take a left (or east) at the main store; this will lead you to Cadillac Mountain, where you can catch some of the best views in Acadia National Park from an elevation of 1,530 feet.
At sunset, get off the mountain and onto the Ocean Path, a one-mile round trip walk along Jordan Pond to catch the best views of golden hour.
2. Beehive Loop Trail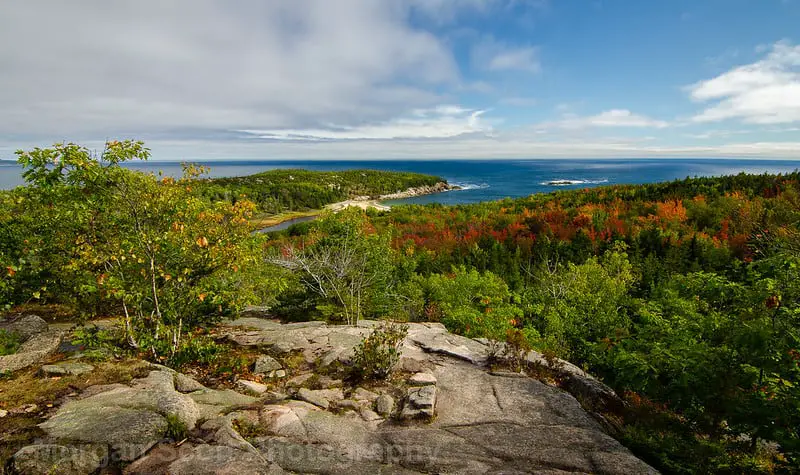 Coastal Views: Sand Beach, Thunder Hole, Gulf of Maine, Bowl Pond
Distance: 1.5 miles
Difficulty: hard
Another Acadia National Park favorite is the Beehive Loop Trail. While the trail is just over two miles round trip, it appears to be a moderate hike but due to bolted ladders at higher elevations, it is rated as difficult.
The trail takes you through a forest of spruce trees surrounded by rocky coastline with immense ocean views. It is known as a must-do hike within the park's boundaries because of its iconic views of the Atlantic Ocean and the Bass Harbor Lighthouse, which is an iconic landmark in Maine.
One reason people love hiking here is that there are always unique landscapes to enjoy. During peak season, you'll want to get there early to avoid the busiest crowds, but if you're a first-timer to Acadia NP, the Beehive is a great place to start.
3. North Traveler Mountain Trail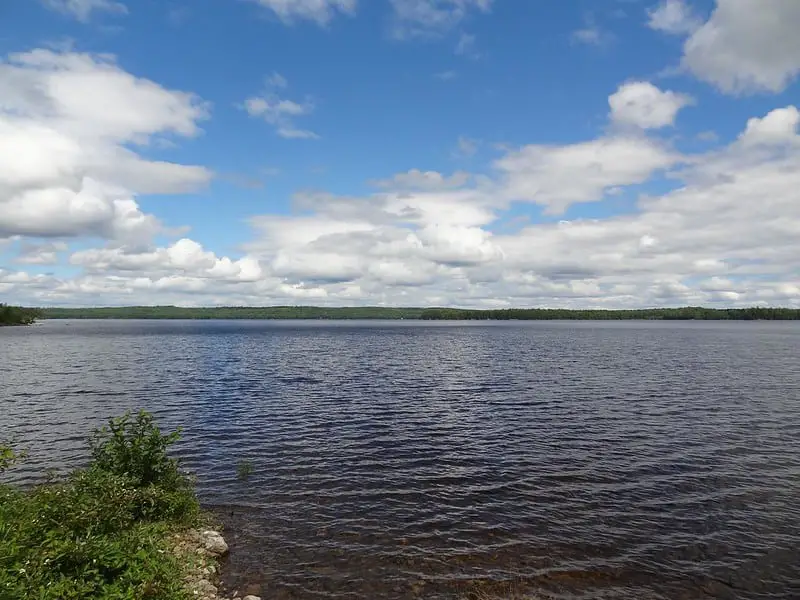 Coastal Views: South Branch Pond, Grand Lake Matagamon
Distance: 4.9 miles
Difficulty: hard
The Traveler (elevation 3,541 feet) towers over the northern part of Baxter State Park. The peak is composed of layered sedimentary rock and differs starkly from its rocky southern neighbors. The North Traveler Mountain Trail is known as one of the more difficult hikes in Baxter State Park but the views from this summit are worth it.
One of the great things about North Traveler Mountain is that hikers are rewarded with amazing views early in the hike. The first viewpoint is just about a half-mile from the trailhead, and above that, the trail is open to the sky much of the way as it travels along a steep, rocky ridge.
If you're headed near Millinocket, Maine, this hike is perfect for you.
4. Moose Point Loop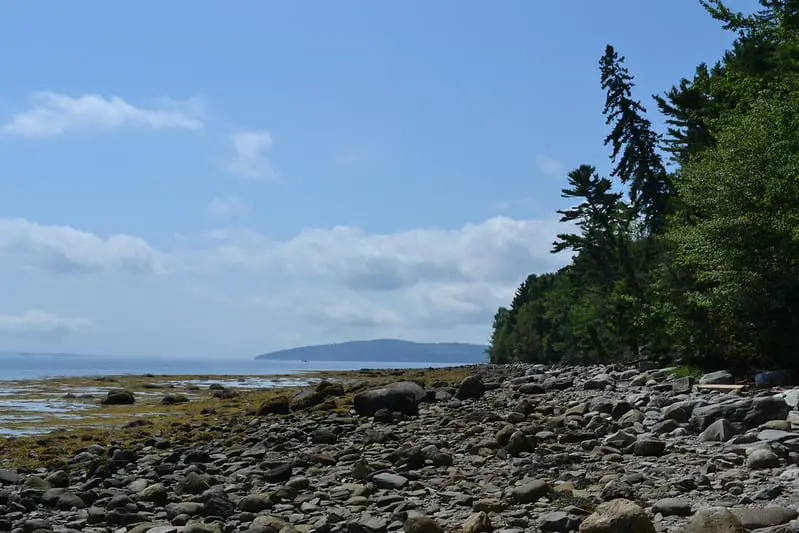 Coastal Views: Penobscot Bay
Distance: 2.2 miles
Difficulty: easy
Roughly a mile up and over the boulders of this rocky coastline, you'll have one of the most scenic views in Acadia National Park. The trail leads from Schooner Head Overlook to Schooner Head Road and then loops back for roughly 2.5 miles round trip.
You can also extend this hike by taking the Sea Cliff Trail, which continues to Thunder Hole and beyond. The views from this point are stunning–you'll feel like you're standing on the edge of nowhere.
Moose Point's cool winds will keep you refreshed when the Maine summer sun beats down, too.
5. Lily Pond Park
Coastal Views: Lily Pond
Distance: 0.3 miles
Difficulty: easy
Lily Pond is located about an hour's drive from Portland, in Freeport. This small coastal town is also home to both Jonesport and Beals Island, both of which are great hiking destinations.
Lily Pond Park itself offers a loop trail that's just under two miles long–a perfect scenic stroll after eating at the local restaurants or shopping at the nearby stores.
Stop by the popular northern Maine store L.L. Bean for your hiking gear before heading to Freeport and enjoy some of Maine's best outdoor adventures in Freeport, Jonesport, Beals Island, and Lily Pond Park. Enjoy!
6. Scenic Trail Cut-off and Maiden Cliff Trail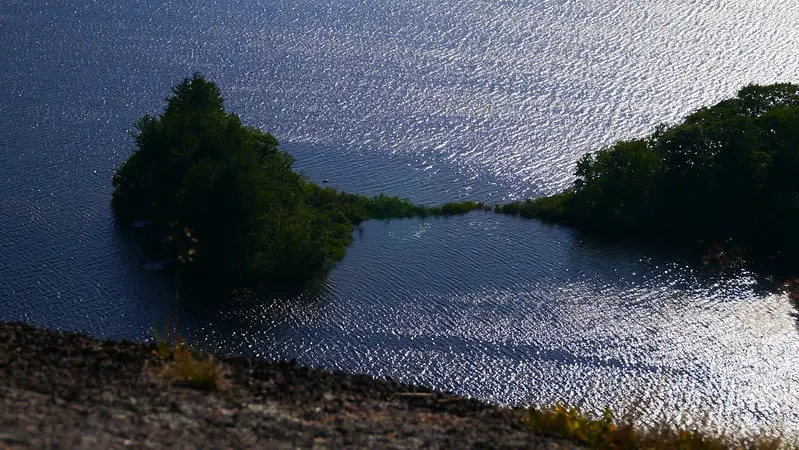 Coastal Views: Lake Megunticook
Distance: 1.7 miles
Difficulty: moderate
The Scenic Trail Cut-off is a small but worthwhile trail that runs through the forest from Sand Beach to Thunder Hole. The trail itself is only about half of a mile long, but it takes you from one corner of the park to another and features stunning ocean views.
You can also take this to the Maiden Cliff Trail, which loops around on a rocky cliff overlooking the ocean.
During peak season you'll want to arrive early at Sand Beach so that you can visit this trail and catch it when it's less crowded. As evening falls, return to Sand Beach for some of the best sunset scenes in Acadia National Park.
With such an easy hike, it's perfect for all ages.
7. Forest City Trail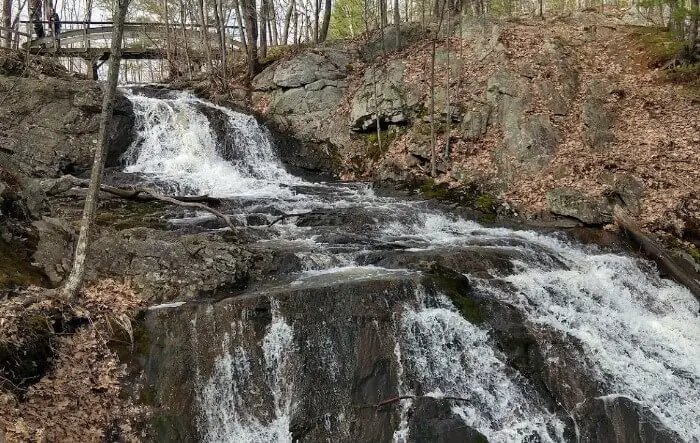 Coastal Views: Jewell Falls Waterfall, Presumpscot River Preserve
Distance: 10 miles
Difficulty: moderate
If you're in Portland and need some Maine nature, it's hard to beat this trail, which weaves together nine smaller trails into a 10-mile route that traverses woods, college campuses, residential streets and cemeteries, and even passes by some waterfalls. A good place to access is off Blueberry Rd.
Created to celebrate Portland Trails' 20th anniversary, this 10-mile route across the best of Portland comprises 9 trails, school campuses, several parks, a historic cemetery, two waterfalls(!), and connecting sidewalks.
The trail can be accessed at multiple points along the route. The two main trailheads at each end are at the Stroudwater River Trail and the Presumpscot River Preserve.
8. Monhegan Island Cliff Trail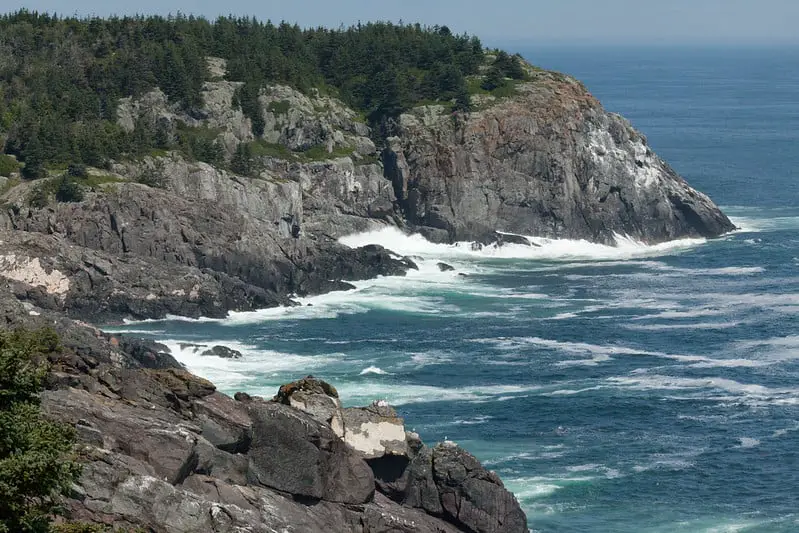 Coastal Views: Ocean, cliffs
Distance: 4.4 miles
Difficulty: moderate
This is one of the most famous hikes in Maine, and it's worth the hype. Enjoy views of little Monhegan Island while you walk along a beautiful coastal trail that will lead to some stunning ocean vistas.
You'll need to take a ferry here and Maine State Ferry leaves from Port Clyde daily at 9am every day then frequently throughout the day. The ferry can take you to both Monhegan and Vinalhaven, another great island.
This is a strenuous hike that takes hours to complete but is well worth it for the beauty of the ocean views along this coast–enjoy!
9. Little River Community Trail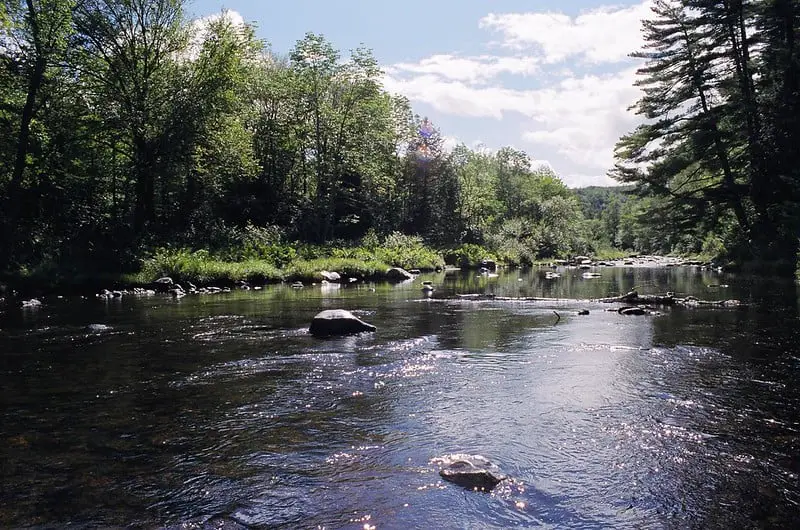 Coastal Views: Little River, reservoirs
Distance: 7.6 miles
Difficulty: easy
This is a 2-mile loop trail that runs through the woods in one of Maine's most scenic towns–Rockland. The trail itself runs along the banks of Little River, and it's a great walk or jog if you've got time to kill in this stunning coastal town. This is a family-friendly trail as well.
Enjoy the beauty of Maine's central coastline with this scenic trail and then enjoy one of the state's most popular tourist towns–Pittsfield and Belfast are other nearby destinations worth exploring.
10. Androscoggin Riverwalk Trail

Coastal Views: Androscoggin River, Fort Andross Mill, hydro dam
Distance: 0.7 miles
Difficulty: easy
This is a great trail to enjoy after visiting the nearby outlet stores in Auburn or Freeport. The Androscoggin Riverwalk Trail is about two miles long and features views of the Androscoggin River on its route.
This is a scenic hike, so bring your camera! It's also perfect if you're looking for an easy walk–it's handicap accessible and a great place to bring your family.
Maine is a coastal state, so it's no surprise that the best hikes are those with views of oceans or other bodies of water. Whether you enjoy exciting treks through the mountains or a simple stroll along the beach, Maine has some of the best coastal hiking in all of New England.
Have any other favorites to add to the list?