Stomping through the rocks and woods on a rigorous hiking journey gets more exhilarating with every single step! One popular brand among hikers and campers is Merrell, so today we'll be looking into what makes this brand great!
Is Merrell a good brand?
Merrell is known for its high-quality gear that's durable, supportive, and comfortable. They are a sustainable company that builds their products with recycled materials including polyester and rubber. To help promote sustainable practices, Merrell is a member of environmental advocacy groups.

To better understand what makes Merrell a good hiking brand we'll look into the quality of their gear, their practices, and the overall cost.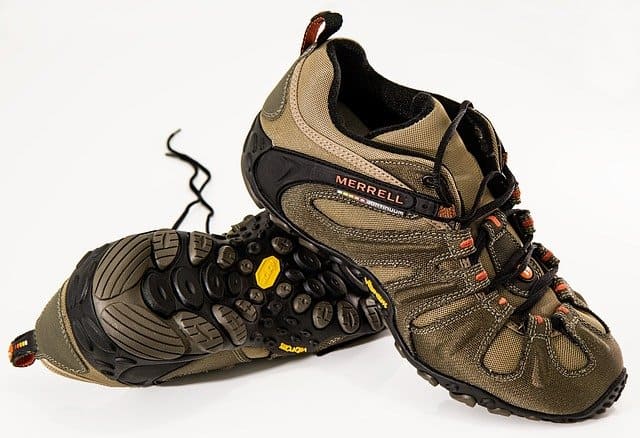 Does The Brand You Choose Matter?
Choosing an excellent pair of hiking boots or shoes is one of the most important gear decisions you'll ever make. If you have gone for a hike, you are probably aware that your feet take on the bulk of the daunting work on hiking escapades, so it is very important that you give them adequate padding and protection.
Finding a hiking boot that features the right balance of traction, durability, comfort, and lightweight design can make a big difference with each step along the trail.
Today, there are potentially endless manufacturers of hiking footwear, and that makes finding the best hiking footwear a tougher task.
One particular brand that has made a name in the hiking footwear industry by producing quality hiking boots and shoes is Merrell. Walk into any outdoor accessory store in America and you are bound to see a variety of Merrell brand footwear.
What is Merrell and What Are They Known For?
Merrell is an American brand that was established in 1981. The company's primary focus was to design hiking shoes and boots that would guarantee supreme performance, while at the same time being affordable for the average consumer.
And despite the company's main focus being on hiking footwear, Merrell's product range has expanded in the recent past to include clothing as well as other accessories that are essential for outdoor adventures.
Today, Merrell has maintained its reputation of being one of the best top brands recommended for hiking enthusiasts looking for affordable but top-notch footwear as well as clothing for adventures out in the backcountry.
What Makes Merrell a Quality Brand?
First and foremost, it is imperative to note that Merrell focuses on designing and manufacturing hiking footwear that is not only relatively affordable but offers top-notch performance. Compared to other brands on the market, Merrell's hiking footwear products are fairly affordable but guarantees superior quality and performance.
When it comes down to it, these are my favorite features of Merrell merchandise:
Comfortable and durable
A responsible and ethical company
Breathable and waterproof
Affordable cost
Comfortable and Durable
Hiking boots or shoes can be a huge investment, so finding a highly durable pair will certainly help you to get the most bang for your buck. Quality hiking shoes should feature quality materials and also requires top-notch craftsmanship, and this amazing brand doesn't disappoint in either.
Comfort is always a major factor to take into account when looking to purchase hiking boots and Merrell is known to make quality products that are equally highly comfortable.
In general, comfortable hiking shoes should not only give your toes enough room to spread but should equally boast enough cushioning that supports the shape of your foot and Merrell designs its hiking shoes with these factors in mind.
Ethical and Sustainable
Merrell also values environmental sustainability and practices sustainable means of production. One of their main goals is to create highly durable products that will serve you for an extended period, potentially reducing the impact on mother nature.
Merrell relies on both synthetic and natural materials, which includes options made of polyester, nylon, and various other leather materials.
Breathable and Waterproof
It is also imperative to mention that Merrell hiking boots feature mesh linings that add unmatched breathability.
The company uses their custom M-select Dry Technology, a waterproof membrane technology that allows your feet to breathe effortlessly while offering protection against the elements as well.
Affordable Cost
As earlier mentioned, Merrell hiking footwear is among the most affordable options on the market. Most hiking fans are always willing to spend a bit more on hiking footwear perhaps because they believe that the success of their adventures largely depends on having happy and healthy feet throughout the journey.
While Merrell's top-of-the-line footwear products can be quite costly, you surely don't have to spend significant sums of money on quality Merrell hiking footwear!
Merrell shoes have good arch support, flexibility, and additional cushioning that make them a comfortable and good option for many uses. Their shoes are supportive and durable whether they're used for hiking or worn as an all-day casual shoe.
Are Merrell Shoes Good for Plantar Fasciitis?
Merrell shoes are designed and made with additional arch support that makes them a good option for those with plantar fasciitis. Many of the shoes they manufacture have extra padding near the heel and enough toe room to be  comfortable being on your feet all day.
For women who are trying to find a comfortable pair, Merrell's Q Form technology is designed to enhance the natural alignment of your feet. These shoes have heel cushioning to absorb shock and reduce fatigue from running and walking.
Conclusion
There is no doubt that Merrell is a reputable brand in the hiking accessory market. The company not only produces performance-oriented footwear for hiking, but its products are also relatively affordable. What's more, their products are revered for their comfortable, lightweight, and durable design.