Products, especially outdoor clothing brands, change quickly as manufacturers race to please customers.
Keep an eye on the new claims by either Columbia—which manufactures OutDry products—and Gore-Tex, a long-time outdoor gear supplier.
OutDry vs. Gore-Tex: As of Summer 2021, OutDry water-resistant outdoor clothing fares better than Gore-Tex if you simply want to wear the outdoor outfits without the hassle of maintenance. However, if you're willing to do the option of adding more durable water repellent onto your Gore-Tex jacket or gloves when they start to fade, Gore-Tex comes out on top in terms of waterproof rating and breathability.
For now, let's examine where the two competing brands stand.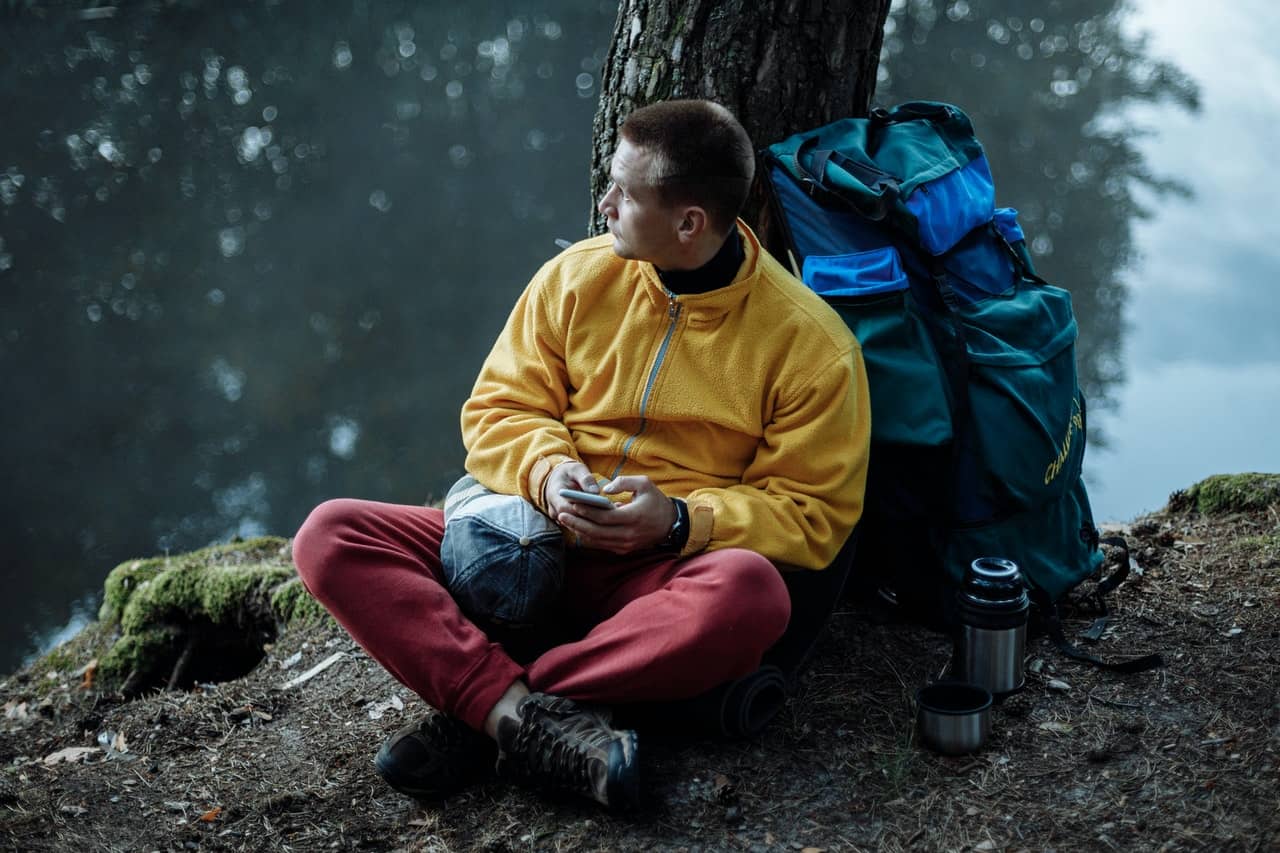 What to Look For In Hiking Jackets
The large commercial brands that supply outdoor-type clothing subject their products to rigorous testing, and it's important we understand what makes a product great.
For example, DWRs (durable water repellents) have waterproof ratings, as measured by experiments. A DWR makes your jacket or hiking boots repel the rain if you're out in bad weather, and a high waterproof rating means you can stay dry longer.
Yet, those old-fashioned yellow plastic raincoats of generations ago had very high waterproof ratings. However, they are difficult to wear because they feel cold and clammy to the touch, and when you're hiking or doing outdoor activities, your sweat tends to get trapped by this type of clothing.
This brings us to breathability, which has a different measurement. Breathability is what makes your jacket comfortable, allowing you to sweat as your jacket or shoes wick away your perspiration to the outside instead of collecting on your skin.
Similarities Between OutDry and Gore-Tex
Both are popular exterior wear intended for those who love to explore the outdoors and perhaps are active, which is why the clothing must protect against both rain and excessive perspiration.
However, Columbia Sportswear has its own waterproof technology called OutDry and does not license out this fabric. In contrast, Gore-Tex has patented its own fabric and supplies the material to several large outdoor companies such as Bass Pro, The North Face, and Arc'Teryx.
Differences Between OutDry and Gore-Tex
To discerning customers, the differences can be slight but very important, and affect their decision on which clothing to buy.
Waterproof Ratings
Take, for example, the waterproof ratings. Both brands are essentially "waterproof." As of Summer 2021, Gore-Tex tops this measure over OutDry, by 28,000 mm (millimeter) water column to 20,000 mm respectively.
Breathability
The other key factor is breathability. Gore-Tex boasts 15,000 to 25,000 g/m2 every 24 hours, which means grams of sweat from your skin wicked through every square meter of fabric. While we do not have exact figures for OutDry, its breathability is lower than that of Gore-Tex.
Durability
But—there's always a "but"—Gore-Tex relies on its exterior being coated with a DWR, which as we recall means durable water repellent. Over time, as the pores in Gore-Tex's fabric get clogged from your sweat, the waterproof factor diminishes.
As the years pass, especially if you heavily use your Gore-Tex jacket, the DWR fades. One way to counteract this gradual downgrade is to supply your own DWR, which you can buy separately in an outdoor store. You can either wash it in through laundry or spray it directly onto the fabric.
In contrast, OutDry does not use a DWR; instead, it is a two-layer fabric with the outer layer being fully waterproof. Some industry observers comment that DWRs may be wise to avoid since these can carry perfluorinated chemicals that are harmful to the environment. In comparison, Gore-Tex is a one-layer fabric.
Which is Better, OutDry or Gore-Tex?
It depends! Both are excellent materials, and both achieve the requirements of being both waterproof and breathable. While Gore-Tex has the edge in measurable terms, it does have the burden of applying a DWR that fades over time and may have to be replaced. In other words, Gore-Tex is more heavy maintenance.
OutDry Extreme vs. Gore-Tex Shakedry
The Extreme and Shakedry technologies are both great for lightweight and ultralight backpacking. They each remove an extra layer of fabric that would normally weigh down the jacket.
OutDry Extreme has increased durability to remain waterproof and windproof, all well weighing much less than their other options. It's a good option for heavy rain since it's comfortable and breathable enough to let moisture and extreme heat escape.
Gore-Tex Shakedry technology is a lightweight option for breathable and water-resistant gear. Since the Gore-Tex covers the outer layer, there's no need for another layer of fabric to weigh the product down.
OutDry vs. Gore-Tex Shoes
OutDry shoes use single-layer waterproofing, which means they add membrane treatments to the inside of the shoe to increase the water resistance.
Gore-Tex shoes use multi-layer waterproofing, which is an additional layer inside of the shoe that helps prevent water from entering.
Because of these two different technologies, there are a few key differences between both options.
The OutDry shoes will be more breathable, flexible, and easier to wear for wider feet.
The design for Gore-Tex shoes allows moisture to easily escape but will make the shoe less flexible to mold to your feet.
OutDry Ex Featherweight
One of the best options for staying cool and dry in the rain is the OutDry Ex Featherweight Rain Jacket. You'll find that it's a bit heavier than other ultralight jackets, but it's unbeatable if you'll be moving around in the rain.
A huge benefit to the jacket is how durable the material is, and how long the water-resistant properties will stay. Since it doesn't use DWR for coating it won't need much maintenance to keep it feeling and working brand new.