Whether you are looking to climb up your local mountain on a rainy day or take an hike after it rains, you'll need a good pair of hiking boots to provide the much-needed traction and keep your feet from getting soaked.
If you're looking for waterproof gear, two options you've most likely heard about are TimberDry and Gore-Tex. There are a few important differences between the two technologies that we'll be going over today.
TimberDry vs Gore-Tex: TimberDry and Gore-Tex both offer waterproof features that keep the material dry and insulated. Gore-Tex has the benefit of being windproof as well as breathable which allows sweat and moisture to easily escape. TimberDry is designed with a waterproof membrane, but it's less breathable in comparison.
By the end of this article, you'll know the differences and similarities between TimberDry and Gore-Tex, and which option will keep you cool and dry in wet conditions!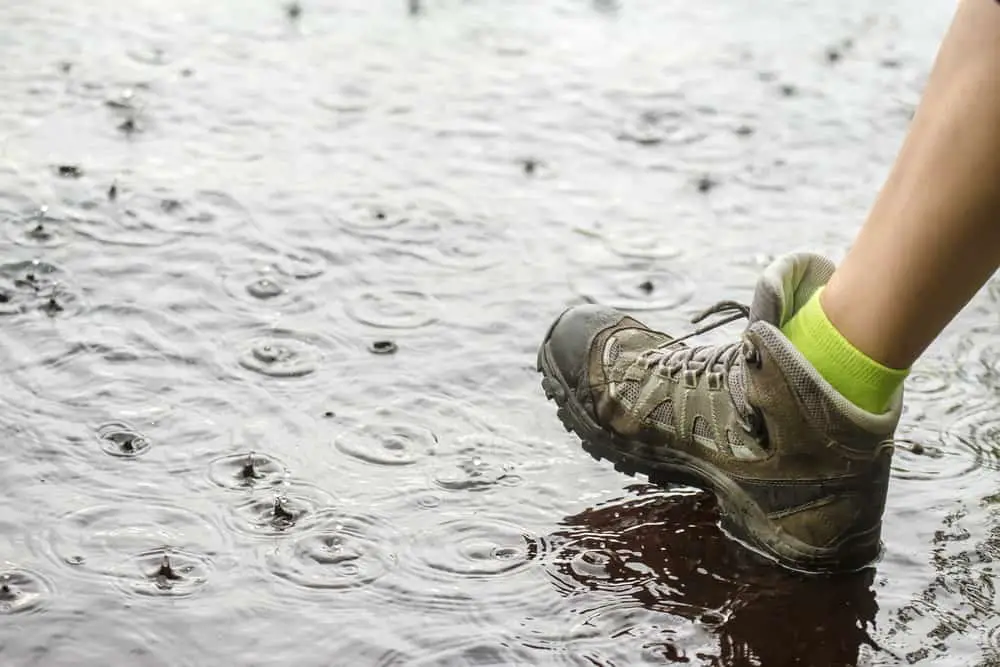 TimberDry vs Gore-Tex Comparison
| | TimberDry | Gore-Tex |
| --- | --- | --- |
| Company | Timberland | W. L. Gore & Associates |
| Materials | 50% recycled plastic | ePTF |
| Features | Waterproof membrane | Breathable, windproof, and waterproof abilities |
Although waterproof outdoor gear has always been around, the earlier waterproofing technologies proved to be too hot for the wearer simply because the materials needed to be impenetrable by moisture.
TimberDry and its Gore-Tex counterpart's waterproofing properties not only prevent water and moisture from getting inside your footwear but are equally breathable and durable enough to withstand getting wet.
Gore-Tex Technology
At the core of Gore-Tex technology is the highly effective Gore-Tex membrane. This is a very thin layer of expanded polytetrafluoroethylene (ePTFE).
This membrane features at least nine billion microscopic pores per square inch that are twenty thousand times smaller than a water droplet but seven hundred times larger than water vapor. These unique membranes are what provide Gore-Tex with its breathable as well as waterproof properties.
The Gore-Tex membrane is usually bonded between high-performance and outer fabrics. What's more, even the seams are expertly sealed with Gore-Tex's proprietary Gore-Seam tape to effectively prevent water from leaking through the product.
As earlier mentioned, Gore-Tex footwear is designed with an upper material, the Gore-Tex membrane, and an insulation layer. The Gore-Tex membrane ensures the insulation remains dry at all times.
Whereas water vapor can pass through all layers, body heat is effectively repelled back thanks to the insulation layer. Gore-Tex footwear and other products boast excellent breathability while also being durably waterproof.
TimberDry Technology
TimberDry is simply a waterproof and breathable technology that was developed by the popular footwear manufacturing company, Timberland. Primarily intended to be worn by the working class, this unique footwear gained lots of popularity among construction workers and farmers who worked outdoors during winters.
TimberDry is timberland's proprietary innovation, a waterproof and breathable membrane that is made from 50% recycled plastic. However, it is imperative to note that TimberDry membrane's overall breathability is not as good or effective as its Gore-Tex membrane counterpart.
Today, timberland has widespread global appeal because of its ability to keep your feet warm even during chilly weather. What's more, they seem to have a rare crossover appeal that perhaps guarantees them a place in nearly any wardrobe.
Even if your boots don't come with the Timberdry technology, there are other options that can make your Timberlands waterproof!
Which Should You Get, TimberDry or Gore-Tex?
The performance of your chosen footwear product will largely depend on season and use, and no hiking gear will survive a long walk in a pool of water without getting you wet to some extent. However, both Gore-Tex and TimberDry membranes are extremely performance-oriented and will do a great job in keeping you comfortable and dry during your outdoor adventures.
TimberDry is better if:
You want a budget-friendly option to stay dry
You like the Timberland brand and want boots or gear made by them
Gore-Tex is better if:
Having breathable material is important to you
You don't mind spending more on the long-lasting benefits
Those of us who adventure out into areas with wet climates need to be aware and focused on the best waterproofing options. Both materials will give you anywhere between three and five years of service with little to no problems, depending on how often you use them.