When it comes to shopping for outdoor footwear, you're sure to come across a wide range of prices. Towards the top of that list sits the well-known brand, Timberlands. These iconic boots are known for their rugged, leather appearance, and also for their hefty price tag.
But why are Timberlands so expensive?
Timberland boots are so expensive due to their popularity, quality craftsmanship, and the sustainable initiatives of the company. Their brand is known to be premium which results in people paying high costs for their superior design and construction.
Now that we've got that answered, let's take a closer look at each of these factors and how it influences the cost.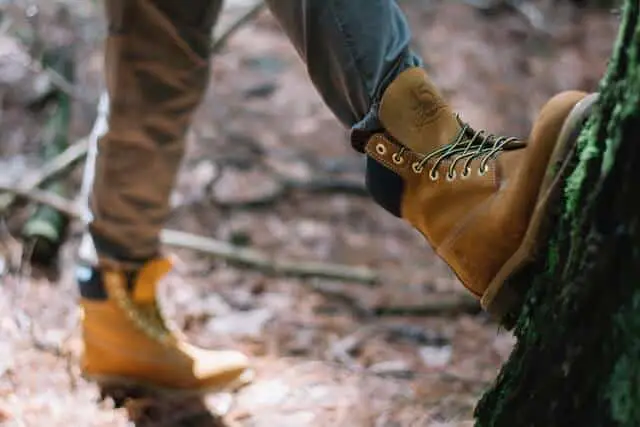 Popularity
Since their creation in the 1970s, Timberlands have been popular in a variety of communities. Not only do these boots work well when spending time outdoors, but they are also perceived as being a stylish addition to any wardrobe.
As prominent figures in different communities began to purchase and wear these boots, so did their followers. As with any brand that gains popularity, as the demand grew for these shoes, the company was able to increase the price.
If people wanted them badly enough, they would pay the extra money. This phenomenon can be seen across many industries and is a common reason why name brands are more expensive than their store brand counterparts.
Quality Craftsmanship
Outside of their popularity, Timberlands are made of a variety of high-quality materials. One of Timberland's most iconic style of boot is crafted with nubuck leather, which sits somewhere between suede and full-grain leather.
These materials are combined with sole leather, rubber, and nylon to create a finished product. It is up to the customer to read about the materials used in a given style to make sure that they will be suitable for the intended use of the boot.
However, if you take good care of your boots from the start, cleaning them of mud and debris after every outing, you could enjoy your Timberlands for years to come.
Sustainable Initiatives
Finally, Timberland has committed itself to several sustainability initiatives that add a little cost to their products.
If you are shopping in their Earthkeepers line, you can expect to find rubber and fabrics containing recycled plastics, as well as a product called 'better leather'.
This leather has been audited by the Leather Working Group and has received a rating between silver and gold for being environmentally responsible.
While these are great initiatives to be a part of, it is a little more expensive to use environmentally friendly materials as there are more steps those materials must go through before they make it to the production pipeline.
Are Timberland Boots Worth The Price?
Many hikers agree that it's well worth it to spend more money on getting a nice pair of Timberland boots. They fit well, are comfortable, have great traction, and will last for many years if they're taken care of correctly.
If you're worried about the extra cost, they do have a nice return policy that allows free returns within 60 days.

Find the pair that best matches your style, give them a try, and if there are issues you could always talk to the customer service about getting a refund. But, I'm pretty sure you won't want to return them once you try them out!
Final Thoughts
As you can see, while Timberlands are a more expensive brand, it might be worthwhile to invest in a pair. They are considered stylish by many, crafted with quality, and environmentally conscious. They also make comfortable boots that are waterproof and long-lasting.
If you do the proper research and care for your shoes accordingly, it will be a long time before you find yourself in the market for boots again.